The next generation of tool intelligence is here. A new, cordless battery platform offers more flexibility, doubles the performance, tackles health and safety challenges, and helps construction professionals manage their business in a more connected way—all while being more sustainable and circular in the process. Let me take a few minutes to share with you what I have learned about this exciting, new IoT (Internet of Things) journey.
Today, Hilti Group announced the launch of Nuron, a powerful 22V cordless battery platform. The Nuron products are now on sale to U.S. and Canadian customers and shipments will begin in March. The global rollout will continue through 2022.
Connectivity is at the heart of the platform, making it part of every tool, battery, and charger now and well into the future. Nuron brings intelligence to the core of the platform, with all tools generating data, which is then stored on the Nuron batteries and sent securely to the cloud during every charge without any operator interaction. That's truly the IoT at work, literally in construction and more.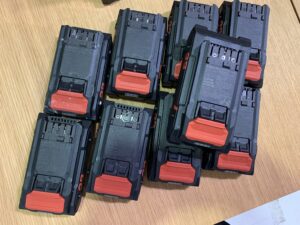 Here's what it collects. The data gathered includes information such as tool usage, tool utilization, charging location, and battery state-of-health. This information can then be used to alert individuals if action is needed immediately or can be accessed on-demand. The data is available on mobile and desktop via Hilti's ON!Track software platform. Together with services like Hilti Fleet Management, data can be used to reduce downtime and optimize tool cribs to improve productivity.
Let's consider one specific example. Too often, today's construction professional still has tools sitting around, unused or lost. "With our service, we make sure this is no longer the case, and they save a lot of money," says Christoph Loos, CEO, Hilti Group. "This is now combined with our asset management service, ON!Track, that provides you the geolocation of where these tools are. If you now add Nuron technology, reading our data on usage and when the tool needs to be maintained and all of that, that story becomes better and then you can have professional tool management, which allows you to save a lot of costs and at the same time manage in a more sustainable and circular way."
Caroline Stern, head of circular economy at Hilti, adds that it is all about getting the data into the hands of the customer. "I think of lot will ultimately lie in how customers choose to use these innovations in line with their goals and their focus topics. One way we can support those decisions is by providing the data. Another example is that tools are often lost or mixed up on construction sites. They might get put on the wrong truck or in the wrong location. Customers often don't have enough visibility of where the tools actually are and that leads to a lot of waste at the end of the day."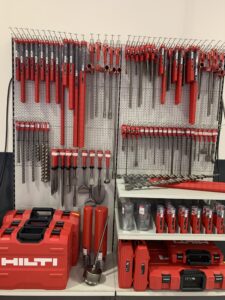 Michael Neidow, EVP, head of Hilti's business unit tool services, says this latest release targets classic crib managers or business managers for a large project or head of the project. "What is important now is that we translate this information into the customers' language—what KPI or figure the customer would like to hear."
The new platform also aims to improve productivity. As a single 22V battery platform, it will quickly enable tools of all kinds of jobs, from light-duty drilling to heavy-duty concrete breaking. Launching with more than 70 tools, the battery platform works with heavy-duty applications that were once restricted to corded, gas-powered, or higher voltage battery systems. And, all the battery packs and chargers work interchangeably. Helping meet tight deadlines, the redesigned battery interface ensures higher performance and longer operating times by allowing a significantly higher power transfer.
The technology also works with health and safety. Nuron batteries are more durable including a new, robust fiberglass-reinforced housing and external shock-absorbing bumpers, which provide extra protection. What's more, the electronics are fully sealed to protect against moisture, dust, and other jobsite contaminants.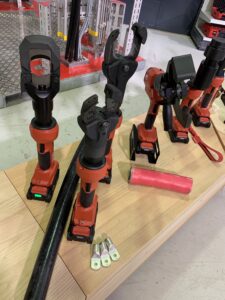 Hilti also supported construction professionals to develop two new technologies for increased safety with angle grinders. The new 3D ATC system switches off the tool and activates the disc brake when there is sudden, uncontrolled movement in any direction. The same risk reducing function comes with the new SensTech system, which senses when the operator's hand is removed and engages the electric brake. Additionally, each Nuron tool has a recommended tethering method, and Hilti is offering an ANSI compliant tethering system to help avoid falling objects when working at heights.
"Nuron enables a much more professional way to manage the tool park of contractors," says Loos. "What I mean with that is everything that we just said. It plays into our fleet and asset management services. It enables data-driven, transparent management of your tool park. With that, it makes it much more sustainable." Nuron is opening up a whole new world for construction, and this is only the beginning of what Hilti has planned.