Artificial intelligence otherwise known as AI is in the news almost daily. Managers are asking about it, workers fear it, IT (information technology) departments are implementing it, and many people are confused by it. In fact, AI has so many facets and subsets that few people can grasp all it can do.
The IDC (Intl. Data Corp.) reports in its Worldwide Semiannual Artificial Intelligence Tracker, that worldwide revenues for the artificial intelligence market, including software, hardware, and services for both AI centric and AI non-centric applications, totaled $383.3 billion in 2021, an increase of 20.7% from the prior year. IDC expects the AI market value will reach nearly $450 billion in 2022 and maintain a year-over-year growth rate in the high teens throughout a five-year forecast period.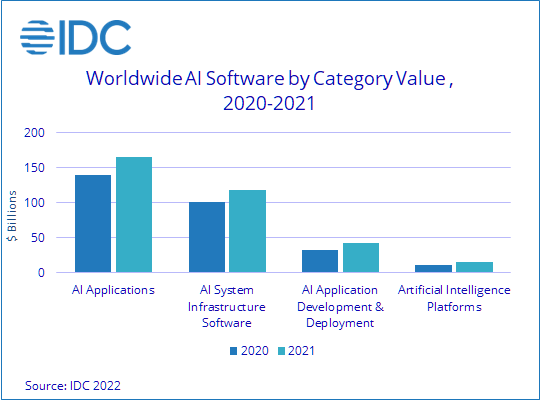 AI–centric applications are AI applications or modules where AI technologies are central and critical to the function of the application, and if the AI technologies are eliminated, the application will cease to work or even exist. AI non-centric applications include those applications where the AI component is not fundamental to the application. In other words, the application will function without the inclusion of the AI component.
AI software accounted for the largest share the overall AI market in 2021. Combined, the four AI software categories – AI applications delivery & deployment, AI applications, AI system infrastructure software, and Artificial Intelligence Platforms – delivered more than $340 billion in market value in 2021 with AI applications representing nearly half the total. Artificial Intelligence Platforms delivered the strongest year-over-year growth at 36.6%, albeit from a smaller baseline.
Within the AI Applications category, AI CRM (customer relationship management) and AI ERM (enterprise resource management) each delivered about 16% of the category total. The remainder was delivered by the myriad of other AI applications available in the market. With nearly 300 companies vying for opportunities to gain share, the AI applications market remains highly competitive.
In 2021, AI-centric applications captured 12.9% of the market, up 29.3% year over year. Similarly, the deployment of AI software to the cloud continues to show steady growth. In 2021, 47.3% of AI software purchases were deployed to the public cloud, an increase of four percentage points over 2020 and 8.4 percentage points over 2019. IDC expects cloud deployment of newly purchased AI Software to surpass on premises deployments in 2022.
The AI services market saw its total value increase 22.4% year over year to $24 billion in 2021. Client demand for expertise in developing production-grade AI solutions helped the AI IT Services category grow 21.9% year over year to $18.8 billion. The AI Business Services category grew 24.2% year over year as organizations sought assistance on AI governance, business process, and talent strategies.
AI Hardware was both the smallest ($18.8 billion) and fastest growing (38.9% year over year growth) segment of the AI market. The hardware growth was driven by efforts to build dedicated AI systems capable of meeting the increased compute and storage demands of AI models and data sets. While both AI Servers and AI Storage delivered strong growth in 2021 – 39.1% and 32.9% respectively – server purchases were notably larger at $15.6 billion.
Want to tweet about this article? Use hashtags #construction #sustainability #infrastructure #AI #cloud #futureofwork