The capital lifecycle must go digital
With $1.2 trillion in funding now funneled into capital construction projects under the IIJA (Infrastructure Investment and Jobs Act), the industry must focus on efficiency and effectiveness in order to optimize this investment. Historically, American infrastructure projects and delivery have been pictures of inefficiency and ineffectiveness. In 2021, American infrastructure received a C- grade due to the number of water main breaks, wear on roads, and other capital maintenance problems.
This is a historic moment in the world of American infrastructure, and it's important that we get it right. Much has changed in the 100-plus years since many of our highways, roads, bridges, water facilities, rail and transit, and other critical infrastructure were constructed. With the advancement of technology, we have the tools necessary to make the most out of this $1.2 trillion budget so that constituents are served and supported.

However, capital program executives—program directors, CIOs, and the like—cannot optimize this investment without leveraging digital tools. In order to drive innovation in construction program delivery as we redevelop and revamp our infrastructure, we must transform the capital project lifecycle.
Leveraging Technology for Projects
One of the most challenging elements of the capital planning process is prioritizing projects in order to direct funds. This can slow down capital program owners and result in projects that go over budget, span past deadline, stall for years, or fail completely. Gone are the days of relying on paper documentation that is passed between collaborating departments and organizations in order to get team members to sign off on a project.
Now, technology has made it possible to plan projects, manage budgets, create and approve projects, conduct reports, and adjust for changes within a single platform. This is a game-changer in the capital planning world because it directly impacts the project and, as a result, the constituents who will be affected by the project. Without modern technology to support capital projects, $60 billion of taxpayers' savings are at stake. In order to make the most of this significant funding and serve taxpayers well, capital planning must be efficient and effective. This means that we must leverage technology.
Capital Planning Begins with Digitization
Capital projects vary by location, scope, and type, of course, but one thing is for sure: they must all be managed with digital tools if we want them to succeed. That's why it's imperative that American capital program owners apply standardized, digital processes to manage project lifecycles that include planning, design, construction, and operation. Capital program owners do not need a single-point solution to solve issues as they come up. Instead, they need comprehensive capital program management technology that presents a picture of every stage of the project's lifecycle, from planning to design to construction and operation. The best way to fast-track this process is to find technology that can act as a single source of truth about a given capital project at any given time.
With technology and tools set as a standard for the industry, projects could see a 10-30% reduction in construction build costs, 30% higher productivity, 10-20% reduction in operating costs, and 5-10% reduction in engineering hours. These numbers illuminate just what is at stake if the infrastructure industry does not employ modern technology for project management. A digitized capital program lifecycle also brings transparency to these large-scale projects that are funded by taxpayer dollars. Civic engagement is critical in any project, but technology empowers constituents to give feedback during the planning process, which can make projects better, improve community relationships, and build trust in the community.
Capital infrastructure must go digital. It's time that leaders leverage digital tools that create better processes, improve performance, manage funds, and cultivate civic engagement. With smarter, better, and more efficient capital program management, we will be able to serve our communities and build a better tomorrow.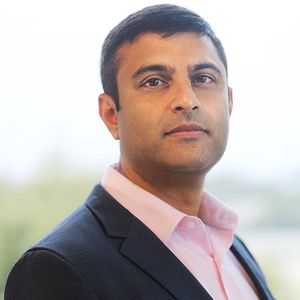 Balaji Sreenivasan is the founder and CEO of Aurigo Software, North America's leading capital planning and construction management software that is helping infrastructure owners plan and build with $300 billion of capital projects more efficiently. His email is ceo@aurigo.com