Space, besides being the next frontier, is running out in many in-demand areas. Housing starts are stuttering where people want to live, and when the land is that desirable, it's also much more costly. With a national housing shortage estimated at four million homes, many areas are especially difficult for builders due to diverse local zoning and code requirements, skilled labor shortages, high labor costs, and/or short building seasons.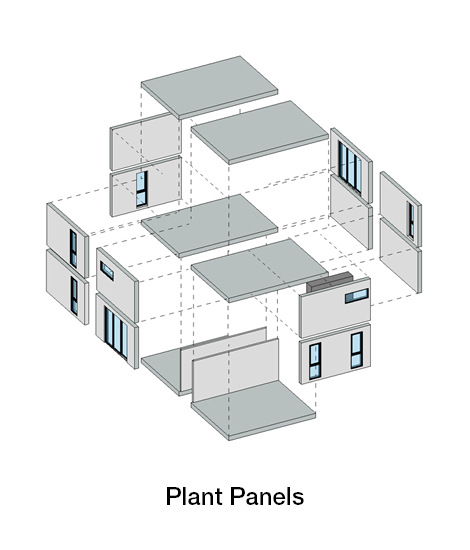 All of which dictate tailored solutions. One approach is modular or prefabricated buildings. While site construction is custom, most modular buildings are assembled from a catalog of parts, like building an IKEA house. That doesn't have to be the case. Looking to the future, prefabricated and modular builders are not only creating custom design studios, but they are also tackling the environmental aspects of their business as well. For example, Plant Prefab announced a net zero goal and has achieved carbon neutrality in their operations since 2020.
Plant Prefab's Plant Building System was specifically designed to utilize advanced engineering in combination with specialized Plant Panels and Plant Modules to accommodate modular, panelized, and hybrid modular/panelized building solutions. The system addresses the design and buildability problems of all-modular or all-panelized approaches as well as the unpredictable timelines and labor challenges that can lead to massive schedule and cost overruns in site-based building.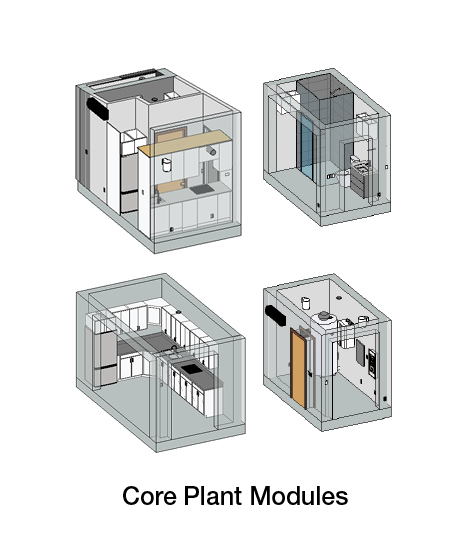 Going Up in LA
They recently delivered and installed a four-unit 6,110-sq.ft. prefabricated multifamily development in West Hollywood's historic Spaulding Square neighborhood. Designed by LOHA Lorcan O'Herlihy Architects), the project establishes a replicable, scalable solution for increasing housing density on the most common urban infill lots. The development serves as an important example of how factory fabrication can be utilized to add housing density and maximize speed to market in labor-constrained, high-demand markets as encouraged by California's SB-9 and SB-10 housing bills.
Metros Capital purchased the 125 by 50-ft. RD1.5XL-zoned lot on Stanley Avenue, which was formerly occupied by a single-family home, with the express intent of establishing a standardized multifamily product offering that could be repeated on similar infill lots throughout Los Angeles. LOHA, one of the region's top designers of multifamily projects, developed a three-story design comprised of four three-bed, three-bath units featuring open floor plans, spacious balconies and garage parking with preservation of outdoor space. The modular, kit-of-parts design offers a consistent unit layout that can be configured as needed to suit different lots.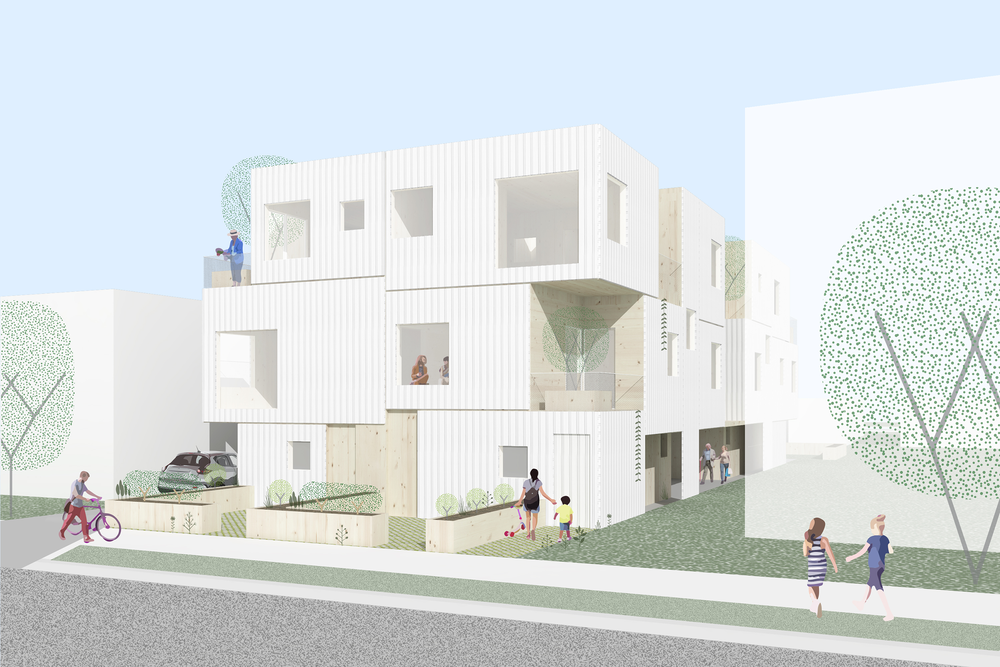 Plant Prefab standardized the design into repeatable components, building a complete digital twin to coordinate all mechanical, electrical, and plumbing elements prior to fabrication in the company's Rialto, California factory. First-floor garages and storage areas were produced as pack-flat Plant Panels and delivered with steel beam and column assemblies that were installed on-site.
Second and third floor living areas were manufactured as fully finished Plant Modules, shipped with all finishes, fixtures, and appliances in place and assembled on-site over the course of just three days. The engineering-led, hybrid panelized/modular approach is unique to Plant Prefab and provides better quality control, design flexibility and time, cost, and material efficiency than traditional methods of offsite or on-site construction.
Plant Prefab Plants
Plant Prefab has factories in Rialto and Ontario, California, a design studio and show home in Santa Monica, California, and is constructing a fully automated regional production hub in Arvin, California. The Arvin Hub, which will open in 2023, will enable full industrialization of the Plant Building System, allowing Plant Prefab to take on larger multifamily and single-family community developments. At scale, the factory will be capable of producing over 900,000-sq.ft.t of housing (equivalent to over 800 housing units) per year, far more time and cost efficiently than the company's existing two factories.
The Arvin Hub is being constructed to Plant Prefab's strict environmental standards for minimal resource consumption and will be fully solar powered. The company plans to continue scaling its sustainable housing production through a hub-and-spoke model that will eventually serve the entire continental U.S. Standardized Plant Panels will be produced at highly automated, high-volume regional hub facilities with consolidated resources, while Plant Modules will be assembled at spoke facilities that are located closer to customers to minimize shipping costs and on-site finish work.
The Arvin Hub will also expand Plant Prefab's service area to the entire Western U.S., where the nation's housing shortage is especially severe. The company's orders reflect this demand: As of August 2022, contractual backlog totaled more than $85 million and prospective business totaled more than $660 million, representing year-over-year growth of 58% and 110%, respectively. Contracts include workforce, affordable, and market-rate housing spanning multifamily, single-family, single-family community, and student housing developments.
Catching the Investor's Eye
The positive reception of the concepts Plant Prefab has put into the market has led to increased investor interest. The company has secured $42 million in Series C and other funding to support its capacity expansion and increased multi-unit housing production. The Series C was led by Gerdau Next Ventures, the corporate venture capital program of Brazilian steel producer Gerdau, with additional investments by Asahi Kasei, Brown Angel Group, ICT Capital, and Unreasonable Collective. The round also included debt and equipment financing from Western Technology Investments, and ATEL Capital Group. All parties are existing investors in Plant Prefab, reflecting strong belief in the company's growth and market opportunity.
In addition to completing the Arvin Hub, funds from this financing will also be used to bolster Plant Prefab's engineering, product management, supply chain and project management infrastructure. Digital building data — produced by the company's proprietary engineering platform — will be used to drive automated manufacturing equipment in addition to providing detailed instructions to project partners for efficient on-site installation and finish. The development of curated finish packages for all segments of the market will further streamline project planning and mitigate supply chain-related delays.
Want to tweet about this article? Use hashtags #construction #sustainability #IoT