A lot of information has been coming out on the 3D-printed building approach to rapid construction. Perhaps forgotten in the rush, other rapid methods are available, especially for residential construction. As the economy shakes out from the slump caused by the COVID-19 pandemic, builders are looking for better ways to get people into new homes.
Among the resources available to help are specialized exterior panelized wall systems from Tempe, Arizona-based HercuTech. Their innovative product, HercuWall, is an ICC-certified panelized exterior and demising wall system technology comprised of four common materials – EPS insulating foam, reinforced with a patented steel ShearStrip, laminated with a weather-resistant barrier, and followed by site integrated concrete.
HercuWall is cost efficient and light enough to be carried by one installer but is three-times stronger than comparable wood wall panels. A HercuWall unit goes up panel by panel, in numerical order, and can be stood up in an hour and a half. This factory panelized solution is the only viable system solving the labor, material, and building cycle challenges in construction, and even surpasses current and future building codes and ESG (environmental, social, and governance) standards. HercuTech provides free training, teaching the trades how to install and interact with the system through its HercuFit University training program.
HercuTech claims the benefits extend far beyond the construction process, providing residents a superior living experience. A HercuWall home is airtight with greater insulation and energy efficiency. Residents enjoy lower energy bills, a quieter environment, and healthier air quality. The panels are fire-resistant and rated up to 235mph hurricane-level winds, providing a peace of mind that traditional lumber cannot.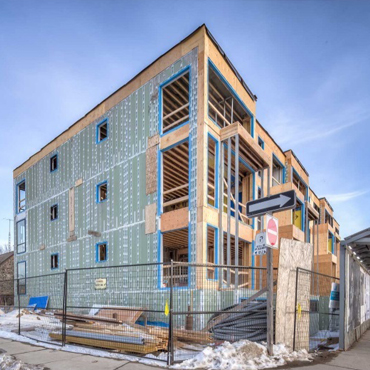 HercuTech is also an eco-conscious building materials company, focused on ESG). HercuWall replaces up to 60% of the wood in a project, is manufactured sustainably, recycles 99% of scrap material, produces no onsite construction waste, decreases the carbon footprint of a project, increases energy efficiency up to 40%, and results in longer-lasting structures.
HercuWall has already been used in more than 500 units in multi-family construction with another 7,000 units in the design phase throughout Arizona for roll out in 2022-2023. Among the developments are several from MODUS Companies, a developer of Net Zero communities. MODUS is ready to open multiple projects equaling 1,200 units throughout the Valley of the Sun (Phoenix area). The first to be built are the Arcadia View Lofts in Phoenix, where MODUS has partnered with Kinella Construction to supply HercuTech's wall system.
The Arcadia View Lofts were specifically designed with a single-family feel and multifamily amenities, two floor plan options will be featured in the community: one being a two-bedroom loft in a two-story building and another being a one-bedroom in a one-story building. This will be the first Net Zero Energy multifamily project in Phoenix using HercuWall technology.
Want to tweet about this article? Use hashtags #construction #sustainability #futureofwork