As winter approaches, many northern cities will experience snowfall that makes road slippery and dangerous. The traditional reaction is to spread chemicals or sand to melt the snow (salts or other chemicals) or provide traction (sand). In non-snow locations, rain will often be the seasonal disrupter, again making roads slippery and dangerous. Engineers will tell you that the first few minutes of a steady rain are the most dangerous for traffic as the water causes the oil embedded in the matrix of the pavement, concrete, or even asphalt, to rise and make the surface even slicker. Oil, left by vehicles as vapor, drops, or even exhaust particles, can be a year around problem.
But some oil, not related to vehicles, can be worse—or better—for the roads. Two academic research projects, one in Iowa and the other in Russia, point out the difference and how infrastructure projects can pick the right one and avoid the wrong one.
Russia's RUDN University engineers found that vegetable oil destroys concrete. In 90 days of contact with that type of oil, concrete collapses. Factories in various industries use vegetable oils, both edible oils and technical ones, which are used for lubricating parts. Oils are often spilled on the concrete floor and when they encounter the main component of cement – calcium oxide – fatty acids result. Due to those fatty acids, micro cracks actually appear in concrete, leading to large fractures – and eventually the material is destroyed.
Certain vegetable oils contain high molecular weight fatty acids that can destroy cement and concrete. The reaction of calcium oxide with fats and oils creates alcohols and fatty acids. Engineers studied the effect of oil on concrete and cement, differing the proportions of the components (water, sand, cement), immersing samples of both materials in corn, olive, or palm oil and left them at room temperature (from 16℃ to 24℃).
Oil Destroying Concrete
Every 10 days, the researchers took out the samples and studied their compressive strength. After being immersed in oil, the materials became more brittle. After 60 days, the strength decreased by an average of 61.2%, and after 90 days, the samples began to spontaneously collapse. The engineers also built a mathematical model that predicts how much the strength of concrete will change after 70 days of exposure to oil.
The results are important for predicting changes in concrete structures under the influence of vegetable oil and for ensuring their comprehensive protection. An empirical mathematical model of strength at different durations of oil action is a new way to improve the operating conditions of industrial buildings in which vegetable oil is used in technological processes. It also has benefit to infrastructure engineers when laying new concrete roadways near plants that maintain the high levels of vegetable oil processing and/or transportation in and out of the facility. The use of asphalt might be an answer in those areas.
Soybeans to the Rescue
Iowa is noted as farm country and one of the money crops is soy and soybeans. Soybeans are more than a food and have been used in a variety of experiments over the ages. Henry Ford was one proponent of soybeans and in 1941, Ford Motor Co., produced an automobile where the body work was made of a plastic from soybeans. Why? Showing that soybeans could be used to make cars might create a lucrative new market for soybean farmers. Plus, metal was scarce during the early 1940s and Ford was looking for new materials, like plastic made from soybeans, to build car parts. The war interrupted the project and, by 1948, it had faded away.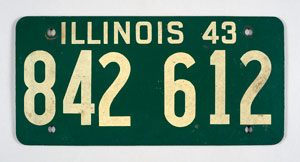 Another project was making license plates from soy, also to meet the war effort lack of metals. Since license plates were not designed to receive excessive stress or pressure, nor to last long, heat and pressure with a natural bonding agent such as soy flour was sufficient to create the boards from which these plates were cut. Still, license plates faced unexpected challenges. In 1943, a goat is reported to have eaten an Illinois license plate made of soybean-derived fiberboard and many farmers reported similar farm animals enjoying them as a meal.
Today, Iowa State University engineers have been looking for a bio-based alternative to a petroleum-based asphalt additive that extends the life of pavements. That led to hundreds of attempts in the lab to find the right ingredients, formulations, and production processes for a new biopolymer. Experiments producing fractions of an ounce of material revealed soybean oil could produce biopolymers with the properties the engineers needed.
The research eventually progressed to development of a $5.3 million pilot plant with a 1,300-gallon holding tank for those biopolymers. All of that has now progressed to a startup company that is sold about 400,000 pounds of biopolymers. SoyLei Innovations, established by six Iowa State cofounders in 2020 and based in the Iowa State University Research Park, is all about commercializing that biopolymer/asphalt additive and other green technologies developed at the university.
Pilot to Production
Even as the Iowa State engineers were producing thousands of pounds of biopolymers per batch at the pilot plant, they were still tinkering with the production process. After all, they were trying to supply an industry that works at the scale of roads and parking lots, so they kept on innovating.
The engineers found a way to simplify production, going from three reactors down to one, and from 24 hours for a batch down to a few hours. The process, Poly100, is production in one reactor, with zero volatile organic chemicals, and zero waste. Everything that goes into the reactor is part of the product. The "one-pot" approach makes it much easier to manufacture and opens up SoyLei biopolymer production to more manufacturers.
The original use for their biopolymer is featured on SoyLei's "Featured Products" page on the company website – additives for asphalt pavements. There's also the "Invigorate" line of products that increases flexibility in asphalts and slows aging and cracking in pavements. There is the "Biomag" line that allows more recycled asphalt to be included in new pavements and can also be used to treat and restore existing pavements. And then there's "Peak 301," which can extend the life of roofing shingles.
All the products produce chemical reactions at the molecular level that reverse the effects of aging and oxidation. The soy biopolymers are a greener technology that replaces a petroleum-based polymer called polybutadiene, a compound used to make synthetic rubber that's in short supply, highly reactive and carcinogenic. With early support from the Iowa Dept. of Transportation, the Iowa Soybean Assn., the United Soybean Board, the National Science Foundation, the state Board of Regents and Seneca Petroleum Co. Inc., the engineers developed their alternative and over time learned the challenges of manufacturing and marketing a new product.
The Iowa Staters co-founded SoyLei with a goal to "commercialize green technologies developed at Iowa State University," according to the company website. "These technologies use renewable resources, such as soybean oil, to substitute products in different industries."
Some of that material ended up in a pavement that created a new floor for the huge Varied Industries Tent at the Central Iowa Expo near Boone, the home of last summer's Farm Progress Show. The pavement was dedicated with a ribbon-cutting and was even a stop on the media tour previewing the big farm show.
Want to tweet about this article? Use hashtags #construction #sustainability #infrastructure