We all want to work safely and have those around us safe as well. Construction is known for being a dangerous occupation with many trades among those with the highest injury record. For example, according to OSHA (Occupational Safety and Health Admin.), in 2021 roofers were in the third most dangerous occupation (59 deaths per 100,000 workers) with iron and steel workers in fifth place (36.1/100,000).
Take iron workers as an example. One of the most common reasons for fatalities in this field is because of accidental falls, slips, and trips. Because these workers are tasked with constructing large structures using steel they are usually climbing on ladders, operating heavy machinery, or lifting, loading, and unloading steel. These duties all bring with them a variety of opportunities for accidental missteps to occur.
General construction, as a category, had 951 fatal injuries in 2021, the most recent year records are available. Construction workers are exposed to an environment where things can fall on them, or they can fall from great heights while they are working. Missteps on ladders and injuries using heavy machinery are common reasons that lead to fatal injuries.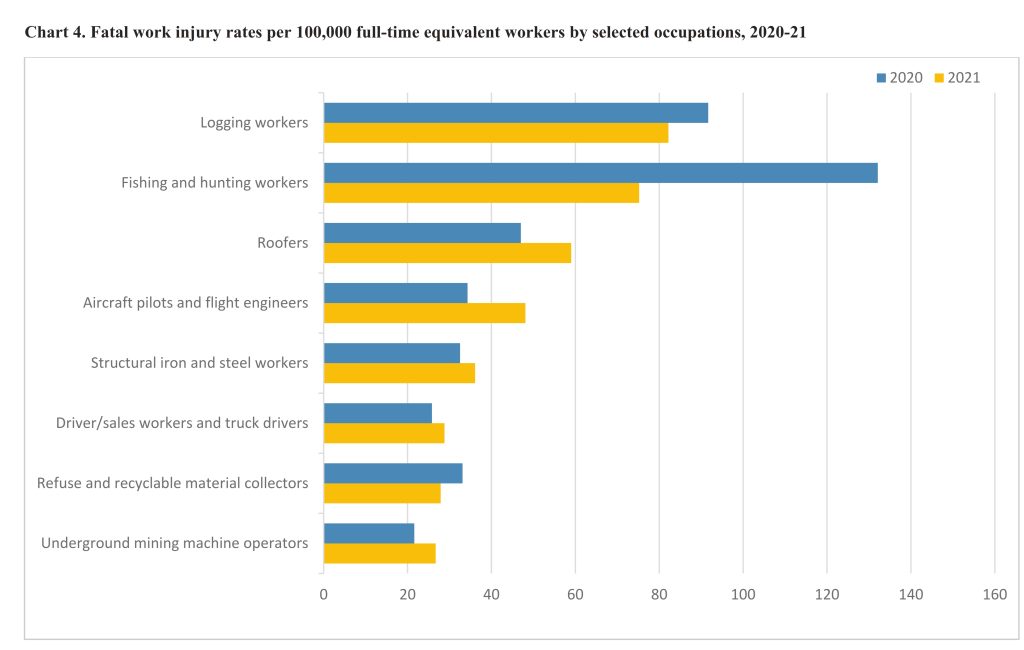 Institutional and commercial contractors can benefit from developing a comprehensive safety program that identifies root causes and eliminates near misses. Other than weekly site inspections and audits to confirm safety protocols are being followed, contractor safety programs tend to be largely reactive in nature. Policies, procedures, and training to address common hazards are put in place in response to OSHA requirements, while incident reporting and investigations usually happen only after an injury or accident has occurred. However, developing a true safety culture means looking beyond injuries and accidents to proactively focus on near misses and their root causes.
While some construction safety programs are primarily intended to meet compliance requirements, forward-thinking contractors realize that the additional expense incurred from implementing a robust safety program can result in benefits that offset the extra expense, especially when the total cost of workplace injuries is considered. In fact, a 2011 study found the indirect costs associated with workplace incidents can equal at least 2.7 times direct costs.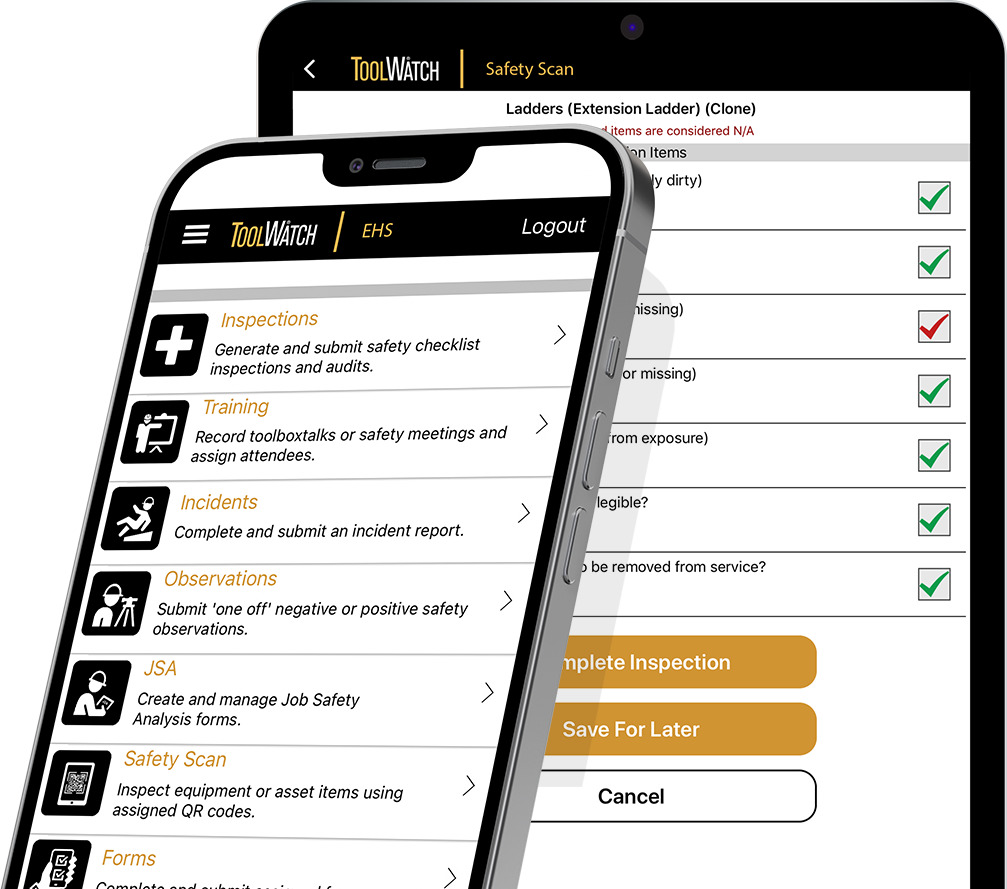 Obviously, companies in the industry are seeking ways to prevent accidents. Technology companies, in turn, are presenting various ways to manage safety programs. ToolWatch, a provider of construction operations software connecting the field, warehouse and back office, launched ToolWatch EHS, a comprehensive environmental health and safety offering to help general and specialty contractors manage their safety programs. The addition of EHS expands the ToolWatch construction operations platform to integrate safety and compliance with other jobsite workflows and data, improving overall performance by reducing risk and achieving regulatory compliance.
ToolWatch EHS follows the acquisition of Safety-Reports.com by ToolWatch in February 2023. Since 2011, Safety Reports has worked with customers throughout North America to create safe and compliant worksites, and its customers have created more than 20 million safety observations. Safety Reports' software helps customers maintain compliance with key regulatory bodies, such as OSHA, and manage operational risks by enabling users to perform safety audits and jobsite inspections, track employee training, identify compliance gaps, meet reporting deadlines, document incidents, and verify corrective actions. These tools improve employee health and safety, help mitigate legal and financial liability, and reduce risk for customers.
In the real world, no matter the technology or approach, accidents will happen. That's why they are called accidents. According to Safety-Reports.com, there are five steps to take after a safety incident occurs.
Step 1: Get Medical Attention and Care Immediately
First, in emergencies, especially those that are life-threatening, call 911 as quickly as possible. Do not allow the injured person or those helping them to drive to a hospital. Workers are not trained to maintain focus during these times, so getting in a car could put everyone at greater risk. Paramedics have the training and tools needed to provide emergency care in route to an emergency room.
For non-life-threatening injuries, the hurt person should still seek medical care as soon as possible. Seeing a doctor right away could make the difference between losing a few hours of work instead of weeks. Safety supervisors should advise those injured about your company's preferred doctors. In the event workers compensation can be claimed, some companies require workers to visit specific doctors as part of the claim.
Step 2: File an Incident Report As Soon As Possible
Once the injured person has seen or been directed to a medical professional, an incident report must be filed. Even less serious injuries need to be documented for the protection of your business and your employees. The Safety Reports Incident app makes filing an incident report fast and simple. Also, it helps gather more information like:
Time/Location
Activity
Injury types and description
Injury body chart to designate where injured
Treatment provided
Causal factors
Photos
Step 3: Inform All Necessary Parties
Third, the backbone of workplace safety is communication between workers and company management. After a safety incident occurs, a designated reporter should calmly notify workers in the area of the threat and inform safety supervisors who may not have been in the area so they can take appropriate action. Early and quick notification may help HR and safety supervisors identify weak spots in the safety protocol and implement new strategies or regulations more effectively to prevent incidents in the future.
Step 4: Review of Safety Procedures
Next, when an incident occurs, it is important to take a moment and identify any threats to safety. If a threat cannot be corrected immediately, you need to inform crew members. Although an injury is an unfortunate occurrence, it is a perfect time to hold a quick review of what could have been done differently and how to react in the situation. There's no better way to learn than hands-on. 
Step 5: Be Alert but Remain Courteous
Finally, emergencies can cause high levels of emotion. Fellow workers want to help in any way they can while protecting themselves. Their concern may even affect their productivity, attention, and cause tension between workers. Safety supervisors should take the necessary time to address workers' concerns and be courteous. A calm voice during stressful situations will help everyone maintain a clear head and return to work quickly and safely.
With the increasing velocity of infrastructure improvements occurring across the nation, jobsite safety and the practices and technology that support it, are more important than ever. Safety Reports' suite of applications is ideal for the construction industry, where safety professionals are not consistently present on site with the front-line workers in active, ever-changing field conditions. By bringing the two platforms together, customers will receive a deeper view into the performance of their organizations while providing a safer workplace and reducing time lost from safety violations.
Want to tweet about this article? Use hashtags #construction #infrastructure #cloud