AVs (autonomous vehicles) will unlock opportunities for businesses, consumers, and society, but the road to reaching true autonomous driving is a long one—with bumps, pivots, and potholes—and with many challenges and opportunities. So, the question at hand is: what comes next?
To answer these questions, we must first unpack where we are right now. We know different levels of autonomy include semi-autonomous that require driver assistance to fully autonomous. And of course, the SAE (Society of Automotive Engineers) has the 6 levels of driving automation, which ranges from fully manual (0) to fully autonomous (5).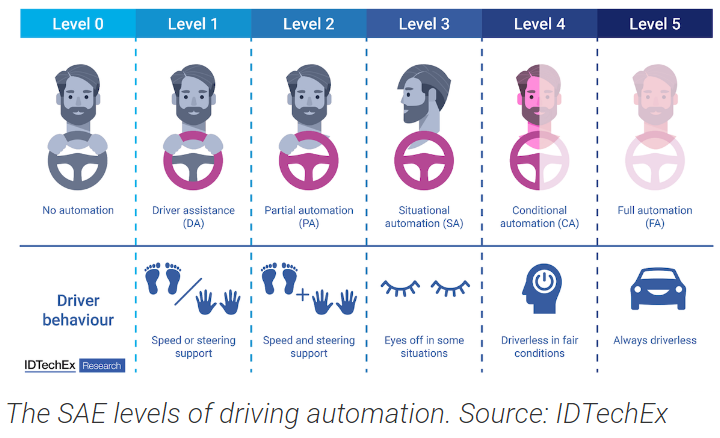 The reality is right now most cars only include basic ADAS (advanced driver-assistance systems). Broadly, the current highest state of autonomy in the private automotive industry today is SAE Level 2, which is partial automation. Making the jump from Level 2 to Level 3 is a big one, as Level 3 is where the automated driving function takes over certain driving tasks.
Many organizations such as GlobalData and McKinsey & Co., suggest we can expect greater functionality for fully autonomous vehicles by 2035—but there is much work and progress that will need to be made before we reach that point. Based on McKinsey's sales scenarios, L3 and L4 systems for driving on highways will likely be more commonly available in the private-passenger-car segment closer to 2025 in Europe and North America, even though the first applications are just now coming into market.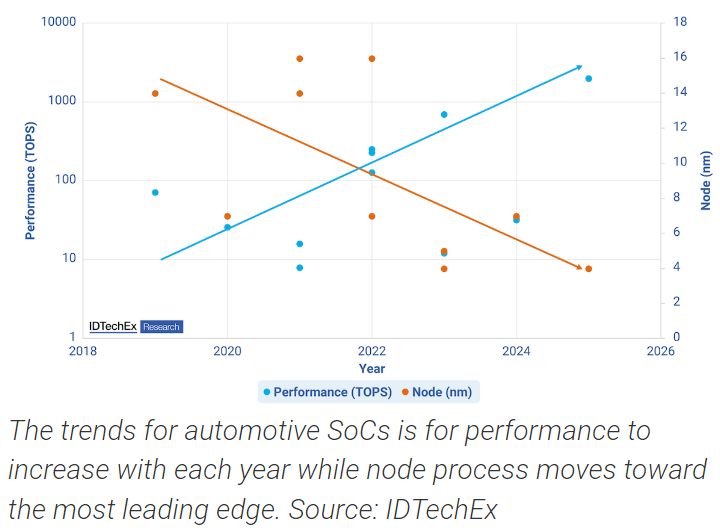 What Comes Next?
With all this in mind, what then comes next for autonomous vehicles? The answer is the same as it is for most industries in the year 2023: AI (artificial intelligence). AI chips are projected to generate revenue of more than $22 billion by 2034, and the industry vertical that is to see the highest level of growth over the next 10-year period is the automotive industry, with a compound annual growth rate of 13%, according to IDTechEx.
In automotive vehicles, the AI chips are found in centrally located microcontrollers, which are connected to peripherals such as sensors and antennae to form a functioning ADAS. On-board AI compute can be used for several purposes including:
Driver monitoring where controls are adjusted for specific drivers, head, and body positions are monitored to detect drowsiness, and the seating position is changed in the event of an accident.
Driver assistance where AI is responsible for object detection and appropriate corrections to steering and braking.
In-vehicle entertainment where on-board virtual assistants act in much the same way as on smartphones or in smart appliances.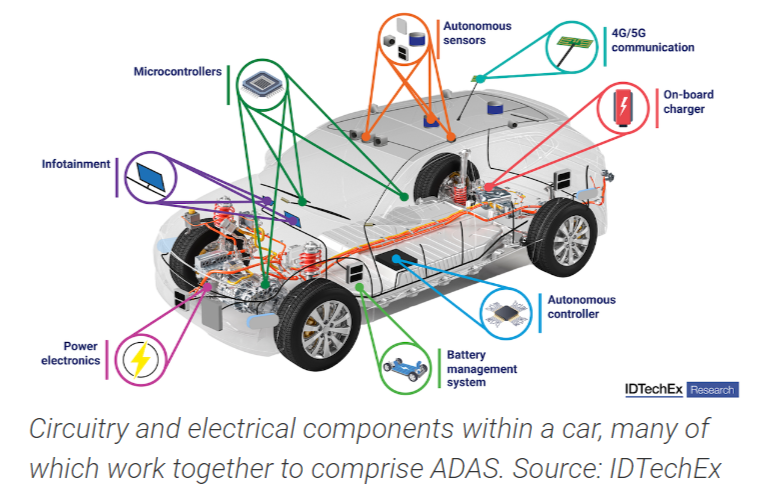 Looking to the future, IDTechEx forecasts the global AI chips market for edge devices will grow to $22 billion by 2034, with AI chips for automotive accounting for more than 10% of this figure.
We certainly are headed in the right direction on the road to autonomous vehicles. The next curve will be a big one, as we shift from Level 2 to Level 3 and automated driving begins to take over more of the driving tasks. Buckle up, we are all in for an exciting ride.
Want to tweet about this article? Use hashtags #IoT #sustainability #AI #5G #cloud #edge #futureofwork #digitaltransformation #green #ecosystem #environmental #circularworld #AV #autonomousvehicle #autonomousvehicles