Artificial intelligence, otherwise known as AI, and IT (information technology) go together like a horse and buggy, apparently. Old fashion, comfortable fit, and still moving along. But the CIO isn't the only resident of the C-Suite that can benefit from AI. Gartner has identified five of the top AI (artificial intelligence) use cases for FP&A (financial planning and analysis) leaders to consider implementing in their functions.  
According to Gartner research, organizations ignoring these use cases should have a good reason for doing so because they offer the best combination of feasibility and business benefit. Looking to apply AI to other use cases before getting these five working effectively is likely leaving process efficiency and business performance gains on the table.
What are the top five? Gartner analysts examined 23 AI use cases in corporate finance representing the types of processes a future-looking autonomous finance organization will work on. They were ranked according to their business value and feasibility of implementation.
Demand / revenue forecasting: Using both internal and external sources of data, models predict demand and associated revenue across a variety of dimensions including business unit, product line, SKU, customer type, and region.
Anomaly and error detection: Anomaly detection uses a series of ML (machine learning) models to highlight transactions or balances that are in error or potentially violate accounting principles or policies. A comprehensive solution will also include realtime analysis during data entry preventing errors from entering the workflow and avoiding costly downstream corrections.
Decision support: ML prediction algorithms designed to predict outcomes based on current data are used to predict outcomes when alternative data values are used. Using models with hypothetical data predicts the result of alternate decisions.
POC revenue forecasting: Or POC accounting, ML models forecast the percentage-of-completion metrics (e.g., hours, cost, units, weight, etc.) to predict POC revenue and the total completion effort remaining.
Cash collections: ML models are used to forecast when customers will pay invoices triggering proactive collection efforts before payments are past due. Using the predictions from these models, collections staff focus their efforts on at-risk accounts. Forecast cash collections also contribute to overall ML-driven cashflow forecasting.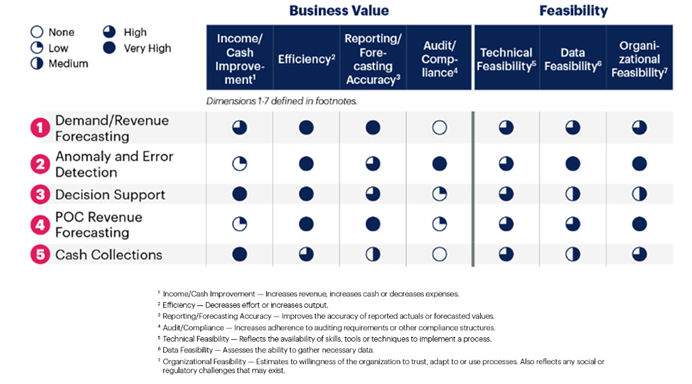 Financial planning and IT aren't the only beneficiaries of advanced technology in the C-Suite. Besides AI, automation of a variety of corporate functions is a growing area of demand. About 85% of I&O (infrastructure and operations) leaders that do not currently have any full automation expect to become more automated in the next two to three years, according to Gartner. They predict that by 2025, 70% of organizations will implement structured automation to deliver flexibility and efficiency, an increase from 20% of organizations in 2021.
"Automation is essential for I&O to scale for the rising demands of digital business," said Yinuo Geng, VP at Gartner. "I&O automation technologies can support IT in enabling speed to market, increasing business agility, ensuring compliance with security and regulatory requirements and optimizing service costs."
Automation in Infrastructure Deployment
Gartner found I&O is most often using automation within deployment domains, such as application deployment (47%), I&O workload automation (43%) and end-user device deployment (41%). Some 90% of respondents that are automating application deployment report that it has provided value.
For example, just 22% of I&O leaders are currently automating patching and vulnerability remediation. However, 70% of those who are automating such activities find it to be impactful for the business, stressing the urgency for I&O to expand automation to operational domains.
Only 21% of Gartner's survey respondents reported high levels of success in their I&O automation endeavors. The most common challenges cited include estimating ROI to select best use case opportunities, changing ways of working to more consumer-centric approaches, improving legacy processes and infrastructure, and developing and acquiring relevant skills.
Want to tweet about this article? Use hashtags #construction #sustainability #infrastructure #IoT #AI #cloud #edge #futureofwork