In my book, Sustainable in a Circular World, I highlight the world's water crisis. The world needs water. It's that simple. But our ability as humankind to supply clean freshwater isn't simple, but there are new solutions for homes that could make a difference.
While scientists might disagree about what is happening to the natural landscape, the inextricable truth is that billions of people around the world today still experience water scarcity during their lifetime. Water scarcity can be caused by droughts, lack of rainfall, pollution, overpopulation, or when we simply abuse and consume way too much of it. Did you know only 3% of the world's water is fresh water, and two-thirds of that is frozen in glaciers and unavailable for our use?
Enter floating homes. One manufacturer of sustainable plywood is looking to make a positive impact through a unique solution. Garnica's latest innovation is on the Rivage Floating Houses, which aim to help reclaim freshwater spaces through floating installations. These blend environmentally friendly materials and technologies—all while providing luxury dwellings.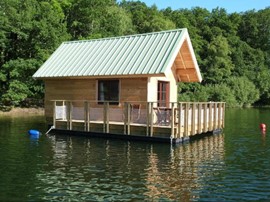 These particular floating houses are designed for vacation rentals and are located in northern France. This type of construction requires a light system that allows floating in a simple manner, is highly energy efficient, and uses materials from a sustainable and renewable source that are also able to withstand changing humidity and temperature condition.
The houses are built with Garnica's sustainable Duraply plywood, which offers the lightness and durability necessary to float on and above water while also withstanding changes in humidity and temperature conditions. The Duraply line of panels is composed of plantation poplar; 100% of the panel has been modified with an innovative treatment that provides it with exceptional durability in outdoor spaces. Poplar is one of the most sustainable species, notable for its high CO2 absorption and fast growth, so it is replaced faster, and the environmental impact is minimal.
Beyond the uniqueness we see here with the materials, the Rivage Floating Houses also feature today's standard energy-efficient systems. Things such as solar panels and rainwater collection help to minimize reliance on non-renewable resources. In addition, these floating homes feature advanced waste management solutions, including composting toilets and water filtration systems, which also help to reduce their ecological footprint.
In addition to the floating houses, Rivage has designed tree houses that offer a unique space nestled in a calm and natural environment. They have other projects as well, such as floating pools based on rot-resistant wood that are adapted for people with reduced mobility.
At the end of the day, we need homes that are more sustainable, so we can leave a better future for younger generations. While this is simply one example, there are others that will set the pace for years to come. What have you seen in new homes? How are they becoming more sustainable? What lasting impact will they have?
Want to tweet about this article? Use hashtags #IoT #sustainability #AI #5G #cloud #edge #futureofwork #digitaltransformation #green #ecosystem #environmental #circularworld #floatinghomes