Bridges are found in every nation. Some span a creek while others, like the Øresund Bridge that connects Demark to Sweden, carry traffic over the sea. The Øresund Bridge is the longest combined road and rail bridge in Europe, running nearly 8 kilometers (5 miles) from the Swedish coast to the artificial island Peberholm in the middle of the Øresund Strait where it meets the 4 Km (2.5 mile) Drogden Tunnel to Denmark.
Another giant of the bridge building world was recently opened to traffic in Turkey. While the Øresund Bridge is named for the straits it spans, the Turkish 1915Çanakkale Bridge gets its name in honor of the Çanakkale Battle during World War I that took place between Turkish and Allied forces. Completed 18-months ahead of schedule, it is the world's longest mid-span and highest tower suspension bridge.
Financed and constructed by a Turkish-Korean joint venture, the 1915Çanakkale Bridge and Motorway will enable the crossing between Asia and Europe in six minutes over the Çanakkale Strait (Dardanelles). The bridge boasts a total length of 4,608 meters, a central span of 2,023 meters, and a total bridge tower height of 318 meters (334 meters to the top point).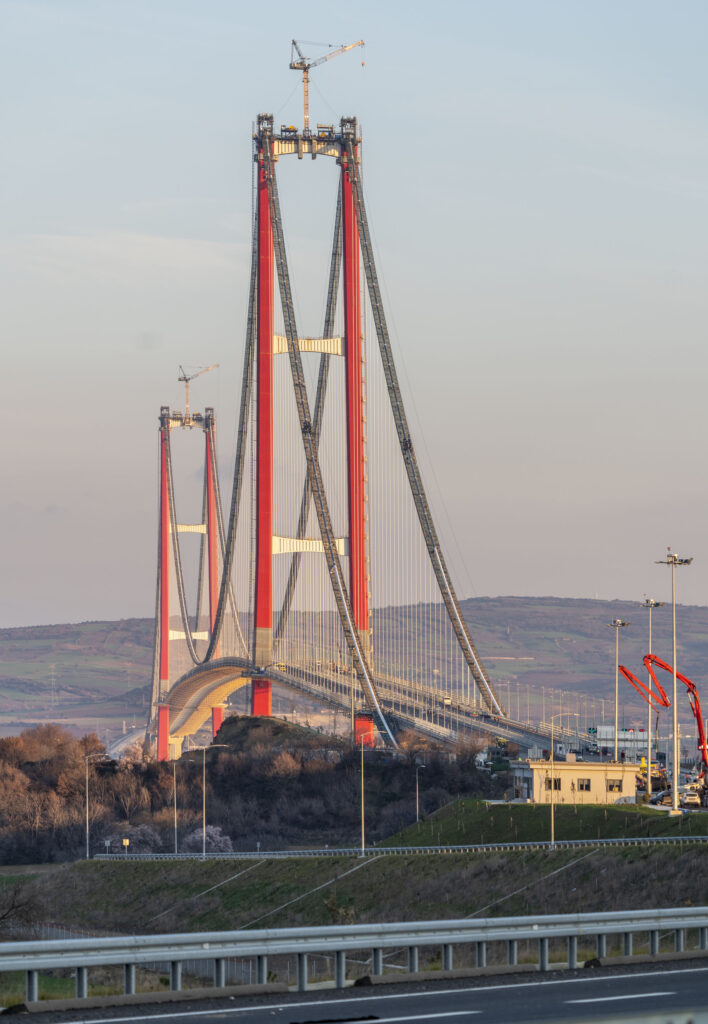 The Canakkale Bridge project is a BOT (build-operate-transfer)-style private-public cooperation project. Costing 3.5 trillion Korean won ($2.86 million) in all, the project is participated in by DL E&C and SK Ecoplant as the operator of the bridge including designing, procurement, and construction. The total project period is 16 years and 2 months including the construction and operation period.
SK Ecoplant was the first Korean company to introduce the extra-dosed bridge. An extradosed bridge employs a structure that combines the main elements of both a prestressed box girder bridge and a cable-stayed bridge. The name comes from the word extrados, the exterior or upper curve of an arch, and refers to how the "stay cables" on an extradosed bridge are not considered as such in the design but are instead treated as external prestressing tendons deviating upward from the deck. In this concept, they remain part of the main bridge superstructure.
DL E&C is a company specializing in engineering and engineering, procurement, and construction (EPC) in South Korea and, like many others, sees the importance of using technology to mitigate the effects of construction and construction materials on the climate. It has unveiled a blueprint for growing to a total solution provider for the overall value chain of CCUS (carbon capture, utilization, and storage)-related businesses.
DL E&C intends to emerge as a strong provider of customized solutions for achieving carbon neutrality and ESG (environment, society, and governance) globally by developing a sustainable model that can recycle captured carbon as construction materials or store carbon in abandoned oilfields or gas fields.
As the adoption of net-zero carbon emissions and the implementation of carbon tax emerge as major issues across the world, carbon neutrality will become an unavoidable responsibility of companies. Being an eco-friendly technology that stores emitted carbon or converts it into high-value products, CCUS is considered the most reliable and realistic current alternative for reducing carbon in the mid- and long-term.
Carbon capture and storage is a technology to combat climate change in which carbon dioxide is captured and then stored permanently across depleted hydrocarbon fields and deep saline aquifer formations. The goal of CCUS is to keep CO2 emissions out of the atmosphere as increased levels of CO2 is the main culprit behind the Greenhouse effect and global warming.
IndustryARC, a global market survey institute, predicts that the global CCUS market will grow to $25.3 billion in 2026. In the meantime, the demand for the technology has been on a rollercoaster ride. When the COVID-19 pandemic hit, many end use industries like chemical plants, iron and steel, and other industries scaled back production and many were shut down due to lockdowns.
In early 2020, investing huge capital for Carbon Capture and Storage projects took a backseat for a while as industries struggled to make profits. For instance, in March 2020 Petra Nova CCS Facility, USA paused all Carbon Capture and Storage operations. On the other hand, as human activities were brought to a complete standstill, the levels of CO2 also decreased.
In recent months, DL E&C has concentrated its efforts on developing key technologies for converting captured carbon into high-value products such as construction materials or petrochemical materials. To that end, the company is building a demonstration plant for commercializing carbon mineralizing technologies in conjunction with the Carbon Mineralization Flagship Center in Korea Institute of Geoscience and Mineral Resources. It aims to complete the entire CCUS value chain by joining in carbon storing business through collaboration with global companies in the long term.
Want to tweet about this article? Use hashtags #construction #sustainability #infrastructure