PTC LiveWorx 2023, a live event in Boston, Mass., wrapped up last week after thousands of attendees experienced Xtropolis, the LiveWorx expo hall full of demos and interactive technology displays. It was PTC's first LiveWorx event in four years. During those four years, PTC says it invested more than $3 billion in acquisitions and organic development, including its acquisitions of companies like Onshape, Arena, Codebeamer, and ServiceMax, as well as the launch of PTC Atlas and several SaaS (software-as-a-service) -based tools, including Windchill+, Creo+, and Kepware+.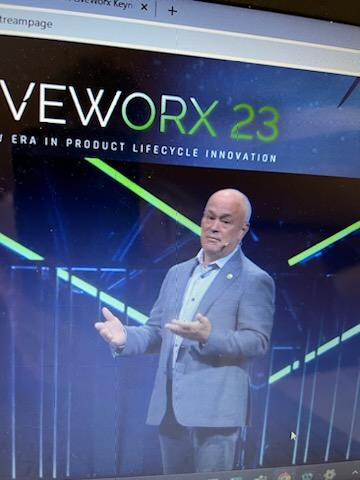 The 2023 event focused on the importance of sustainable digital transformation. In his keynote address, PTC's CEO Jim Heppelmann shared how PTC is supporting six trends in product development by enabling speed and agility, greater efficiency, an asset-centric vision, a focus on sustainability, and a transition to SaaS, in addition to building powerful partnerships. Heppelmann also gave examples of how PTC is helping customers achieve agility in the face of market changes, traceability and speed in software development, and agility in hardware development.
At the event, PTC showcased a 3D-printed jet engine, the first in the world, according to the company. Weighing about eight pounds, the micro turbojet engine was designed using PTC's Creo CAD (computer-aided design) software and represents a breakthrough in designing for additive manufacturing.
PTC also announced the 10th version of Creo, as well as Creo+ at LiveWorx. Creo is a SaaS CAD solution, and Creo+ offers new cloud-based tools that build on and enhance Creo's core capabilities for model-based definition, simulation-driven design, and advanced manufacturing. Creo+, which will launch early next month, will offer realtime collaboration and branching tools, in addition to the PTC control center, which will streamline and simplify management for administrators.
LiveWorx featured a dedicated track for environmental sustainability, and the company announced new initiatives as part of its own environmental sustainability practice. For instance, PTC pledged near-term emissions reductions and long-term net-zero targets. The company also announced it is expanding partner relationships to support product dematerialization and manufacturing efficiency, which will help manufacturers achieve their own environmental sustainability goals.
At the event, PTC also talked a lot about the concept of a digital thread—a hypothetical thread that closes the loop between the digital and physical worlds. By connecting products, processes, and human decisionmakers, a "digital thread" can help organizations leverage the data they're collecting for digital transformation. In one example, PTC says its customer VCST, a supplier of automotive parts, created a digital thread in order to reduce cost, improve product quality, bring products to market fast, and encourage future innovation.
Want to tweet about this article? Use hashtags #IoT #sustainability #AI #5G #cloud #edge #digitaltransformation #machinelearning #PTC #LiveWorx #digitalthread #SaaS #manufacturing