The IoT is helping companies reduce, reuse, and move the needle toward circularity.
In September, Patagonia founder Yvon Chouinard set a high bar for companies that claim to care about the planet. Chouinard and his heirs essentially gave the outdoor clothing and gear company away for the benefit of the environment. And while this business move represents what many beyond the Chouinard family consider to be an extreme dedication to the planet, committing resources to the pursuit of sustainability and a more circular business model has become far less extreme of a position than it used to be.
A majority of businesses in Deloitte's 2022 CxO Sustainability Report self-reported positive steps toward sustainability and circular goals. For instance, the report says 67% of organizations are using more sustainable materials in their businesses, 66% are increasing their energy efficiency, 57% are using energy-efficient or climate-friendly machinery, technologies, and equipment, and 57% are training employees on climate change actions and impacts. In terms of some of the harder-to-implement, needle-moving actions, Deloitte's report suggests fewer companies are currently participating, but good progress is being made, nonetheless. For example, 49% are developing new climate-friendly products or services, 46% are requiring suppliers and business partners to meet specific sustainability criteria, and 37% are tying senior leaders' compensation to environmental sustainability performance.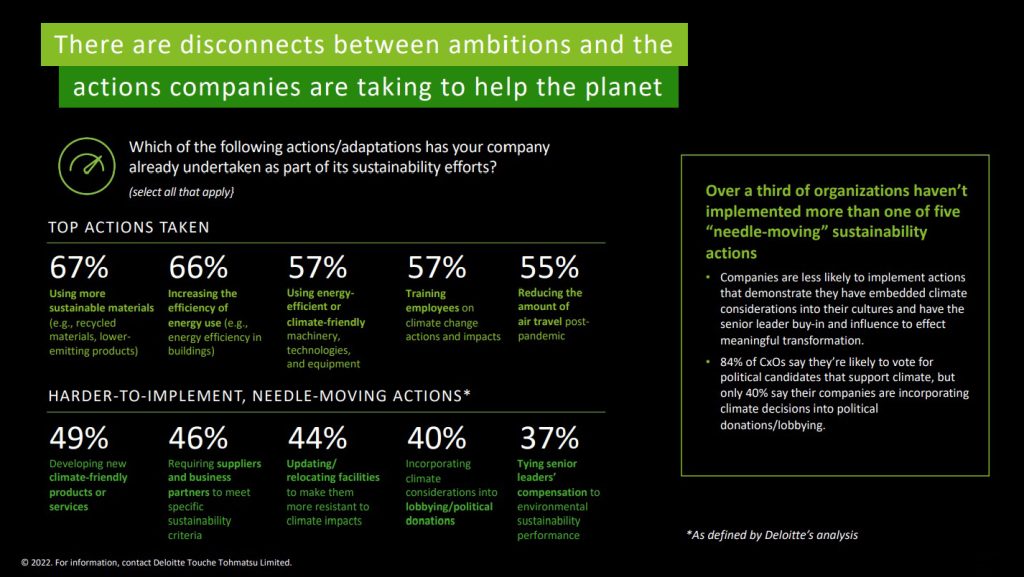 Kevin Hsu, vice president of innovation at Sterling Solutions, says the way businesses are approaching environmental stewardship is changing for the better. "The perception that you couldn't compete economically and be environmentally responsible has been challenged successfully in so many areas, and that mindset is driving innovation," Hsu says. "I think people are starting to get a lot smarter about how we view the world. It's become more clear that our long-term future depends on bringing more circularity into our economic thinking."
Circular thinking, along with the idea that a business can be environmentally responsible and competitive, plus the fact that sustainable goals are driving business innovation are all adding up and contributing to a bigger-picture movement. Big data and the IoT (Internet of Things) technologies are two of the forces enabling this movement—a movement in which businesses, governments, and individuals are working together more than ever before to become better stewards of the planet's resources.
Smart Manufacturing, Smart Business
In manufacturing, IoT technologies are helping businesses increase precision and efficiency, which can help reduce waste. Jacqueline Cramer, professor at Utrecht University in the Netherlands, says more refined design techniques help ensure society produces what it needs—no more, no less. "When you design more precisely through all the techniques we have now, then there is not that much left over," Cramer explains. "And what is left over you can also bring back into design, and you can reuse that in your process so then there is no waste left—or at least much less."
Buckley Brinkman, executive director and CEO of the Wisconsin Center for Manufacturing and Productivity, says the best solutions reduce resource consumption while also increasing output, and this just makes good business sense. "Very few manufacturers pursue sustainability or a circular economy purely to save the world," Brinkman says, mentioning Yvon Chouinard and Patagonia as an example of a company that breaks this mold. "Most of the manufacturers we help pursue sustainability because it can be good business—making their operations more efficient and reducing their costs."
Manufacturers often adopt advanced technology tools to improve productivity, flexibility, and responsiveness. Smart manufacturing can also lead to less waste, but not by default. "Smart manufacturing leads to less waste when companies implement the proper technology in the proper way with the proper involvement of the people who will run it," Brinkman says. "Too often, we see manufacturers leap at new technology before they understand where it can have the most impact. Traditionally, we used value stream maps and flow analyses to identify key places to apply technology in a measured way with the best results. Now, the ability to create a digital twin—a computer model—enables operations to see how particular changes will impact their operations before making large investments or hard-to-reverse decisions. This saves time, money, and wasted effort."
5 Ways Technology Can Improve Sustainability
Josué Velázquez Martínez, director of the Sustainable Supply Chain Lab at MIT (Massachusetts Institute of Technology), lists five ways technology can improve sustainability:
Visibility: By having in place systems that can keep track of the operations (production, transportation, etc.) in the supply chain from extraction to consumption, it is possible to identify and mitigate environmental and social hot spots.
Efficiency: Systems like automation enable companies to operate with high levels of productivity, making the requirement of energy lower than semi-manual operations, thereby reducing carbon emissions.
Connectivity (specifically related to 5G or broadband): These technologies enable connectivity between users to build realtime synchronized solutions, which improves energy usage and better planning, plus reduces environmental impacts overall.
Monitoring: Using technology, it is possible to provide realtime indicators related to the sustainability performance (e.g., carbon emissions, energy usage, etc.). These indicators can be defined in both strategic and operational levels.
Operations: Technologies allow for the use of machine learning and data analytics in a variety of supply chain processes (demand planning, inventory, transportation, etc.). This is mainly possible due to technology advancement and computer power.
Debbie Shakespeare, senior director of compliance, sustainability, and core product lines at Avery Dennison RBIS, says smart manufacturing not only leads to less waste but also creates positive ripple effects throughout the entire supply chain. "As well as using digital tools to promote circular consumption, smart manufacturing and digital innovation can drive supply chain efficiency and cut waste," she says. "RFID technology and digital product tracking can help a company avoid over-manufacturing. Instead, a company only makes what is required, so less waste is produced and, as a result, (there's) a reduction in the supply chain's overall carbon footprint. Businesses are now making use of this to a greater extent, although more effort is still required."
Shakespeare says data is enabling the digital transformations that fashion businesses and retailers are increasingly making a priority. She also points out that in an age of greenwashing, brands need real data to confirm the ways they're addressing environmental challenges. "We'll need points of connectivity on garments to capture and track the data needed for sustainability, circularity, and digital customer involvement," she says. "Only then can fashion legitimately claim to be environmentally friendly."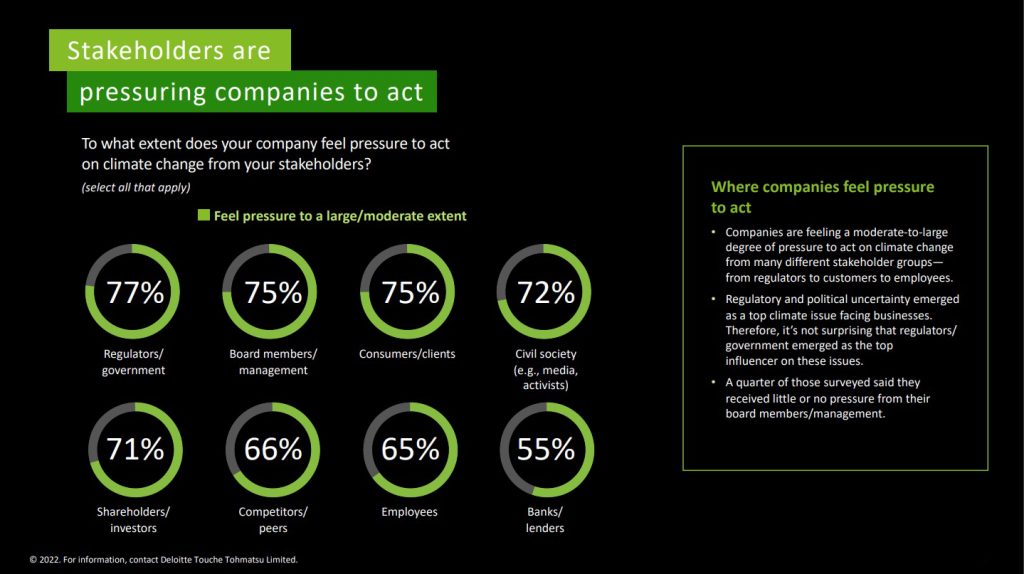 Advances in technology and smart manufacturing are reshaping business at Avery Dennison and beyond, delivering cost and efficiency savings. "Leveraging data and smart manufacturing is critical to our success in delivering to our customers," Shakespeare adds. "Smart manufacturing is all about connecting processes digitally with other networks, enabling machines to automate and produce independently and ultra-efficiently. Our aim is to make tasks more efficient and effective, leveraging data to drive better decisionmaking. Whether that's in the production of physical goods, quality checks, or communication with our downstream suppliers, it's the connectivity that counts."
Moving Toward Circularity
There is no doubt technology and data provide transparency within supply chains and are the key to more sustainable and circular systems. In the apparel industry, Shakespeare says digitalized or "connected" garments can help meet the increasing need and desire for sustainability by providing access to vast amounts of data.
"To eliminate garment waste, the industry needs composition and manufacturing process data about every item, as well as the ability to link information all the way through the supply chain," she explains. "The journey to fashion circularity may truly progress once this is widely available and recycling facilities have been appropriately supported and ramped up. Reverse logistics partners can automate the sorting process by scanning a digital trigger, such as a QR code, on a garment to access consistent data, regardless of the brand. This will speed up the process of determining if a garment can be resold or what type of recycler is required to handle its components. Resellers will be able to use the same technologies to verify the authenticity of products."
At the same time, digital labels also allow consumers to learn about the history and composition of garments, as well as how and where to recycle them. "For the retailer, digital technology will provide exact post-purchase tracking of a garment, allowing it to be received once a customer has finished with it and repurposed in a variety of ways," Shakespeare concludes. "Brands can track the amounts of inventory moving back into the circular economy and assess how effectively they are reducing their carbon footprint—all through using QR codes on intelligent care labels. Having a permanent digital trigger, like a QR code, unlocks the ability to propel the entire business forward by providing data that will promote necessary awareness and allow for new methods of working."
---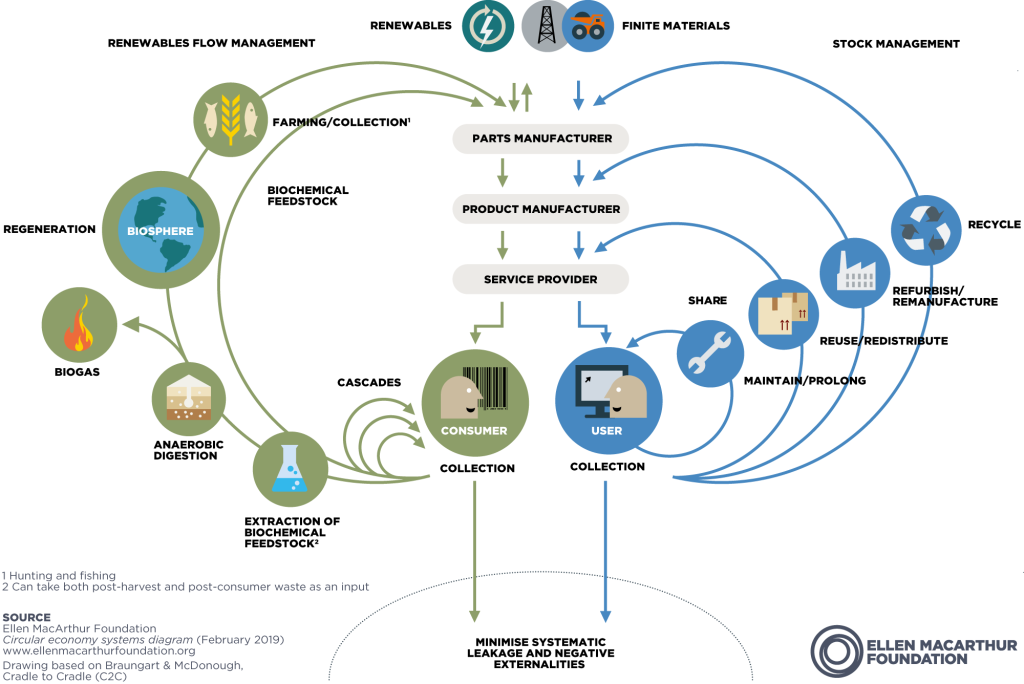 ---
Each sector is moving toward circularity and leveraging technology to do more with less at a different pace. At Sterling Solutions, a wood products manufacturer, Hsu says wood products are incredibly "circular" by their very nature. He sees circular thinking impacting how the building and construction industries solve problems. In his industry, Hsu explains how technology improves production efficiency—the volume of lumber that can be produced from a set volume of logs—and has allowed for the advent of new products like plywood and CLT (cross-laminated timber), which is Sterling's primary product.
"Add to that the advancements we've seen in fabrication equipment, along with advancements in building design, such as computer-aided design software, and suddenly we're leveraging a natural resource—wood—in a whole new way," Hsu says. "What we've experienced in the wood products industry is technology that not only helps us be more efficient with the resource, but eventually leads us to viewing the resource differently and imagining how we might utilize it in entirely new ways—ways that could have far-reaching effects on our planet's ability to sustain life as we know it."
Natural Resource Stewardship
Dean Amhaus, president and CEO of the The Water Council, says the IoT can contribute to circular economy goals by providing essential data elements needed to optimize a complete process, predicting demand and inventory needs and improving energy use, equipment maintenance, and the use of raw materials in a way that enhances decisionmaking and minimizes waste. "When manufacturers glean insights from past and current production data, they can better manage their inputs and raw materials and can manage their supply chain, leading to reducing excess inventory," Amhaus says. "Considering ongoing supply chain crimps, shortages, and long lead times, this is more difficult."
Technology plays a central role in helping society steward water resources, providing the right data, information, connectivity, and trend lines to inform integrated water resource management. "When combined with water stewardship, technology deployed strategically should help us address and solve many of our most pressing shared-water challenges," Amhaus adds. "For the most part, we have the right technology and know-how, now we need to muster the collective will power and funding to do the hard work of investing in and building more resilient water systems."
For instance, Amhaus says it's known how many of the U.S.'s most important aquifers are stressed, yet these groundwater sources supply most of the nation's agricultural production. IoT technologies allow farmers and others to actively monitor well depth, apply irrigation at targeted spots, and monitor water quality from the palm of their hands. "We are also confronted with new challenges like PFAS (perfluoroalkyl and polyfluoroalkyl substances) contamination," Amhaus says. "Emergent technologies are currently being developed to help us break down and remove from the environment these so-called 'forever' chemicals."
Technology also makes it possible to remotely monitor and control water utilities. In fact, during the height of the pandemic, Amhaus says many critical functions of municipal water systems were remotely controlled. "Taken as a whole, we have the technological capability to sustainably interact with all aspects of the water cycle on this planet," he stresses. "It comes down to collective will power and funding to deploy these technologies to address our shared-water challenges. Some of the more complicated and impactful solutions will take time, creativity, capital, and strong leadership."
The Wisconsin Center for Manufacturing and Productivity's Brinkman says progress toward sustainability and circularity will move fastest in sectors where projects generate a positive—or at least a neutral—rate of return. "We find companies will pursue sustainability projects with a solid economic justification," he says. "They will also pursue projects that lowers risk exposure. For example, one of our manufacturers installed a massive solar panel array to lower their risk of power interruption and exposure to price increases."
One company doing its part is great, but it's going to take a coordinated effort from not just one company, one sector, or one country but a whole bunch of companies, sectors, and countries to fully realize a circular economy—one that prioritizes reducing, reusing, and maximizing efficiency. The solution goes beyond just one technology or set of technologies, as well. Utrecht University's Cramer says in moving to a more circular economy, technologies are crucial, but they're just one piece of the puzzle. "When we move to a circular economy, it's a system innovation and not just a technological innovation of one company or one technology," she explains. "It is a system change in which all parties that are relevant should participate."
Because circularity is a system change, technology adoption is very important, but it's not the only requirement. "You also have to deal with the non-technical issues—the organizational change that need to be made, the behavioral changes, the financial and economic changes, and the regulatory changes," Cramer concludes. "A move to circularity is an overall change that can support technology, but we can't make the change with technology alone."
---
Links For Further Learning:
Want to tweet about this article? Use hashtags #IoT #sustainability #AI #5G #cloud #edge #digitaltransformation #machinelearning #bigdata #AveryDennison #Patagonia #TheWaterCouncil #circularity #circulareconomy#stewardship #naturalresources #energy #retail #fashion #SterlingSolutions #construction#building #supplychain