The market for homes has been saturated with "pre-owned" units for as long as anyone can remember. The turnover in older builds has, indeed, been the market for single-family homes in the U.S. New structures are usually a small percent of the units available at any given time but that percentage is volatile and in the third quarter of 2022 it was up more than expected.
According to Redfin, a technology-powered real estate company, 29% of U.S. single-family homes for sale in the third quarter were new construction—the highest share of any third quarter on record. That's up from 25% in the third quarter of 2021 and 18% in the third quarter of 2020. The figures prove that new homes have been taking up a growing portion of overall housing supply since 2011, when building started to rebound after the financial crisis.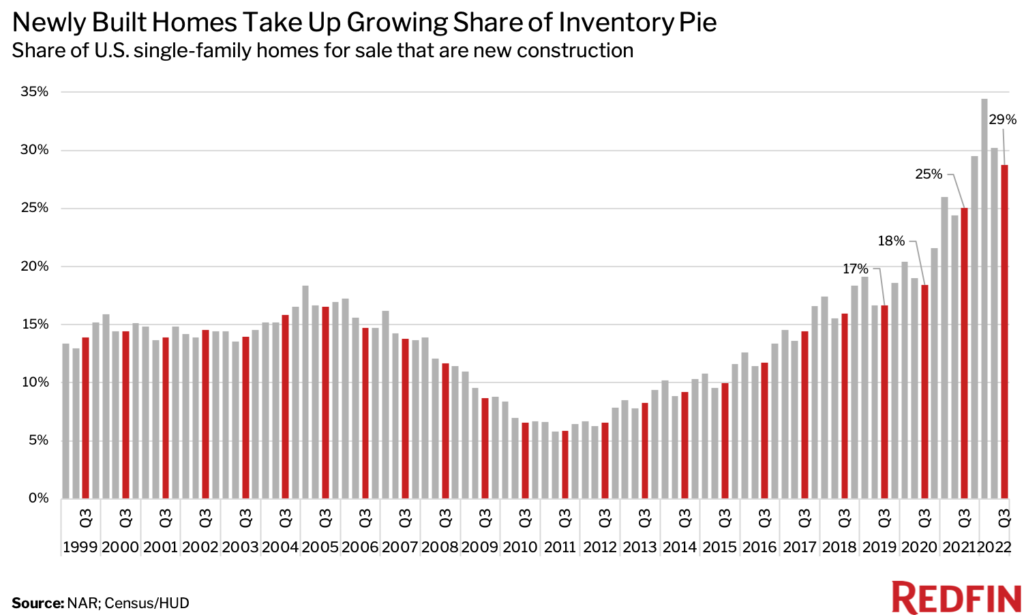 The trend is now intensifying due to a surge in construction during the pandemic and a recent slowdown in existing homeowners putting their houses up for sale. Single-family housing starts rose 14% year over year in 2021, the largest annual increase since 2013. As a result, more single-family homes housing units were completed in the third quarter than any quarter since 2007. In September alone, the number of completed new homes for sale was up 19% from the prior month.
Homebuilders started scores of projects during the pandemic moving frenzy and are now stuck with a bunch of new houses that are hard to sell because mortgage rates have risen to 7%. Many builders are offering to buy down the buyer's mortgage rate by 1.5 points, and at least one offers a $10,000 check for closing costs, a $3,000 gift card and a free fridge.
A lot of individual sellers are still pricing their homes too high because they're having a hard time accepting that the pandemic housing boom is over and they're not going to get 30 offers like their neighbor did last year. With a glut of inventory on their hands, builders will likely ease up on construction in 2023, according to Redfin.
High Prices-Higher Income Needed
Studying the causes of the market's fluctuation is a daunting task but some statistics are readily available. For example, a homebuyer must earn $107,281 to afford the $2,682 monthly mortgage payment on the typical U.S. home, up 45.6% from $73,668 a year ago. That's due to mortgage rates that have more than doubled over the last 12 months, combined with persistently high home prices. The average U.S. hourly wage grew by about 5% over that same period, and inflation is also cutting into would-be buyers' budgets.
After remaining mostly unchanged for several years, the annual household income necessary to afford a monthly mortgage payment began climbing at the beginning of last year due to the pandemic homebuying boom and rapid rise in prices. The income required to buy a home then skyrocketed in 2022 as mortgage rates rose at their fastest pace in history, reaching 7% by the end of October. Home prices also continued to increase for much of the year, though they've now started declining from their peak and year-over-year growth has now slowed to around 3%. 
Pandemic Boomtowns
Many of the metro areas with relatively high shares of new homes for sale have something in common: They ramped up building during the pandemic because they exploded in popularity with out-of-town buyers and are now seeing significant slowdowns in their housing markets. More than half of the metros in the top 20 are in Texas or Florida—hot pandemic migration destinations with room to build. More than one-quarter of the top 20 are now on Redfin's list of fastest cooling housing markets.
In El Paso, Texas, newly built single-family homes made up half of all homes for sale in the third quarter—the highest share among the 80 major metros with sufficient data that Redfin analyzed. Next came Oklahoma City (43%), Omaha, Neb (40%), Raleigh, N.C. (39%), and Houston (37%). Rounding out the top 10 are North Port-Sarasota, Fla., (35%), San Antonio (33%), Greenville, S.C, (33%), Boise, Idaho, (33%) and Charleston, S.C. (32%).
The southwestern Florida metro of North Port was consistently one of the top migration destinations during the pandemic because it offers relative affordability and sunshine. That caused home prices and construction to surge. Building permits in North Port soared 68% year over year in 2021, while home prices rose 21%.
Because it heated up so much during the pandemic, it's now one of the fastest cooling markets. That's causing many existing homeowners to hold off on listing, which is causing listings of newly built homes to take up an even larger share of the market. North Port was also hit hard by Hurricane Ian in late September 2022 and has since seen a large drop in sales and new listings as a result—intensifying the market slowdown.
Want to tweet about this article? Use hashtags #construction