Smart homes can start from the planning stage of a new build or they can be renovations of existing homes. Add a few controls, use a voice app, and Bingo, you have a basic Smart Home. But true integration and interoperability of IoT (Internet of Things) components requires more thought and planning than many realize.
The key component is the bridge that spans the IoT devices and the controls. Olibra is one company that focuses on that bridge—with its Bond Bridge Pro. Bond Bridge Pro is a WiFi to RF (radio frequency) bridge connecting motorized shades, ceiling fans, and fireplaces to the smart home. Designed for those who want a convenient means to connect to all their environmental devices, Josh.ai now provides them with a simple and privacy-oriented means of control though its integration with Bond Bridge Pro.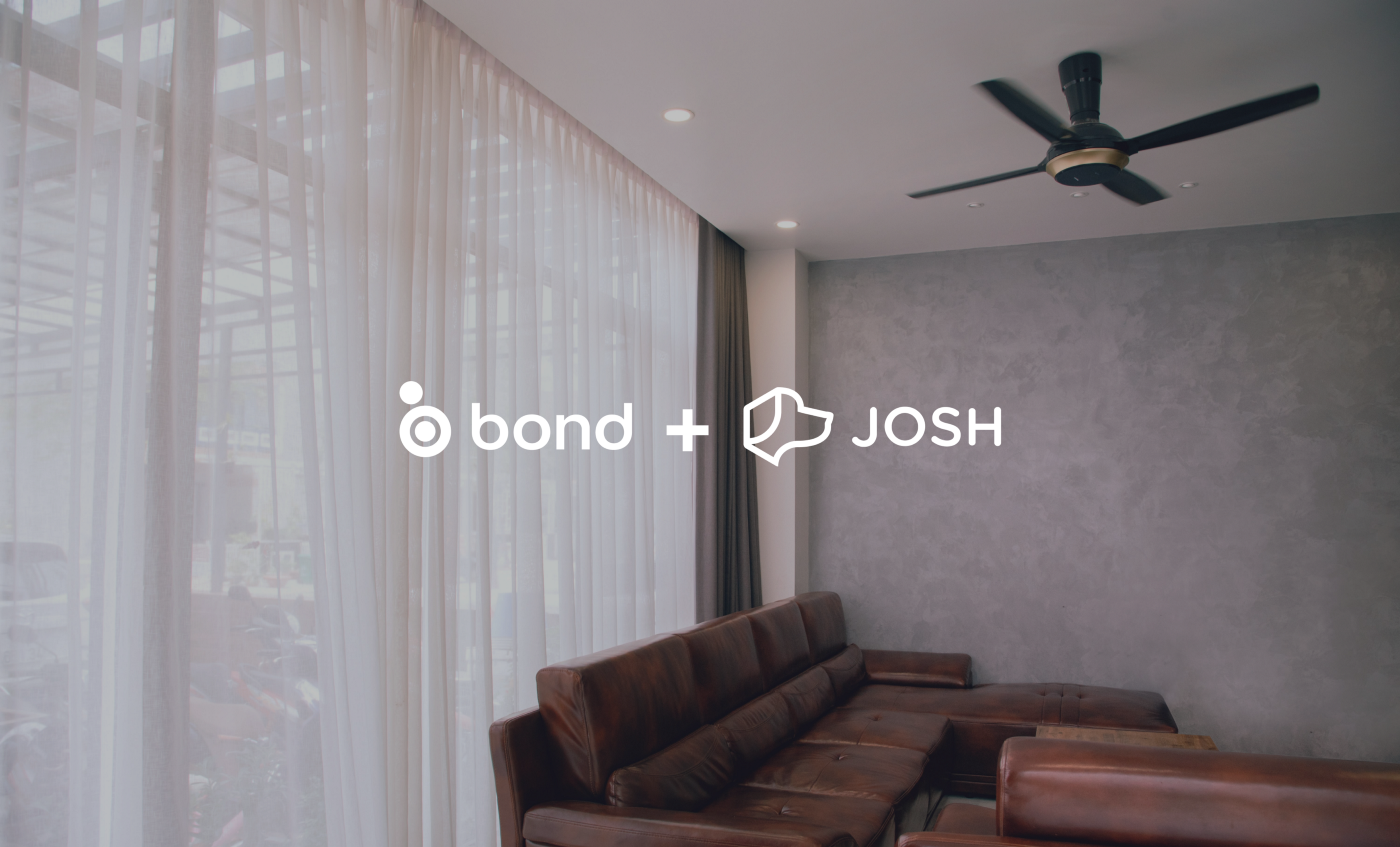 The integration is a result of a strategic alliance between Olibra and Josh.ai, dating to early 2022. The pairing provides Josh.ai's natural voice control of motorized window shades, ceiling fans, and fireplaces that are managed by the Bond Bridge RF-to-WiFi home-control platform.
Throwing Shade
Josh.ai continues expanding the power and range of AI (artificial intelligence) in the home through an integration with Somfy, the world's largest manufacturer of tubular motors for interior window coverings and exterior shading solutions. For clients that want to adjust the degree of daylight warming their homes or conveniently automate a theater screen, Josh.ai now provides them with a natural and privacy-oriented means of control.
Starting with the TaHoma interface, Josh.ai has targeted wireless and retrofit applicable installs with their its iteration of Somfy integration. Once authorized, Josh.ai will automatically begin pulling in the following devices from Somfy for native control: Shades, Blinds, Draperies, Exterior Screens, Awnings, Rolling Shutters, Pergolas, Projection Screens and Zigbee Smart plugs.
By communicating directly to each device within a project, the Josh.ai integration ensures a user-friendly experience. The case of shade grouping applies to not only a room's shades, but sub-types like sheers and blackouts as well. Using its Josh.ai's advanced device aliasing capabilities will enable clients to experience an unmatched level of convenience and joy when interacting with their homes.
Once the Bond Bridge and Josh.ai are integrated, the combination empowers users to use Josh.ai's simple and private voice control throughout their living spaces. Every family member can continue personalizing their experience by adding aliases to favorite devices and creating custom scenes in the Josh app. Josh.ai's proprietary natural language processing offers features like making multiple requests in a single command, contextually adjusting surroundings, and remembering the last device that was spoken to.
Homes on the Range
Other bridges face challenges with RF range, requiring multiple devices that can produce collisions on a single RF channel that result in lost commands. By leveraging a single device, installers will save time, service calls, and reduce the overall cost of a project for their clients. Compatibility with Bond Bridge and Bond Bridge Pro allows Josh.ai to natively support Smart by Bond lights, shades, and fans.
Once a Smart by Bond device is authorized, it automatically populates Josh.ai for further configuration. Utilizing Josh.ai's advanced device aliasing capabilities and user-friendly custom scene builder, installers and their clients will enjoy an unmatched level of accessibility when customizing their living spaces.
Cybersecurity and Cryptography
In addition to the efficiency of contextual voice automation, Olibra partners will be comforted by Josh.ai's strong stance as a privacy-focused voice assistant, purpose-built for professionally installed smart home systems. Clients will have peace of mind knowing that Josh.ai is committed to providing a delightful and inclusive voice experience without sharing or selling user data for marketing purposes.
Bond Bridge itself uses cryptography to ensure the connection Bond products and their cloud servers occurs via the MQTT protocol and is protected with transport encryption and cryptographic authentication. When a Bond device connects to the Bond Home cloud, it uses TLS (transport layer security) to protect the confidentiality of the connection between the two hosts. The Bond device checks the server's TLS certificate to authenticate the server to the device. To authenticate the device to the server, the server checks the validity of the device's TLS certificate and checks that the device's reported serial number matches the serial number embedded in the device certificate.
Since cybersecurity requires constant attention in these days of international hackers, the Bond Bridge users are responsible for securing the WiFi and local area networks. A moderate level of security requires:
The WiFi network uses at least WPA2 security
The user does not share WiFi password with any untrusted parties
Users do not connect any untrusted devices to the network
When on the same local network as the Bond device, the Bond Home app may communicate directly with the Bond device using unencrypted HTTP. Only basic token-based authentication is used to protect the connection against accidental access and unsophisticated attacks. If especially concerned about the security of a Bond device (and the appliances it may control), consider using VLANs or a separate WiFi network only for Bond devices.
Want to tweet about this article? Use hashtags #construction #sustainability #IoT #AI #cloud #edge