The construction crane industry was hit by the COVID-19 pandemic like all other segments has finally rebounded, happily putting the pandemic as a distant memory. In fact, it might exceed most other markets according to reports from FMI (Future Market Insights).
Sales in the global crane market are slated to top $43.9 billion in 2022 and are projected to total $57.1 billion by 2029. The increased usage of cranes in material loading, shipbuilding, and construction worldwide is set to drive the sales in the market. The high-load capacity and evolving designs are anticipated to serve the requirements of a wide range of projects, such as telecommunication worksites.
By type, the tower crane segment is expected to remain dominant. Increasing construction of high-rise buildings and skyscrapers worldwide are expected to drive sales in this segment. These cranes outperform the lifting and loading capacity of any other crane. They can also bear the most complex lifting operations and have immense stability. Though these are expensive, their height cannot be matched by any other types of cranes.
For example, in February 2022, Findorff installed a new tower crane on Lincoln Memorial Drive at the site of the future Couture building, planned to be the tallest residential building in Wisconsin, an installation worth $188 million. The crane will help in the construction of the 44-story building's concrete structure.
Infrastructure and Investment
Rising investments by government and private agencies in the infrastructure sector worldwide is a significant factor that is set to accelerate the demand for cranes. The Public Authority for Special Economic Zones and Free Zones (OPAZ) in Oman, for instance, signed an agreement with Liebherr for the delivery of 12 rubber tire gantry cranes and four fully automated ship-to-shore container cranes worth 27.9 million Omani Rial. The agency is aiming to improve cargo handling capabilities of the Port of Duqm with this agreement. The growing government support worldwide to enhance various operations is likely to drive the market.
Rapid expansion of the oil and gas, utilities, construction, and mining sectors across the globe is anticipated to propel the demand for hydraulic cranes. Cranes are required in these sectors mainly to lift heavy materials and transport them to other locations. An increasing number of residential and commercial construction projects due to the high demand for housing and offices is likely to fuel the market.
Since conventional tower cranes cannot be relocated until the project is finished, builders that work on a variety of projects typically favor mobile cranes. The use of this technology can also aid in decreasing machine idling time, which will improve production. The leading manufacturers of mobile cranes prospered in previous years, and they are expected to continue to succeed in the coming days as well. FMI reports the global market for mobile cranes grew at a rate of about 5% CAGR from 2016 to 2021.
Buy or Rent
Growing popularity of hydraulic and tower crane rental services is a trend which is expected to augment the market's growth. Rental companies are trying to improve their existing product lines to offer premium crane rental services by offering monthly or weekly rental services, including covering maintenance charges.
In January 2022, Bay Crane announced that it has acquired Gatwood Crane Rental Service to better serve its customers. This acquisition would also help in broadening the company's
presence into several key markets with the addition of Gatwood's experienced team.
Suppliers are also introducing a more sophisticated variety of truck cranes, crawler cranes, and other types of cranes as the applications of mobile cranes is becoming more diverse due to the growth in demand from many industries, including ports and construction.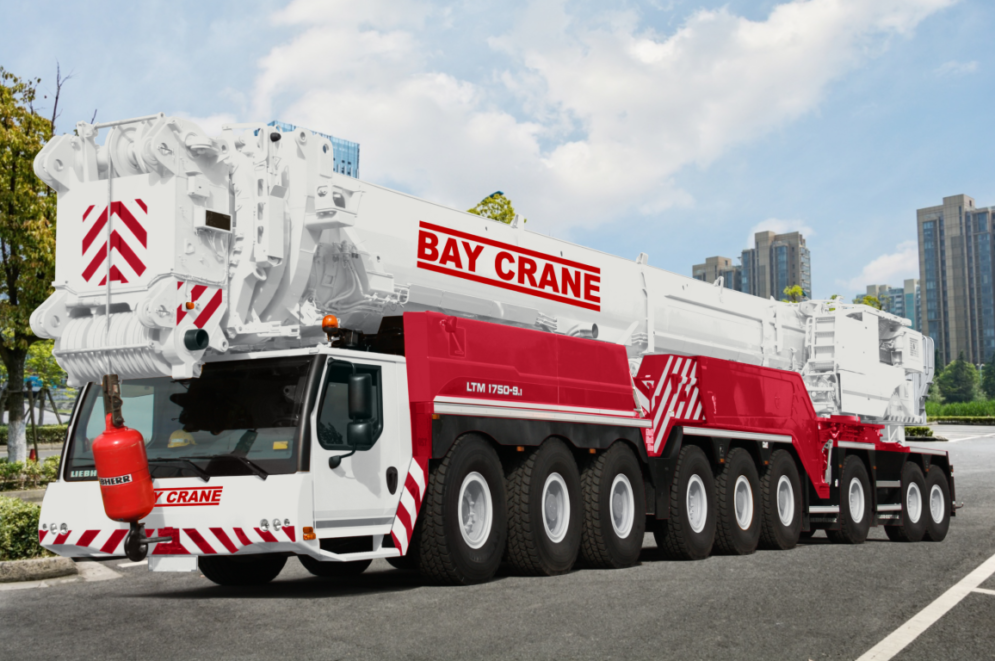 The sales of mobile cranes have also been driven by projects being undertaken to upgrade the current infrastructure. The rebounding of the construction industry and longer telescopic booms that can operate at a considerably higher speed should drive the growth of the market. The mobile cranes market share is estimated to reach a value of nearly $27.2 billion by 2032 expanding from a total worth of $15.2 billion in 2022.
Mobile cranes are widely used for heavy construction work and lifting extremely heavy loads. With the surge in requirements by the construction industry, a significant rise in revenue is seen by the mobile crane suppliers. However, the global mobile cranes market is fragmented and dependent on the fast-paced growth of key players. To capitalize on the growing opportunities, key market players are starting by launching better quality products more frequently.
China is stealing all the limelight by becoming the world's fastest-growing mobile crane developer in Asia Pacific excluding Japan. An increase in the adoption of mobile cranes in applications such as shipping, construction, and oil and gas is bolstering the growth in China.
The United States has emerged as a competitor over the past decade owing to the surge in demand from commercial and industrial construction and the shipping industry. Steady advancement in manufacturing is further catering to the growth in the U.S.
Germany has highlighted the potential in the European mobile cranes market and is gaining momentum which in turn is attracting stakeholders. Highly advanced construction and shipping sectors are spurring growth in Germany.
The market demand for mobile cranes is anticipated to be driven by the rising need for the machinery from rental providers. Many inexperienced users prefer renting boom truck cranes since it saves them money over buying and maintaining a new one. This can be regarded as a negative determinant for the mobile crane market trends and pose as a challenge for manufacturers for operating at full potential.
Constraints and Confidence
Nevertheless, the market's expansion is anticipated to be constrained by other issues, including the high acquisition and operational costs incurred by mobile cranes. Mobile cranes business is highly reliant on more general macroeconomic conditions. Sales of mobile cranes are influenced by government investment on infrastructure projects. Thus, poor investor confidence, and economic downturns, are expected to be major factors impeding the target market growth as well.
With a marketshare of more than 60% in 2021, the truck-mounted mobile crane category had the dominant position among all the categories based on type. Truck-mounted mobile jib cranes can make it easier to move items from one location to another and have a large loading capacity as well.
Contrastingly, the market for crawler cranes segment is anticipated to see the greatest CAGR of 7.2% between 2022-2032. Compact and easy to use, small mobile cranes are ideal for limited construction sites, particularly those in metropolitan areas. For usage in a variety of tasks requiring massive engineering materials and other extensive construction work, this segment of cranes is regarded to be the most potent.
With more than 50% of the overall revenue in the year 2021, the construction category had the biggest revenue share per the mobile crane market survey done by FMI. It is also predicted that this segment will continue to lead over the year with the rapidly expanding public infrastructure projects. The expansion of this mobile crane segment is anticipated to be supported by ongoing residential and commercial infrastructure initiatives across the world.
A Technology Compliment
Adoption of new technology now offers new features like telematics solutions, GPS tracking—including fleet management—and their integration with the newest technology. For instance, the IC-1 Plus control system, which is available with Terex Co., products, aids operators in determining the lifting capability for each location of the work.
To create technologically innovative products, these companies are engaged in extensive research and development efforts. For instance, Manitowoc released the National Crane NBT60XL boom truck in October 2020. This new boom truck has a hydraulically detachable counterweight that can be adjusted for lifting up to 16,000 lbs.
Liebherr-Intl. AG approved the introduction of the LTM 1150-5.3 telescopic mobile boom crane in October of 2020. The LTM 1150-5.3 has a telescopic boom of 66-meter and has a 150-ton maximum lifting capability.
As funding moves from government to contractor to develop the necessary infrastructure repair, replacement, and renewal, mobile cranes, tracked and wheeled, will continue to gain acceptance and market share.
Want to tweet about this article? Use hashtags #construction #sustainability #infrastructure #IoT #edge #futureofwork