There is no question that AI (artificial intelligence) pops up in the news at regular intervals, usually with breathless claims for its value in a business or personal application. People worry AI will take over their lives; people worry AI won't live up to the claims made for it. Users want more AI, critics want less. But what is AI in the real world?
Research companies try to define the terms they research to be sure they are asking the right questions and their data are valid. One of the largest firms tracking AI is IDC, (Intl. Data Corp.) Seeing a breakdown of what constitutes an AI application in their research can give us a better understanding of what is going on in that arena.
IDC starts by breaking down AI research into:
Three technology groups with 10 technology categories: Hardware (server and storage), software AI-apps, AI lifecycle, AI software services, intelligent knowledge discovery software, AI application development and deployment, and AI system-infrastructure software), and services (business services and IT services)
Two deployment types for software: On premises/other and public cloud services
28 use cases, including: Automated customer service agents, automated threat intelligence and prevention systems, digital assistants, fraud analysis and investigation, program advisors and recommendation systems, and supply and logistics
19 industries: Banking, insurance, securities and investment services, discrete manufacturing, process manufacturing, construction, resource industries, retail, wholesale, professional services, personal and consumer services, transportation, healthcare provider, federal/central government, state/local government, education, telecommunications, media, and utilities
The IDC Worldwide Artificial Intelligence Spending Guide uses a precise definition of what constitutes an AI Application in which the application must have an AI component that is crucial to the application – without this AI component the application will not function. This distinction enables the Spending Guide to focus on those software applications that are strongly AI Centric.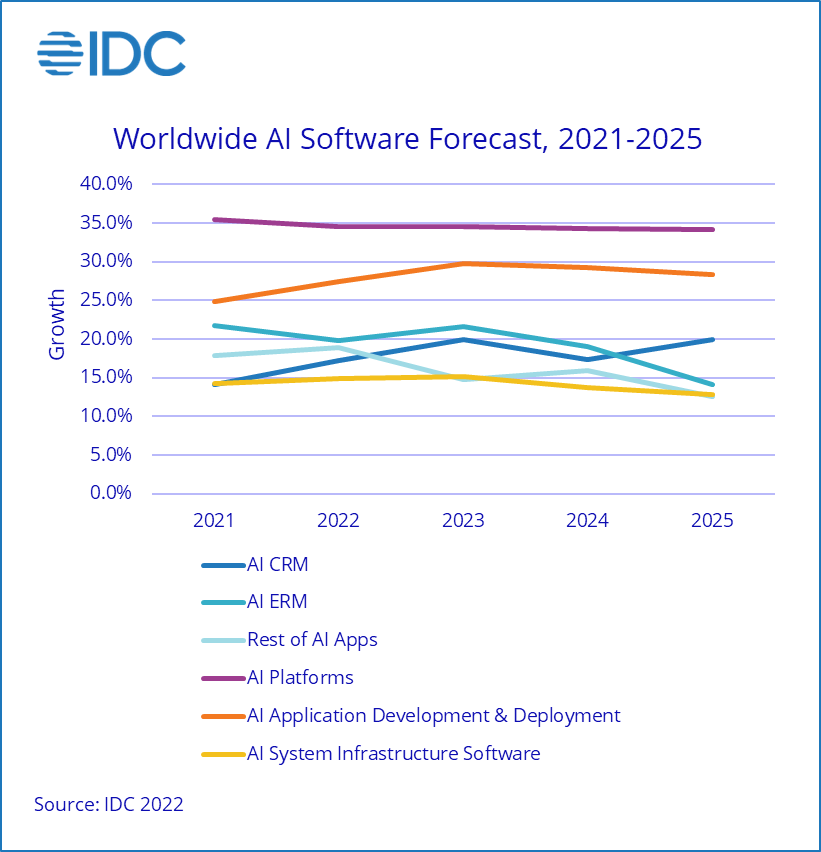 In comparison, the IDC Worldwide Semiannual Artificial Intelligence Tracker uses a broad definition of AI Applications that includes applications where the AI component is non-centric, or not fundamental, to the application. This enables the inclusion of vendors that have incorporated AI capabilities into their software, but the applications are not exclusively used for AI functions only. In other words, the application will function without the inclusion of the AI component.
Worldwide revenues for the artificial intelligence market, including software, hardware, and services, is forecast to grow 19.6% year over year in 2022 to $432.8 billion, according to the Worldwide Semiannual Artificial Intelligence Tracker. The market is expected to break the $500 billion mark in 2023.
In the AI software category, AI applications accounted for 47% of spending in the first half of 2021, followed by AI System Infrastructure Software with around 35% share. In terms of growth, AI platforms are expected to perform the best with a five-year CAGR of 34.6%. The slowest growing segment will be AI System Infrastructure Software with a five-year CAGR of 14.1%.
In IDC's latest AI Spending Guide, they determined that spending on artificial intelligence in the United States alone will grow to $120 billion by 2025, representing a CAGR (compound annual growth rate) of 26.0% over the 2021-2025 forecast period. The U.S. accounts for more than half of all AI spending worldwide. Retail will remain the largest U.S. industry for AI spending throughout the forecast while Banking will be the second largest industry.
Together, these two industries will represent nearly 28% of all AI spending in the United States in 2025 and will account for nearly $20 billion of the amount added to the U.S. total over the forecast. The U.S. industries that will see the fastest growth in AI spending will be Professional Services, Media, and Securities and Investment Services, all of which will have CAGRs greater than 30%.In terms of growth, two AI use cases (public safety and emergency response, and augmented claims processing) will have five-year CAGRs greater than 30% while a third use case (IT optimization) will ride a CAGR of 29.7% to become the third largest AI use case in 2025.
According to IDC, existing businesses are hesitant to embrace AI's potential, leaving the greatest opportunities to new market entrants that have no fear of change and can adapt easily to new ways of conducting business. The future for business is AI and those companies that can seize this opportunity could easily become the new giants.
Want to tweet about this article? Use hashtags #construction #AI #cloud #edge #futureofwork