Race car drivers and motorcycle riders wear them. Many sports—hockey, football, even baseball—require them. Even kids on bicycles wear them. So why aren't helmets—brain buckets in the vernacular of racing—a part of the construction jobsite safety program?
The first response is usually, "We do insist on hard hats." Every day at jobsites around the globe, construction workers walk past a "Hard Hat Required" placard—a reminder to put on their protective headgear before proceeding into areas where falling debris, low beams, or other perils could be lurking.
It was in the 1970s, when OSHA (Occupational Safety and Health Admin.) was created, that the hard hat became mandatory on all U.S. construction sites. OSHA (29 C.F.R. 1926.100) states employers must provide head protection equipment (and at no charge to the worker) that meets or exceeds the industry consensus standard ANSI Z89.1 issued 2009.
As supplier Grainger points out, historically the first choice for head protection has been the traditional hard hat. However, it may no longer be the best choice. The primary design purpose of a hard hat is to protect the head from objects falling from above. Construction sites may have hazards coming from different directions, such as moving beams or stray tools. In many cases, the hard hat protects the wrong part of the head and donning a safety helmet may better protect the back and sides of the head.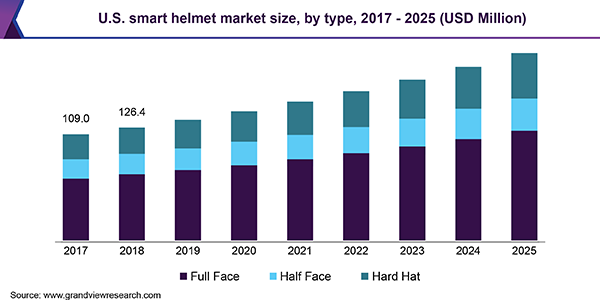 Safety helmets look more like those worn for mountain climbing, skiing, or biking. They fit the head closely, have built-in straps, a small brim, protective padding, and chin straps. According to White Cap, a safety helmet has a different feel than a hard hat and some workers may opt to stick with traditional hard hats when working at ground level. The important thing is to have the option.
A Win-Win-Win
Improving upon head protection is a benefit to many parties surrounding the construction industry. In fact, it's a win-win-win for:
The worker, who benefits from less chance of injury.
The company, which benefits from less lost time and worker's compensation payouts.
Insurance companies, which benefit from lower risk and fewer claims.
Why worry now? Hard hats have been around for generations and workers are familiar with them and what they can—and cannot—do. However, science and medicine have been learning more about the results of head injuries, researching both industrial, sports, and military data on head trauma and the protection used—or not used.
For example, the CDC explains TBI (traumatic brain injury) is a disruption in the normal function of the brain that can be caused by a bump, blow, or jolt to the head, or penetrating head injury. TBIs are a global public health problem and a leading cause of injury-related death and disability. TBIs can be mild or severe, cause short- to long-term disability, or even be fatal.
Those occurring among participants in collision sports such as football are often called concussions and have been receiving increasing attention in medical literature and the media. Star professional players sidelined because of concussion get media attention, kids playing high school football just get sent home or to the hospital. And while concussion is a common term, the medical findings behind it are often complex and confusing to the layperson.
During a concussion, forces from the initial hit cause the brain to move rapidly back and forth (oscillate) within the skull and contact skull bones. This brain-skull interaction can damage brain chemicals and tissues, especially if multiple interactions occur. Fluid found in the central brain cavities and space surrounding the brain and spinal cord, cushions the brain and protects it from hitting the skull. However, if subsequent hits occur in quick succession, the fluid loses its protective abilities, and the brain incurs more stress with each successive skull oscillation.
While construction is, usually, a non-contact occupation, it can be one with collisions—with materials, equipment, structures, and other people. The result can be TBI. A common occupational injury, TBI occurring at work is referred to as work-related TBI (WR TBI) and accounts for between 20% and 25% of work-related trauma. More severe TBIs can impact a worker's ability to return to their preinjury job and can be expensive for both workers and employers in long-term rehabilitation and disability costs.
TBI in Construction
The construction industry has the greatest number of both fatal and nonfatal WR TBI among U.S. workplaces. From 2003 to 2010, 2,210 construction workers died because of a TBI (a rate of 2.6 per 100,000 full time equivalent workers). These deaths represented 25% of all construction fatalities and 24% of all WR TBI fatalities among all industries during that period.
Construction workers are at higher risk for TBIs because of their work in dynamic environments where they can be struck by falling and flying objects or fall from elevation. Falls, especially from roofs, ladders, and scaffolds, led to more than half of fatal WR TBIs.
Research shows:
Workers in small construction companies (fewer than 20 employees) were more than 2.5 times more likely than those in larger companies (more than 100 employees) to die from a TBI;
Workers older than 65 were almost four times more likely than younger workers (25–34 years) to have a fatal TBI;
The TBI fatality rate was significantly higher for foreign-born than for native-born workers;
Structural iron and steel workers and roofers had the highest fatal TBI rate among construction workers.
Since most construction sites require hard hats to be worn by all workers, supervisors, inspectors, and visitors, the statistics on TBI could indicate those steps are not enough. But like everything that introduces change to the jobsite, moving heads from hard hats to helmets needs strong motivation. Perhaps a study by researchers at New York Institute of Technology College of Osteopathic Medicine can change perceptions about helmet safety.  
Helmets have been proven to prevent skull fractures and head wounds. However, there is much debate about the extent to which they can mitigate the effects of TBI. The hard-shelled, heavily padded helmets used by many of today's athletes, military personnel, and industrial workers have been much adapted since early helmet models, which lacked inner padding. But do these design enhancements provide additional protection?
While no current helmet can fully prevent a concussion, some researchers hypothesize helmet design can play a role in limiting concussion severity. The latest advancements in helmet design have shifted away from the conventional hard-shell and extensively padded helmets. Instead, they employ inventive materials and construction methods, with an emphasis on minimizing forces caused by head rotations during and after impacts. Experts believe these forces are primarily responsible for concussions. Nevertheless, conventional hard hats continue to be widely used due to the cost of the newer helmet designs.
Using 3D models, researchers simulated brain-skull interactions under conditions resembling a low-speed, head-on collision. This force of impact is similar to the collisions experienced by athletes in contact sports. The simulation's conditions also accounted for skull fluid and the features found in many of today's helmets: a hard exterior with soft inner padding.
The simulations projected multiple direct brain-skull interactions following the initial hit. In other words, the current helmet design did little to limit concussion severity. The brain fluid's ability to provide natural protection diminished with each successive skull oscillation. The effect was similar to the after shocks following an earthquake. The accumulative effect can cause much greater damage than the first shock alone.
Companies such as MIPS in Sweden are providing helmet manufacturers, including German helmet company uvex, with the technology needed to make helmets and hard hats safer. MIPS is an acronym for multi-directional impact protection system and represents an innovative technology that can be used to equip helmets for a variety of different purposes.
Mips, the product, was designed to make helmets safer in oblique impact situations in the workplace. In practical terms, Mips is a moving layer that is integrated on the inside of the safety helmet—close to the head. The sliding layer is not rigidly fixed but can move back and forth by 10 to 15 millimeters. In the event of lateral impact, this range of motion enables the helmet design to deflect acting rotational forces from the wearer's head and brain using a sliding movement. Safety helmets that are equipped with Mips offer a higher level of protection for the wearer than conventional helmets.
According to Grand View Research, the global safety helmets market size was estimated at $3.9 billion in 2021 and is anticipated to grow at a CAGR (compound annual growth rate) of 7.6% from 2022 to 2030. The rising incidence of brain injuries across various industries, including construction, along with statutory restrictions, is expected to improve industry growth over the forecast period. Still, hard hats dominated the industry in 2021 and accounted for more than 87% of the overall revenue share.
The construction end-user segment dominated the industry in 2021 and accounted for more than 42% of the overall revenue share owing to increased demand for improved public infrastructure, such as harbors, rail transport systems, and roadways, thereby stimulating demand for these products.
Materials Count
Due to the higher product acceptance in various end-user industries, such as welding and construction trades, polyethylene helmets are likely to lead the industry. The polyethylene segment dominated the global industry and accounted for more than 65.50% of the overall revenue share in 2021. The helmets are low-priced when compared to helmets made from other materials due to the low costs of polyethylene.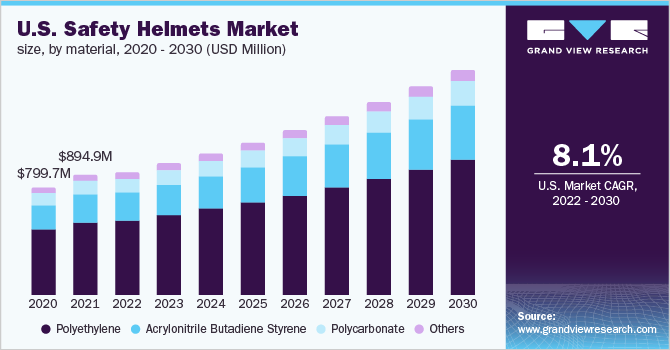 The PC (polycarbonate) and ABS (acrylonitrile butadiene styrene) material segments are anticipated to expand as a result of the growing worker safety concerns and attempts by manufacturers to develop the product using the materials that provide greater head protection.
Smart helmets provide users with enhanced safety, security, and comfort. The growing adoption of smart wearable technology, stringent workplace safety, and road safety regulations laid down by governments, and increasing awareness for personal health and safety, are expected to drive the demand for smart helmets. The global smart helmet market size is expected to reach $1.20 billion by 2025, expanding at a CAGR of 18.6% from 2019 to 2025. Rising popularity of the product in various applications, such as construction, is projected to drive the growth.
Smart helmets consist of multiple sensors that perform functions such as monitoring heart rate, temperature, and air quality. The sensors collect data in realtime to provide users with detailed information regarding various interactions, navigation, and environmental and health attributes.
Smart helmets are further capable of providing a wide range of communication, utility, and safety features using built-in speakers, microphones, rear-facing cameras, cooling fans, and solar chargers. Manufacturers are using materials that are light in weight and high in strength, such as fiberglass reinforced plastic and carbon fiber, for weight reduction and enhanced survivability.
The integration of video recording cameras and advanced sensors, such as optical heart-rate sensors and accelerometers, has enabled users to effectively monitor their vital statistics and surroundings. However, the high price of smart helmets, high investments in product research and development, concerns regarding vision distraction, and lack of awareness regarding the benefits and safety features are some of the major factors that may hinder the growth of the smart helmet market over the forecast period. To overcome these challenges, manufacturers are focusing on raising awareness about the functionalities of smart helmets through various forms of digital media.
Increasing adoption of next-generation technologies such as AR (augmented reality), VR (virtual reality), IoT (Internet of Things), and AI (artificial intelligence) is anticipated to drive the development and adoption of smart helmets. Factors such as emerging road safety regulations, development of wireless communication infrastructure, and increasing disposable income are expected to drive the growth of smart helmets industry in emerging countries as well.
Want to tweet about this article? Use hashtags #construction #sustainability #infrastructure #IoT #AI #futureofwork