We've all heard the slogan, "Our children are the future." To get the best future for those children requires many elements, one of which is education. From pre-K to high-school graduation, local public schools are the main source of that education. After that, the sky's the limit with colleges and universities, public and private, competing for the best and brightest.
One of the ways they are competing is in offering the most modern and practical buildings for the courses they offer, especially science and technology-related fields. While structures are not as important as the quality of the academic staff, they are a visible sign of the school's values and focus. And that makes them the ideal place to showcase the school and its community.
Construction, architecture, engineering, and development go together when a university decides to rebuild, repurpose, or create a new building on campus. While some schools have a world-class program covering all these functions, most turn to outside firms with experience in educational buildings. Luckily, there are several that, with their long-term partners, can provide those services.
Projects recently completed or currently under construction show the wide range of styles and construction techniques being employed in today's colleges and universities. Overall, the basic theme seems to be toward open architecture and free spaces for students, with airy meeting areas and lots of sunlight during the day. Oh, and energy efficiency, environmental concern, and LEED (Leadership in Energy and Environmental Design) certification are important as both the academic community and current and potential students are demanding this focus.
Not every LEED building started out with that prize in mind. And not every LEED building is a new construction, designed for today's concerns. In fact, repurposing older buildings, especially those that are designated as landmarks, is a growing trend among academic institutions. Take the University of Pittsburgh and its renovation of a landmark, century old building into modern, efficient, and flexible laboratories for the university's immunotherapy researchers.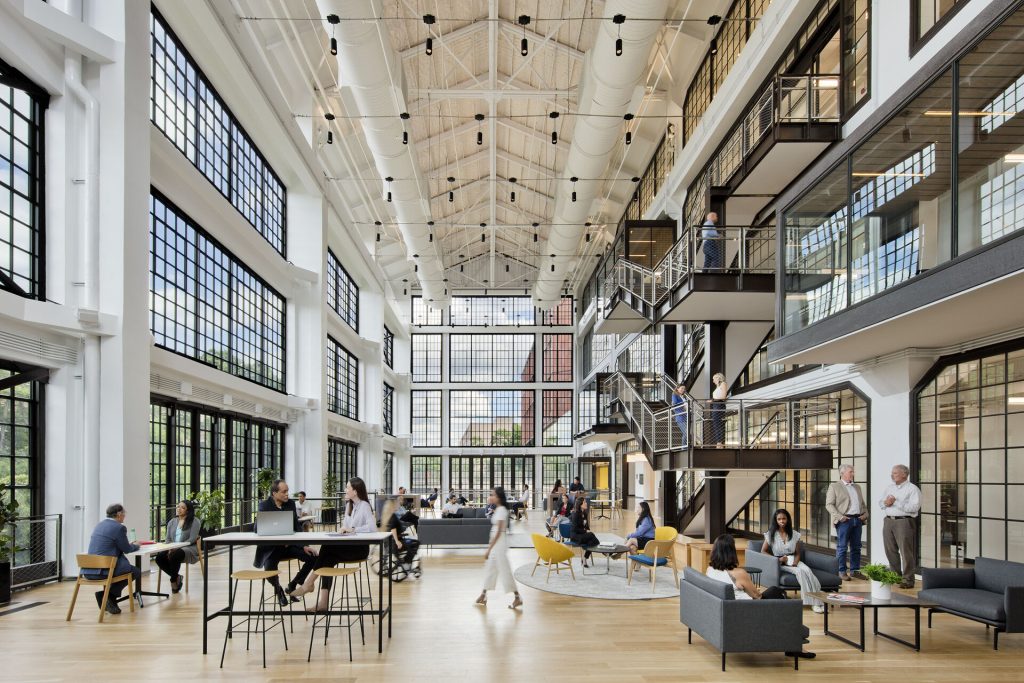 Built in 1915 by the Ford Motor Co., and designed by architect John Graham, the historic building in Pittsburgh has been transformed into a hub of university research by Wexford Science & Technology, a specialist in higher-education projects, ZGF Architects, and Turner Construction. The building, listed on the National Register of Historic Places was originally a one-stop shop for the Ford Model T.
Designed to have the assembly line and sales in one building, it has been converted into The Assembly, a 355,000-sq.ft., building, to serve as an innovation hub for University of Pittsburgh researchers, who will be working in approximately 245,000-sq.ft. of that space. The Assembly also features an additional 110,000-sq.ft. of lab, R&D, and office space for industry tenants.
The Assembly opened in 2022 and achieved LEED Gold certification for its design, construction, and operations practices, which focused on improving environmental and human health. The Assembly is the University's 18th project to earn a LEED certification since 2005, when it received its first LEED Gold certification for the McGowan Institute of Regenerative Medicine. 
The success of this adaptive use project lies in its balance of creativity and restraint. The design sensitively rehabilitated the eight-story Ford plant while leaving many of its original architectural details intact. The plant's vertical crane shed—a distinct architectural element where rail cars once entered the building to offload auto components—has been restored and transformed into an atrium for collaboration and social functions.
The University of California at San Diego recently selected Wexford to develop 14 undeveloped acres within the 30-acre Science Research Park on the university's east campus. Through a public-private partnership, Wexford will develop, finance, design, construct, own, lease, and manage up to 850,000-sq.ft. of new life science and technology research space within the park.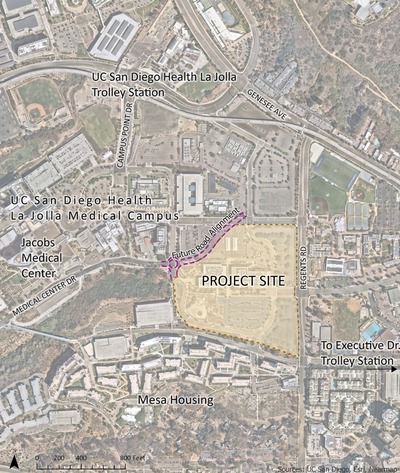 Gathering spaces will encourage socialization and include dining, recreation, and spaces for curated programming. In developing this research ecosystem, Wexford will employ their Knowledge Community model to create an environment that is designed and curated for collaboration among university researchers, corporate innovators, entrepreneurs, academics, artists, and the community. This will help advance university initiatives, augmenting and enhancing UC San Diego's instructional and research base, allowing students to learn from top industry scientists and attracting private industry tenants seeking joint research or other collaborative projects with the university.
Back on the other side of the country, Florida Polytechnic University has a new Applied Research Center, a cutting-edge facility that will strengthen Florida Poly's position as a premier STEM (science, technology, engineering, and math) institution. The $47 million building expands the university's research capabilities and will be instrumental to Florida Poly's mission to serve students and industry through excellence in education, discovery, and application of engineering and applied sciences.
At more than 90,000-sq.ft., the ARC (Applied Research Center) houses research and teaching laboratories, student design spaces, conference rooms, faculty offices, and multiple study areas. Students and faculty will have a fuller, more comprehensive academic experience as they enjoy a more than doubled lab and research space on campus.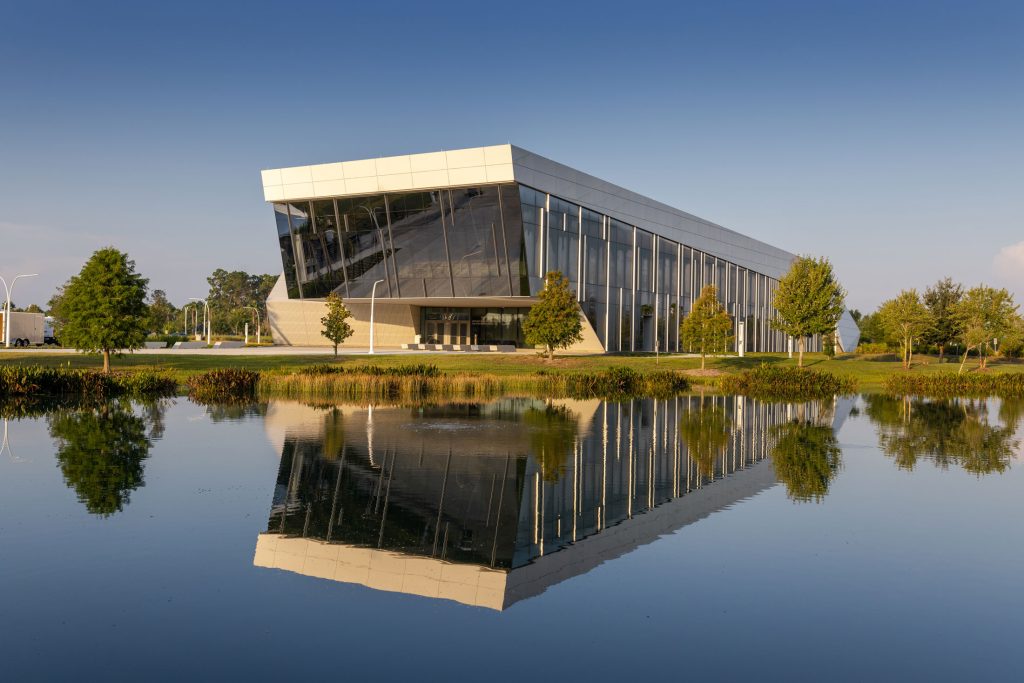 With state-of-the-art research space and equipment, the ARC was designed to become a research hub for innovation and a magnet for high-tech industry. Its design complements the architecturally renowned IST (Innovation, Science, and Technology) Building, featuring large reflective windows and expansive views of the campus. The builder of the project was Skanska USA, which also developed the IST, and ARC was designed by architecture firm HOK.
Driving North from Florida we find a new campus focal point in Boston, the Boston University Center for Computing & Data Sciences. The nineteen-story, 345,000-sq.ft. facility, which is the tallest building on Boston University's Charles River campus, is the university's most energy-efficient building and one of the most sustainable buildings in all of Massachusetts.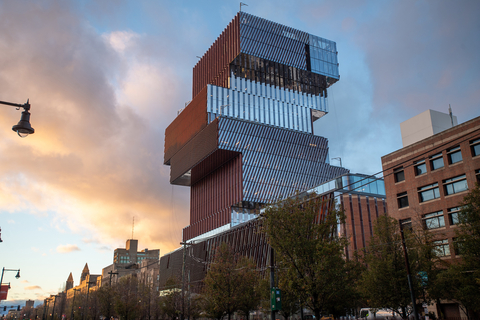 The facility itself is designed with intellectual collaboration in mind, featuring an all-glass interior that creates transparency and invites light deep into the building. The unique design of the structure, which is composed of a series of floorplates shifted and cantilevered around the building's central core, creates a vertically stacked and staggered layout of "neighborhoods" for each academic discipline.
The building is on the school's campus and in the City of Boston. This unique, complex, and sustainable building is fossil fuel free, due to a geothermal bore system installed by the builder, Suffolk, a national company with $5 billion in annual revenue and 2,500 employees. The Suffolk team drilled and installed 31 bores, each approximately 1,500-ft. deep into the earth, or approximately twice as deep as the tallest structure in Boston is high. The bores harness the thermal resources of the earth to heat and cool the building without the need to connect to a gas line, putting Boston University ahead of schedule for Carbon Free Boston, the city's 2050 carbon neutrality goal.
The new facility also features triple-glazed windows that help contain heat inside the building, well designed staircases that reduce elevator use and promote energy reduction, and terraces and green roofs that offer views and reduce the urban heat island effect.
Back on the West Coast, Los Angeles and Hollywood are known for their film and television projects so it makes sense that a local university has a department focused on those media areas. Two new structures, designed by Skidmore, Owings & Merrill, have opened on Loyola Marymount University's Westchester campus: the Howard B. Fitzpatrick Pavilion, which is the new home of the undergraduate School of Film and Television, and the open-air Drollinger Family Stage, an outdoor lecture and performance space in the heart of campus.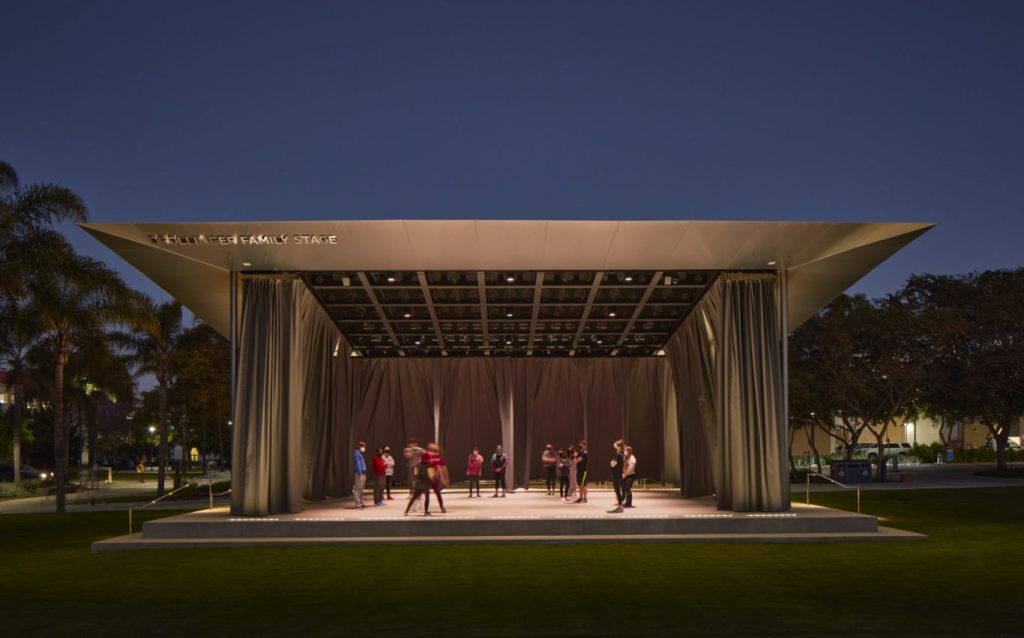 Fitzpatrick Pavilion is designed as a hub for the LMU School of Film and Television. The four-story facility features a semi-transparent brise-soleil that shades outdoor spaces and seating, while revealing the activity inside the building. At the base of the building, the 80-seat Broccoli Theater is clad in illuminated matte metal panels to have a jewel-like presence. Open-air social spaces, in the theater's courtyard and on its rooftop, are accentuated with bright yellow furniture.
SOM designed a facility that bridges the gap between academic and real-world experience, with the flexibility to adapt to a rapidly evolving field. Equipping the campus with the industry's latest production modes, Fitzpatrick Pavilion offers students 24-hour access to stop motion, film, and camera-directing studios as well as technology-rich post-production and animation labs.
A few hundred feet to the west, the Drollinger Family Stage is LMU's first outdoor performance venue. Designed for the LMU College of Communication and Fine Arts, the stage expands the number, range, and types of performances LMU can host, including live theatrical and dance events, concerts, public lectures, and a variety of other engagements.
Across the country, educational facilities are adapting to the prospect of growth as new generations of students come of age. From the youngest to the returning college students seeking to upgrade their skills in middle age, facilities are being remodeled, repurposed, and renovated beside new construction to provide a place to learn, gather, and experience life.
Want to tweet about this article? Use hashtags #construction #sustainability #infrastructure #futureofwork