Known around the world simply as Cat, Caterpillar is a global player in many segments of the heavy mobility market.  With 2021 sales and revenues of $51.0 billion, Caterpillar Inc. is the world's leading manufacturer of construction and mining equipment, off-highway diesel and natural gas engines, industrial gas turbines, and diesel-electric locomotives.
Besides the readily recognized construction equipment, dozers and loaders in particular, Caterpillar is noted for its long list of off-road, mining, and infrastructure equipment. Perhaps less known is the engine division, providing power for heavy equipment, trucks, busses, and even yachts from many other companies.
Cat has been moving quickly to provide environmentally positive power sources, supplying a wide range of low-carbon equipment:
Caterpillar offers a full lineup of diesel engines from 11 hp (8.2 kW) to 2,100 hp (1566 kW) that meet EU Stage V and U.S. EPA Tier 4 Final emission standards while delivering superior performance and low operating costs.
Cat diesel engines can run on renewable liquid fuels and have accommodated the use of biodiesel and hydrotreated vegetable oil (HVO) for over a decade. In June, Caterpillar announced that Cat C-Series engines used to power Sandvik Mobile Crushers and Screeners can run on renewable and alternative fuels including HVO, certified to EN15940 or ASTM D975*.
Caterpillar offers an integrated suite of connected solutions that provide exceptional visibility and actionable intelligence to optimize engine efficiency.
The global Cat dealer network provides a full suite of proactive fleet maintenance and services backed by genuine Cat parts to help maximize efficiency and sustainability over the lifecycle of equipment.
Cat dealers offer a complete range of remanufacturing and rebuild options that return components at the end of their initial serviceable lives to like new condition, reducing waste and minimizing the need for raw materials, energy, and water to produce new parts.
Batteries Beyond Cats
Caterpillar is leveraging proven expertise across the broad spectrum of market segments, applications, and new power technologies―including battery-electric and hydrogen prototypes―to recommend the ideal low carbon-intensity power solution for equipment owners.
A battery development program demonstrates Caterpillar's multi-pronged technology portfolio and application expertise to help third-party original equipment manufacturers and equipment owners achieve low-carbon goals. As part of the company's enterprise strategy to support customers during the energy transition to a lower-carbon future, Caterpillar developed a range of 48-volt, 300-volt, and 600-volt batteries for the off-highway industry. The program focuses initially on battery solutions for equipment used predominantly in industrial applications.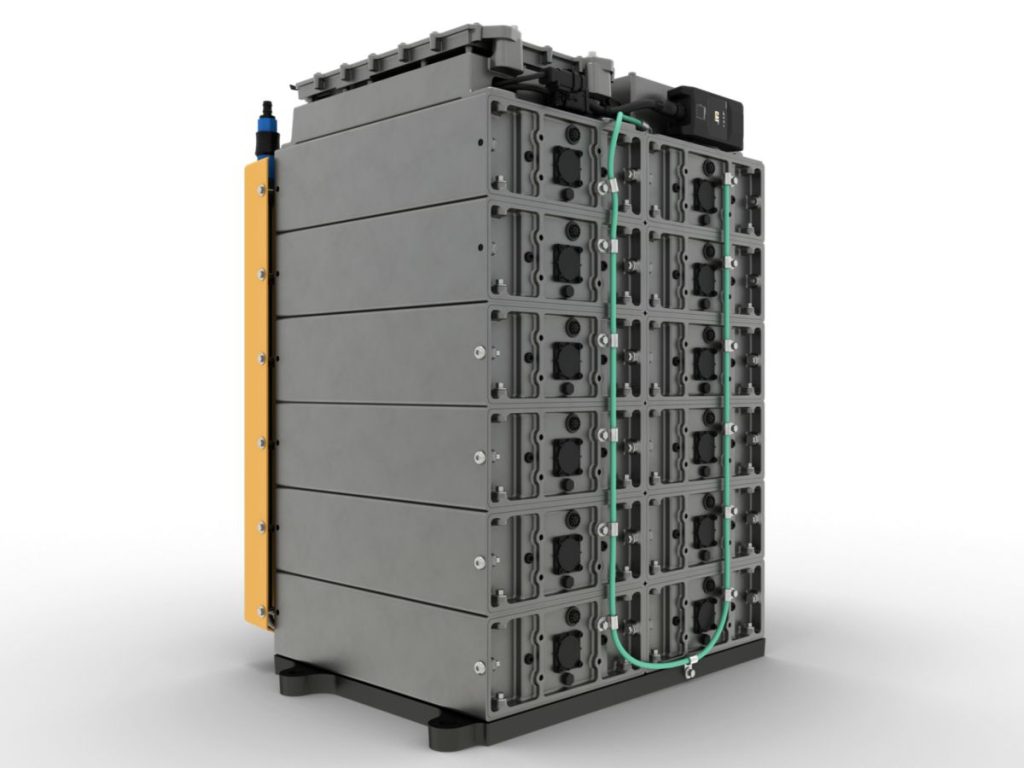 The battery range uses lithium-ion technology and features a modular design to optimize performance and packaging. Furthermore, they have been engineered with sustainability in mind throughout their lifecycle, with the potential to reuse and recycle at the end of life. And the program isn't limited to batteries. The development program also encompasses inverters, motors, electronic controls, digital services and other critical technologies to deliver the performance, reliability, durability, maintainability, and long-term value needed for equipment buyers working in harsh operating environments.
Caterpillar has committed that 100% of its new products through 2030 will be more sustainable than the previous generation, which is reflected in Caterpillar's lineup of industrial-power solutions and integrated services finely tuned for owners of third-party equipment powered by Cat engines.
*Fuels must meet the specifications and characteristics described on cat.com in order to be used in Cat engines and reduce the risk of downtime.
Want to tweet about this article? Use hashtags #construction #sustainability #infrastructure #IoT #cloud