As power and performance can be achieved in smaller formats, companies are moving to reduce the size—but not the capabilities—of their equipment offerings. One of the most indispensable pieces of gear for a general contractor, especially one that does grading and foundation prep or landscaping, is the end-loader and, in particular, the tracked loader. A go-everywhere in any conditions track adds benefits that can easily outweigh the added maintenance.
Compact loaders are more popular now due to their power/weight improvements and versatility over "full sized" loaders. A newer mini-loader category has even more potential due to its smaller form-factor and ease of movement in tight spaces. New Holland Construction has introduced both versions, first shown on the trade show circuit, into the North American market.
After being previewed at ConExpo 2023, New Holland Construction is officially making their C330 Super Boom vertical lift compact track loader commercially available in North America. Built with a medium frame, it offers maneuverability in confined spaces. Based on a 66-inch working width and a strong 67-horsepower engine, the C330 showcases the New Holland Construction Super Boom lift. This design integrates elements such as low shoulder positioning and streamlined towers, significantly improving operator visibility and jobsite safety. 
The C330 vertical lift compact track loader is built for customers tackling residential construction, landscape, and agriculture projects where lift-and-carry are essential. It boasts a load-carrying capacity able to handle the movement of substantial materials such as rocks, stone, and timber. Leveraging E-H (electro-hydraulic) controls, the machine can navigate through tight residential spaces, pass through backyard gates, and maneuver between buildings.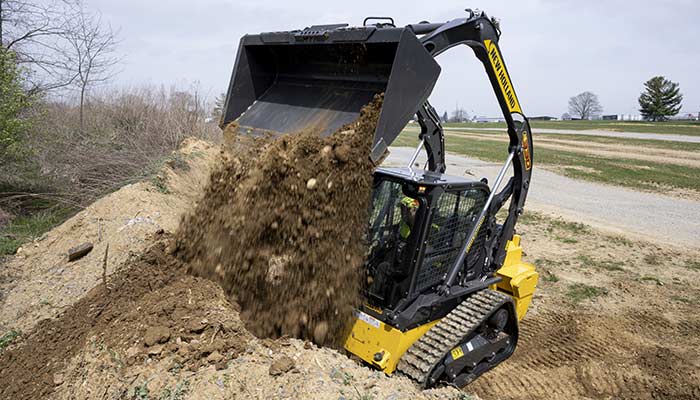 E-H controls allow operators to transition between an ISO and H-Pattern control, granting them full control over drive functions and attachments. This versatility positions the C330 compact track loader as a good solution for residential contractors and operators that need to work with a single machine for any reason.
Models equipped with E-H control include control customization, allowing operators to tailor speed and sensitivity settings to match their preferences. The power management function oversees RPM speed management, ensuring continuous power supply to the drive even when handling heavy loads. The 8-inch color display offers comprehensive insights into machine parameters. From engine performance and RPM to fuel level, battery life, hydraulic oil temperature, and more, operators have essential information at their fingertips. 
Engineered with lower shoulders, slim cab pillars, and a 66-inch heavy duty bucket, the loader makes lifting and carrying materials like pavers, wall blocks, and pallets. With a strong bucket tip of 7,300 pounds and lift breakout force of 3,450 pounds, the C330 handles loads previously requiring a much larger unit.  
Complimenting the C330 is New Holland Construction's C314 mini track loader. Designed to meet the demands of landscape and general contractors, the lightweight stand-on machine is purpose-built for maneuverability across jobsites and is capable of seamlessly handling an extensive list of tasks, including loading, dumping, and drilling.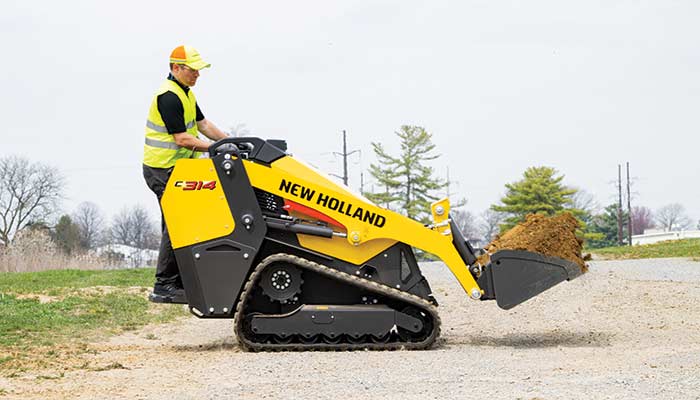 Powered by a 25-hp engine, the C314 allows operators to meet the demands of each project. Its common industry interface and 14-pin electric multifunction control provide hook-up versatility with new and older attachments, including augers, trenchers, grapple buckets, rakes, and more. With an appropriate rated operating capacity of 1,000-pounds (at 35% of tipping load) and 35 inches of working space, operators can even tackle mild structural projects such as laying footings for modest structures, handling fence line work, and executing irrigation or drainage projects. This loader also boasts an optimal dump height of 20.1 inches for seamless loading. 
One of the unique features of the C314 is its operator positioning—the operator is in closer proximity to the drive and motor. This arrangement enhances machine control, especially considering its stand-on configuration. Operators will also experience elevated stability, thanks to being situated closer to the core of the machine. Several other features have been added to enhance the operator environment including hydraulic pilot joystick control and loader and ground drive control lockout. To improve overall comfort, the machine comes equipped with a cushioned platform, hand throttle, and grab handles.
Want to tweet about this article? Use hashtags #construction #sustainability #infrastructure #edge