Smart energy products and services, renewables, and electric vehicles are gaining traction with consumers. After a few years of slow growth, major change is coming to the energy space. An increased awareness of clean energy solutions, convergence between security and energy services, and an enormous influx of funding from the government will help drive adoption further in the future.
As evidence of these changes, Parks Associates research "Smart Energy at Home: Renewable, Responsive, Resilient" cites ADT and Brinks merger and partnership activity that positioned these established home security providers as a channel for home solar solutions, with fellow-security player Vivint already operating in that space. Additionally, U.S. auto OEMs (original-equipment manufacturers) roll out new electric vehicles and pledge to electrify their entire fleets by 2040. Further, according to the White House, the $1 trillion Infrastructure Investment and Jobs Act that passed in November of 2021 includes $65 billion for power infrastructure that will support the expansion of renewables and $7.5 billion toward an improved network of electric vehicle chargers.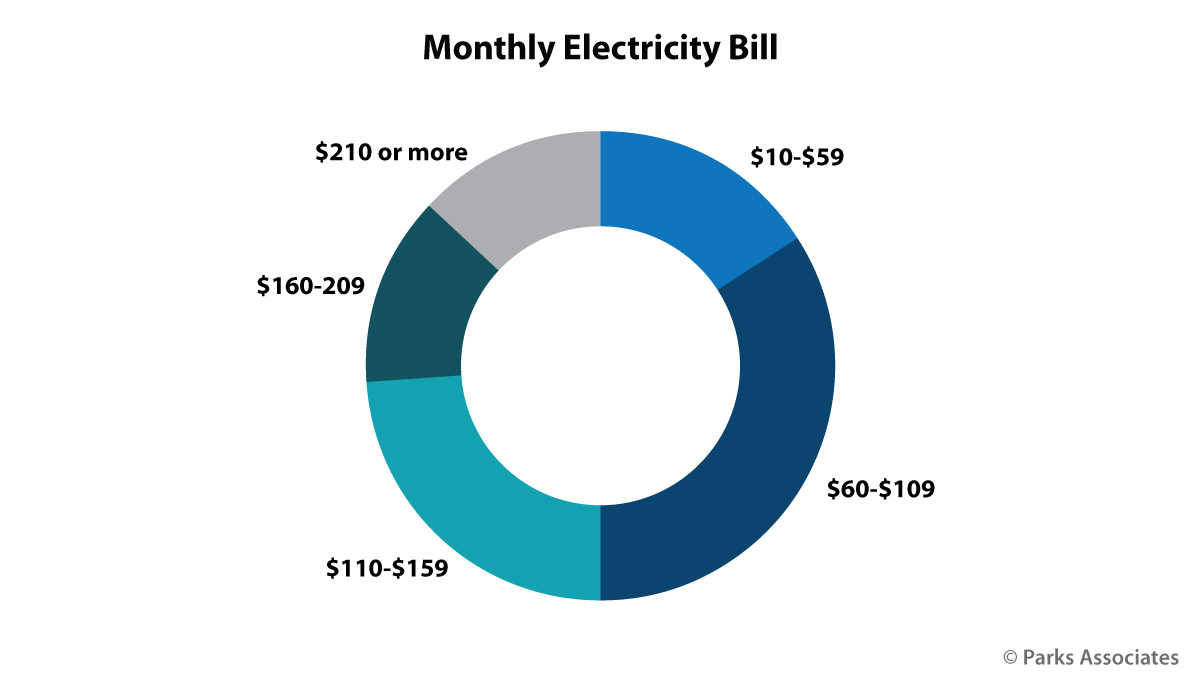 Higher energy costs drive higher dissatisfaction, as evidenced by the number agreeing that their bills are too high, even among higher-income households. Bills are particularly higher for larger families and so is their dissatisfaction. "Smart Energy at Home: Renewable, Responsive, Resilient" also reveals 67% of broadband households paying $110+ per month say their costs are too high and 50% of broadband households earning $100,000+ say their electricity costs are too high.
Evidently, there is a large need and thus opportunity for utilities to market energy programs such as demand response and device-makers to sell energy-saving and energy-management devices to families who are looking for ways to reduce the bills they say are "too high."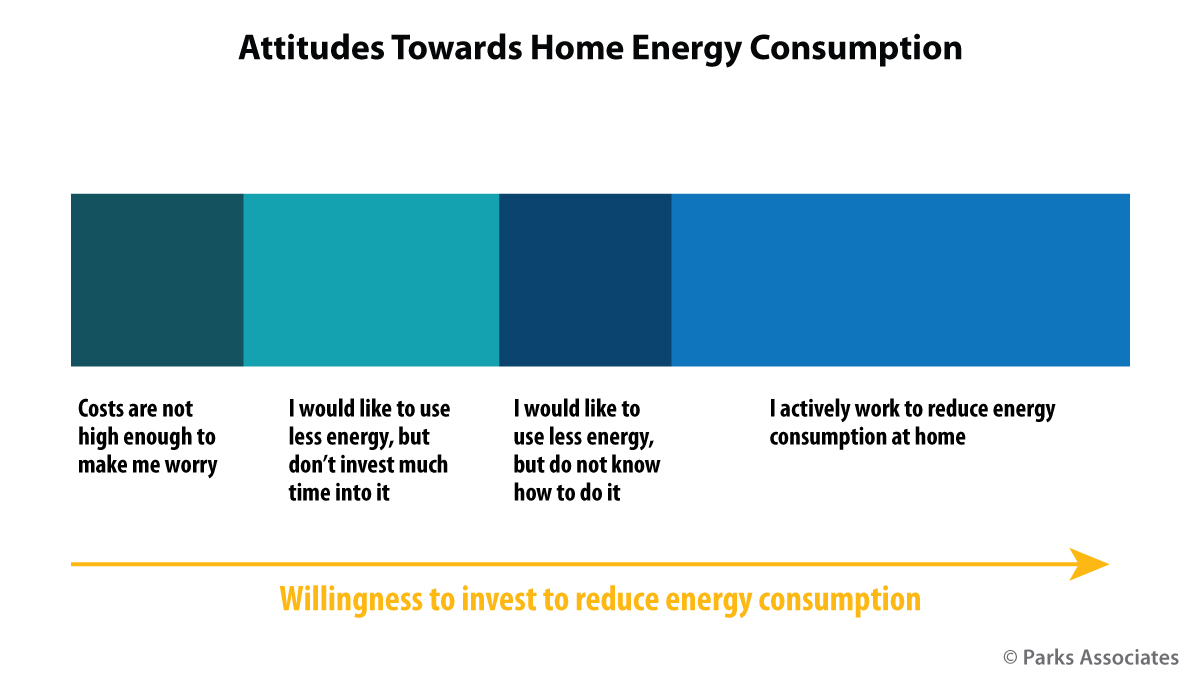 People want to save energy and money, but they don't know how to find and use energy information. Consumers attitudes are varied, but most need a push or more help to take action. Consumers want better insights on their energy usage, from bills or otherwise. The research firm reports only 12% of broadband households are not taking any energy-saving actions. In addition, 45% of broadband households made energy-saving renovations or added major energy devices in 2021, which is an all-time high.
Consumers want better insights on their energy usage, from bills or otherwise. Utilities and smart energy platform and app-makers are partnering to deliver clear, accurate energy-consumption information to their customers. Connecting this data to the energy bill and cost savings will maximize impact.
Energy device makers, utilities, homebuilders, and automakers have an opportunity to make major leaps forward with the tailwind from consumer demand and government funding and investments. Driving increased education on the benefits of energy products and utility-based energy programs is critical. Players able to leverage governmental support will mitigate the cost of scaling up, those who can educate consumers will grow the entire industry, and those with the right partners will reach more customers from different segments and through new channels.
Parks Associates' upcoming Smart Energy Summit highlights the evolution of the consumer utility market, the impact of COVID-19 on energy management programs, and new opportunities to drive engagement in utility-sponsored program. Register now to attend the virtual session Home Energy Management Solutions on June 30 or visit www.smartenergysmt.com.
By Chris White, senior analyst, Parks Associates.