The song claimed "Everything is coming up roses…" but in the real world, everything is coming up…electric. Climate concerns worldwide are making electric vehicles, for example, a high priority. States are mandating the phase-out of fossil fueled vehicles with target dates in less than a decade in many cases. The infrastructure for electric vehicles—charging stations at public and private locations, in cities and rural areas, along highways and even in off-road areas—is gaining in importance as thousands of new e-vehicles are manufactured.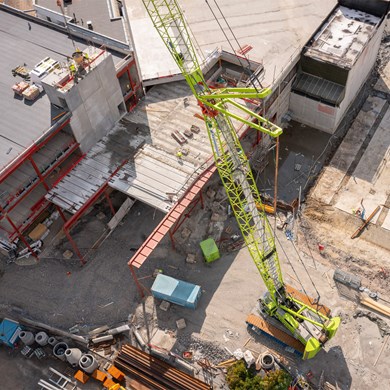 And it's not just cars and trucks that are going "e" in the U.S. As an example, in Florida—one of the states that is highly vulnerable to weather changes—Sims Crane & Equipment Co., the largest private crane rental and rigging service in Florida, showcased the world's first battery powered crawler crane in Tampa in conjunction with the crawler crane's designer, multi-national equipment manufacturer Liebherr.
Sims Crane & Equipment and Liebherr then held a joint presentation, explaining the history of both companies and the features of the newly manufactured LR 1250.1 Unplugged electric crane. The LR 1250.1 unplugged is the world's first battery-powered crawler crane. During operation the crane can be connected to a conventional electric supply or run without a cable, therefore "unplugged." The battery is designed for 4 hours lifting operation or for an unlimited amount of time when connected to a power source. The battery system can be recharged within 4.5 hours. The manufacturer claims there are no compromises regarding performance or availability when compared with the diesel version LR 1250.1.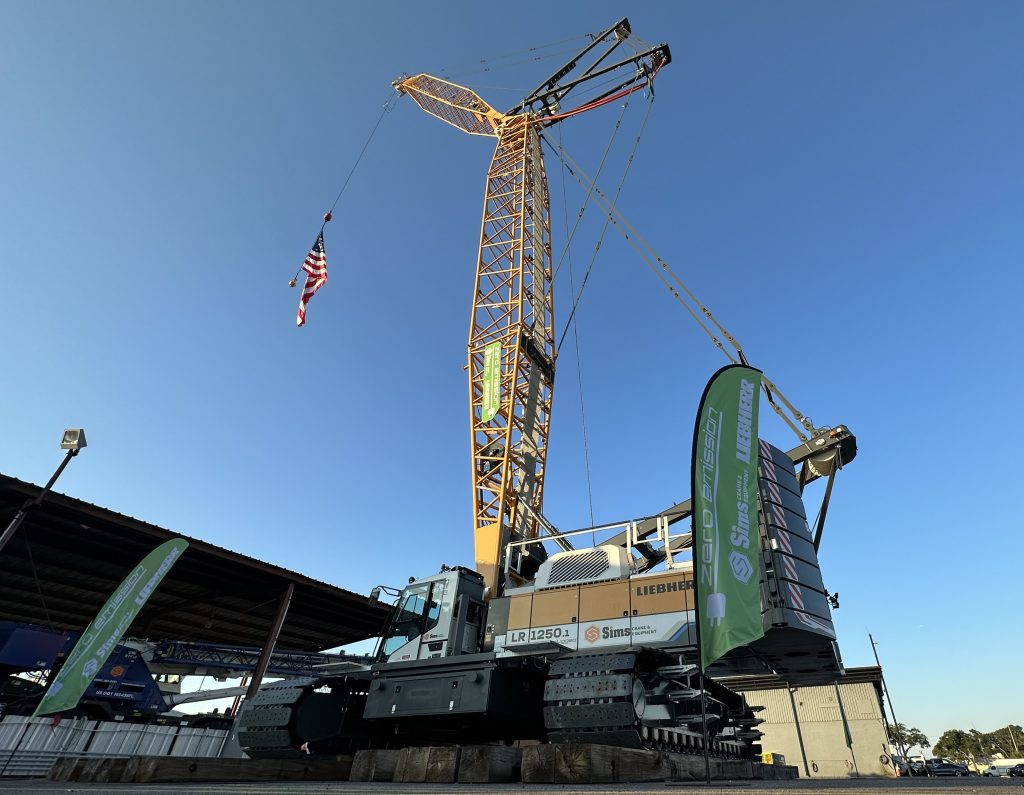 The electric crawler crane is also significantly quieter than its diesel counterpart, making it ideal for construction jobs in residential areas, at hospitals, and in other locations where noise pollution may be a concern.
The unit cab includes a modern air-conditioning system with improved airflow, an optimized field of vision, increased noise protection as well as an orthopedic operator's seat with integrated heating and cooling.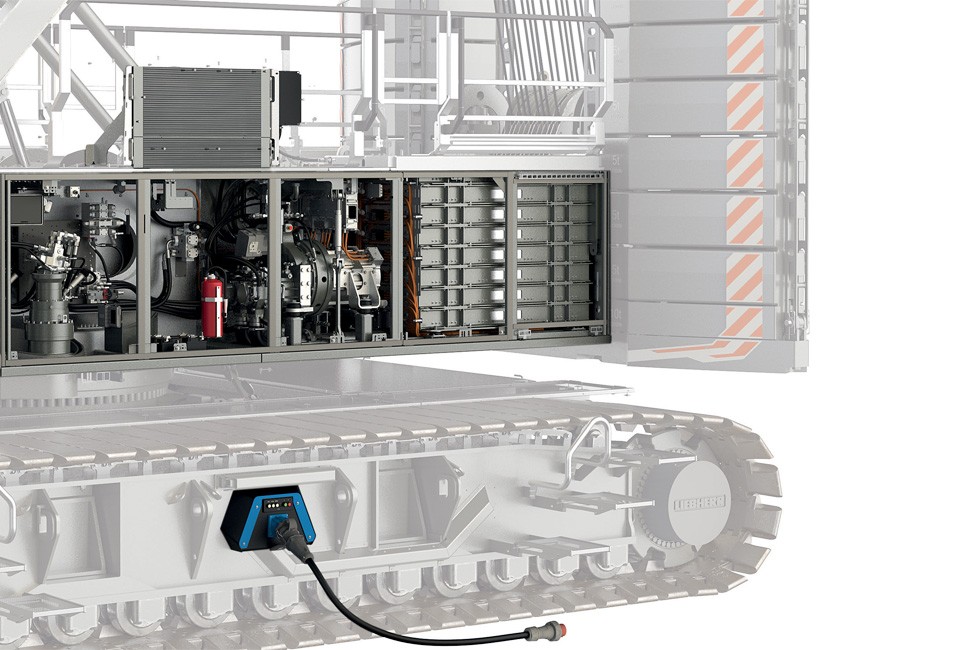 The control system, developed by Liebherr, includes all operating and control functions of the crane and permits very delicate and secure lifting. The load capacities are automatically calculated during operation and the calculation of the load moment indication is also affected without interpolation.
With a maximum lift rating of 275 tons, the LR-1250.1 Unplugged is the top lifter in Liebherr's e-Crane portfolio, the lineup also includes the smaller LR 1130 Unplugged, rated at a maximum load capacity of 151 tons. The LR-1250.1 has a maximum hoist height of 485 feet (415 feet for the LR-1130) and a maximum radius of 319 feet (256 feet for the LR-1130).
Want to tweet about this article? Use hashtags #construction #sustainability #infrastructure