Humans have been searching for the Fountain of Youth, perpetual motion, and a universal language for thousands of years. It hasn't been that long a time, but technologists have been searching for the UFF (universal file format) for a while, too.
The key word in the 1980s tech world was "interoperability." Operating systems were fighting for market share in the desktop computer segment, minicomputers, and even mainframes. The client/server network boom generated research into a best common networking protocol—remember MAP*? Then came Wi-Fi, and technology started all over again.
The ideal of a platform independent file protocol preceded the formation of the cloud as a platform independent everything. Since everyone doesn't do everything in the cloud…yet…we still need a way to move information without concern for the originating and receiving platforms. One answer has been PDF—portable document format—and, yes, just about everyone uses it at some time.
As its Wikipedia entry says, PDF is a file format developed by Adobe in 1992 to present documents, including text formatting and images, in a manner independent of application software, hardware, and operating systems. Based on the PostScript language, each PDF file encapsulates a complete description of a fixed-layout flat document, including the text, fonts, vector graphics, raster images, and other information needed to display it. PDF documents can be designed to accept signatures, annotation, and other entries without corrupting the rest of the file.
That last feature has led to companies to use PDF to exchange files with markups between team members for review, acceptance/rejection, and general communications. In turn, developers are making PDF and its capabilities a part of their offerings. One such company is RedTeam Software, a construction management software platform provider. RedTeam has added a PDF markup function to its jobsite collaboration solution, FieldLens by RedTeam, which also gets redlining capabilities, and to its flagship software solution, RedTeam Flex, which also gets Indicated Outcome Report aIenhanced features.
The RedTeam Flex solution is designed to help mid- to enterprise-level contractors maximize communication, performance, and productivity in the field. The RedTeam Flex PDF markup feature allows teams to annotate, publish, and share drawing files on the web platform, as well as drawings and photos from the mobile application. RedTeam Flex integrates with existing software platforms to offer users a convenient, accessible on-ramp to industry-leading jobsite management.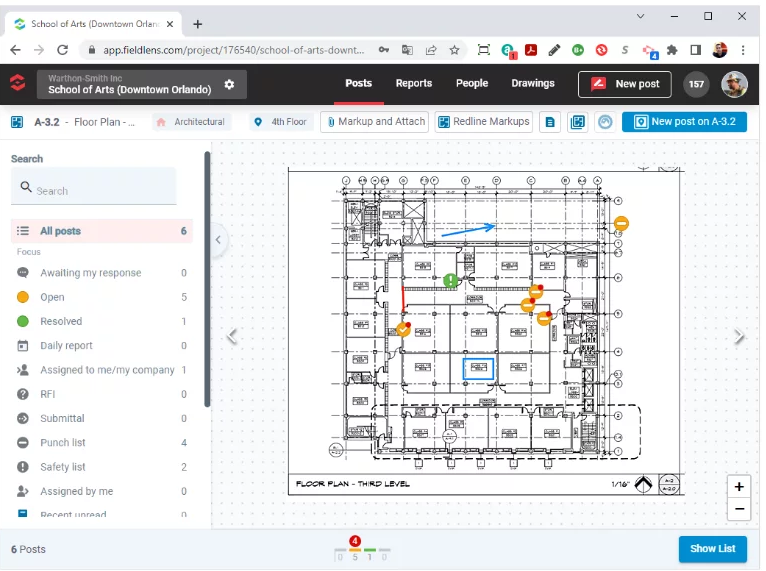 With the IOR (Indicated Outcome Report), contractors can aggregate data from CMAR (construction management at risk) projects. The feature enables the contractor to share the financial status of the project with clients in an easy, understandable format, offering full transparency throughout the life of the project.
In August, the company announced a similar PDF markup enhancement to Fieldlens by RedTeam, a jobsite management software solution that keeps issues organized, documented, and appropriately escalated while providing effective collaboration among field, office, and trade workers.
FieldLens is a jobsite collaboration software for construction companies of all sizes that keeps project teams connected in real time. Built for both mobile and desktop environments, FieldLens keeps issues organized, documented, appropriately escalated, and empowers effective collaboration among field, office, and trade workers. More than 1,000 general contractors and over 100,000 users manage a collective $25 billion of commercial construction work with RedTeam.
The *MAP (manufacturing automation protocol) was a computer network standard released in 1982 for interconnection of devices from multiple manufacturers. It was developed by General Motors to combat the proliferation of incompatible communications standards used by suppliers of automation products such as programmable controllers.
Want to tweet about this article? Use hashtags #construction #sustainability #infrastructure #cloud #futureofwork