A series of events, from the COVID-19 pandemic to the war in Eastern Europe, have created extreme volatility in the oil and gas markets, which is driving demand for alternatives.
Energy consumption is rising as consumers use more devices, work from home, and try to stay comfortable during hotter summers and colder winters. The DR (demand-response) programs and time-of-use pricing are becoming more common, which can benefit the consumer but make home energy management more complicated. Energy product manufacturers, builders, and utilities have an opportunity and a challenge to help consumers handle these issues. More effort and education are needed to make these emerging solutions easy to use and to inform households about the options available to them.
Parks Associates research shows 45% of broadband households made energy-saving renovations or added major energy devices in 2021, which is an all-time high. While smart thermostat adoption has been flat the past few years, consumers are receptive to the benefits of solar panels, including nearly half (44%) who value the savings and one-third (34%) who value the energy independence.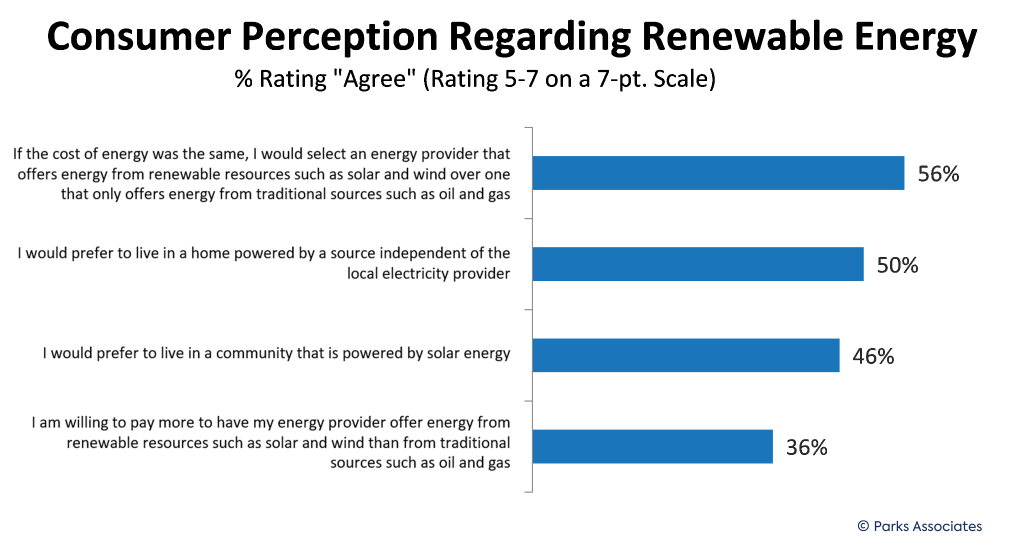 Consumers want better insights on their energy usage, from bills or otherwise. Utilities and smart-energy platform and app-makers are partnering to deliver clear, accurate energy-consumption information to their customers. Connecting this data to the energy bill and cost savings will maximize impact.
Interest in renewable energy is rising, and some households would even pay more for energy from renewable sources. While the interest is strong and getting stronger, there continues to be a major knowledge gap. Thirty-three percent of U.S. broadband households don't know the source of power behind their electricity. Forty percent of these households don't know where to look to find out. Certainly, this is an opportunity for providers who are already using renewables to gather good will, and it's also an opportunity to promote a different energy program (i.e., demand response) packaged with a popular renewable energy product.
In spite of the low familiarity, purchase intention of major equipment is at an all-time high. EV purchase intention leapt six percentage points as Tesla became a household name and major auto OEMs (original equipment manufacturers) including Ford, GM, and Stellantis brands began announcing and marketing their new electrified models. Change in the solar space could drive the next wave of growth. Innovations like GAF's nailable solar shingles and M&A/partnerships such as ADT's acquisition of Sunpro increase consumer options and channels for delivery of solar solutions.
Supply-chain issues including the chip shortage and difficulty in acquiring metals used in battery production could threaten the ability for OEMs to deliver EVs (electric vehicles) to intenders. For the momentum to build there needs to be product available to a first wave of influential consumers.
There is opportunity to grow demand-response programs and smart-thermostat ownership. Consumers lack familiarity with energy programs and have general apprehension about demand-response events, which are an important use case for smart thermostats in their capacity of saving on energy costs. Among participants and owners, the data shows these programs and products are effective and relatively painless. About 74% of demand-response participants say they barely noticed or say the DR event was less unpleasant than expected. Only 9% say they saved less money than expected from using their smart thermostat.
There is an excellent business opportunity in these results: smart thermostats work. They save energy and money, according to owners. DR is not unpleasant for most experiencing events. Industry players need to help these happy customers spread the good news to skeptical friends, family, and colleagues.
Parks Associates will present consumer research impacting the alternative renewables market and address key trends and topics affecting the energy and smart home industries during its annual Smart Energy Summit: Engaging the Consumer. In its thirteenth year, Smart Energy Summit conference series hosts in-person and virtual sessions throughout the year, with the next virtual session taking place in November.
By Chris White, Senior Analyst, Parks Associates