Digital twins offer many benefits to construction companies: data-driven decisions, more streamlined project delivery, money and time saved, better quality, and the list goes on and on. But as any die-hard construction professional knows this also comes with challenges.
"The problem is one of the obstacles to model-based digital delivery from the creation of a construction digital twin for bidding through execution is the way the civil design models come in aren't often complete," says Rich Humphrey, vice president of product management, Bentley Systems. "Sometimes they get completed through CAD. Sometimes you have to integrate the models together."
Civil construction faces different challenges than let's say plant construction. When building a plant, a door is a door, and a window is a window. Civil construction is a bit more complex, which is why Bentley Systems has partnered with WSB to help civil infrastructure owners and contractors adopt and use infrastructure digital twins.
WSB has launched a new digital construction management solution and advisory service, based on Bentley's SYNCHRO, to help the civil infrastructure market overcome the hurdle of adopting model-based digital workflows and leveraging construction digital twins.
Key services include enabling a single source of truth by connecting project, contract, and document management to the future of design—a 3D/4D/5D constructable model—as well as the ability to create constructable models from current 2D plan sets, which allows the transition to a single source of truth for all stakeholders.
"So the partnership with WSB and Bentley is how do you take the technology that Bentley has built and we have talked about in terms of truly being able to build a civil construction model, aggregate any model into a cloud environment, purpose built for construction personas, and then we have done … a lot of work to be able to manage civil models, split civil models up along alignments into constructible components, and add construction attributions like cost codes, work breakdown structures, and our mainstay, which is adding the activities from CPM schedule," explains Humphrey.
He goes on to say Bentley Systems has the technology, but the company is not digital integrators. Construction companies need to do process change, which is where WSB comes in with the knowledge it has to help construction companies leverage design/build. Andy Kaiyala, vice president of construction technology and controls, WSB, says it can help with operationalizing a model or creating a constructible model.
"From our perspective Bentley SYNCHRO is the only one that is working on that problem and then solving it is being enabled by the technology, but it is going to take this data management, data structure, personnel, workflow," he says. "We have to work through all of those issues as an industry and that is what WSB is here to do. That is why we think it is a strong partnership."
WSB is the also the first firm to join the Bentley Digital Integrator Program for construction to provide support and knowledge transfer to eligible engineering and project delivery firms and system integrators, creating and curating digital twins for their clients' infrastructure assets.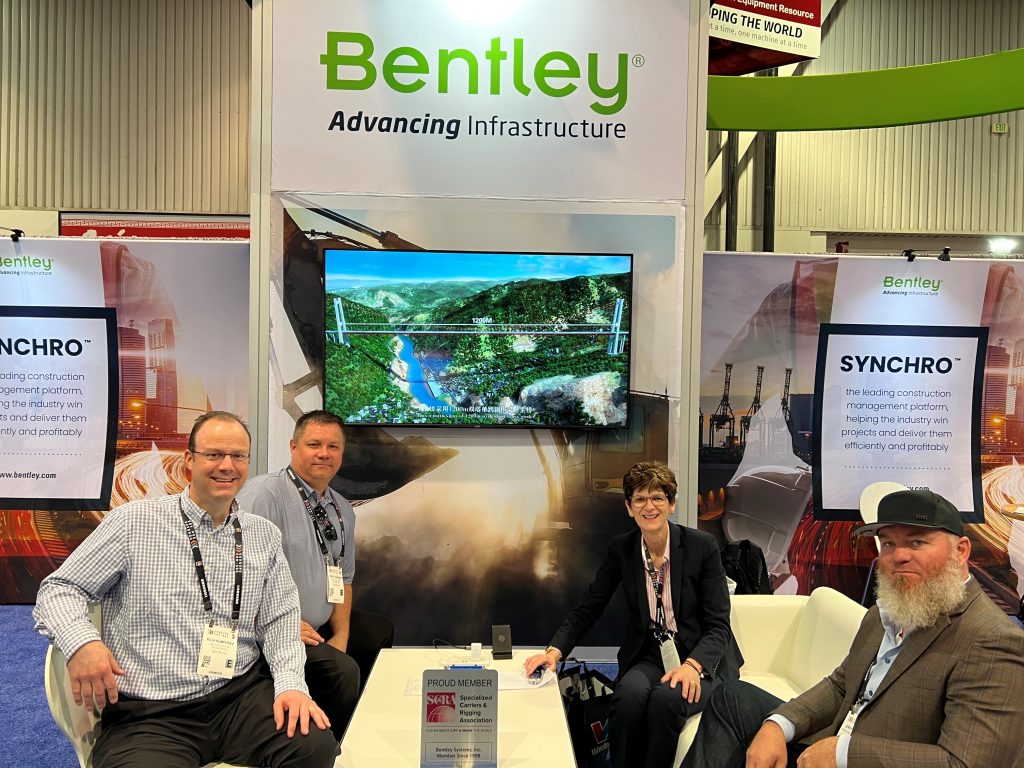 Humphrey adds, "What is also really newsworthy here is Bentley also started up a new program called the Digital Integrator Program, which is meant specifically to get partners to do—not systems integration but—help our customers through process transformation and digital delivery."
At the end of the day, this will help project teams overcome many of the hurdles that still exist to moving forward with the digital twin, enabling better project delivery from preconstruction planning through construction. The opportunities are endless, as I always like to say, and this is certainly one of them.
Want to tweet about this article? Use hashtags #construction #IoT #sustainability #AI #5G #cloud #edge #futureofwork #infrastructure