The construction labor shortage persists in 2023, as construction companies continue to search for skilled workers and come up empty. In fact, one organization suggests the construction industry will need to attract an estimated 546,000 on top of the normal pace of hiring in 2023 to meet the demand of labor.
This number comes from ABC (Associated Builders and Contractors). The research also shows the construction industry averaged more than 390,000 job openings per month in 2022, which ABC says is the highest level on record.
For reference, the industry unemployment rate of 4.6% in 2022 was the second lowest on record, higher than only the 4.5% unemployment rate in 2019. As another comparison, national payroll construction employment was 231,000 higher in December 2022 than in December 2021.
Looking to 2024, ABC also predicts the industry will need to bring in more than 342,000 new workers on top of normal hiring to meet industry demand, and that's presuming that construction spending growth slows significantly next year.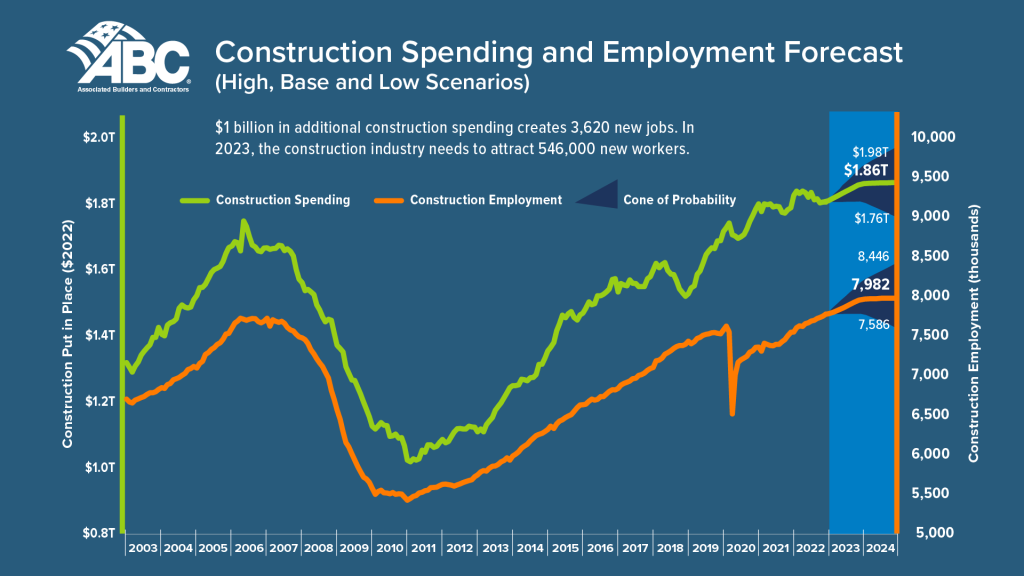 What can be done to address this labor shortage? The Biden-Harris Admin., has some ideas. It has announced $80 million in funding, through its Buildings Pathways to Infrastructure Jobs Grant Program, which is available to develop, strengthen, and scale equitable pathways to good infrastructure jobs.
The money will be used to enable partners in the public and private sectors to develop or scale workforce training programs to prepare job seekers in advanced manufacturing, information technology, and professional scientific, and technical service occupations that support renewable energy, transportation, and broadband infrastructure sectors.
Nonprofits, labor organizations, public and state institutions of higher education, economic and workforce entities, and state, county and local governments may apply for grants ranging from $500,000 to $5 million.
This is certainly one step, but I am not sure it solves the great challenge in front of us—that younger generations often aren't interested in the trades. We need a multi-faceted approach to address this.
We need mentors to inspire and lead our trades. (And no, I am not talking ChatGPT.) I am referencing real red-blooded humans that are emphatic and cultivate the human team spirit. We need to entice both new and existing workers through scholarships and bonus incentives. Let's be honest: Good pay and benefits are sweet and will draw in many, until the excitement wears off.
Still, beyond that we also need to focus on the overall health and wellbeing of the employees. Today's worker wants a good work-life balance. In order to do all of this, we need buy-in from everybody—parents, schools, corporations, government, and more. We need to be more empathetic and compassionate. We need to encourage those individuals who are truly inspired by a strong work ethic and believe in what they do. Some see designing the future. Others see a world led by strategy and tactics. I know we also talk about the need for technology in construction today more than ever—both to create new efficiencies that didn't exist before and to entice young workers who are tech-driven. We need the right mix on our jobsites of tomorrow. There is also another component to the worksite of the future we seem to be ignoring and that's the people coupled with the right compassion and intelligence.
Let me go a step further. We need to find the right people who have the emotional intelligence to want to be in the construction and infrastructure industry. We need people who have passion and understanding for the world around them, the things they are creating, and the workers that are in the trenches, so to speak, with them every day. These unique individuals are truly the leaders of tomorrow so they must be in tune not only with their needs but share empathy for the people in the office and at the jobsite.
Different people, different emotions and that means having the ability to manage and understand what is happening and react accordingly on a dime. These leaders are not just working for a paycheck, they are shaping the world and making better decisions because they are highly valued, respected, and are contributing to the creation of what's around them. As a result, it's more than just being told what to do. They see new opportunities from the strategies and tactics and a new sense of productivity will emerge. Will it all be just tech, to overcome the worker shortage? Or will you consider the people component? What do you believe needs to happen next?
Want to tweet about this article? Use hashtags #construction #IoT #sustainability #AI #5G #cloud #edge #futureofwork #infrastructure #worker #labor