The trucking industry is a critical part of the economy, transporting 71.6% of U.S. goods, totaling $10.4 trillion according to the U.S. Census Bureau. But trucks are also a significant source of pollution, having emitted 7% of U.S. GHG (greenhouse gas) emissions in 2020. The EESI (Environmental and Energy Study Institute) predicts electric trucks can reduce GHG emissions, leading major fleets to commit to transitioning at least 30% of their new heavy-duty truck purchases to be zero-emission vehicles, including electric models, by 2030.
For example, Volvo Trucks has signed a letter of intent to sell 1,000 electric trucks between now and 2030 to Holcim, a building material and solution provider. The deal is the largest commercial order to date for Volvo electric trucks.
The first 130 heavy electric Volvo FH and Volvo FM trucks will be delivered to markets including France, Germany, Switzerland, and the United Kingdom during the fourth quarter of 2023 and throughout 2024. By replacing 1,000 existing Volvo FH diesel trucks with Volvo FH Electric trucks on a typical route, up to 50,000 tons of CO2 could be saved every year.
Both Volvo and Holcim are committed to the Science-based targets initiative, which drives ambitious climate action in the private sector by enabling organizations to set science-based emissions reduction targets. Targets are considered 'science-based' if they are in line with what the latest climate science says is necessary to meet the goals of the Paris Agreement—limiting global warming to 1.5°C above pre-industrial levels. Both are also founding members of FMC (First Movers Coalition), a group of companies that use their purchasing power to create early markets for innovative clean technologies across eight hard-to-abate sectors.
Last year, Volvo added the three most popular 44-ton heavy-duty trucks to its electric lineup: the Volvo FH, the Volvo FM, and the Volvo FMX. With these new additions, Volvo Trucks has six electric truck models in series production, giving it the industry's most extensive portfolio of zero exhaust emission trucks.
Volvo Trucks saw a strong increase in new truck orders during the first quarter of 2023. A total of 486 electric trucks were ordered, which is an increase of 141% compared to the same period in 2022. Most of these orders came from countries in the northern part of Europe, including the Netherlands, Germany, Norway, and Sweden.
Currently, Volvo Trucks is scaling up production of electric trucks at three plants: in Gothenburg, Sweden; in Blainville, France; and in New River Valley, Virginia. In the third quarter of 2023, serial production will also start at Volvo's largest factory in Ghent, Belgium.
What's an eTruck
An electric truck refers to a commercial vehicle powered by one or more electric motors instead of a fossil fuel-using ICE (internal combustion engine). It is charged through an external power source and capable of handling heavy-duty tasks. It produces zero emissions from tailpipes and results in a significant reduction in GHG (greenhouse gas) emissions and air pollution. It also offers instant torque and facilitates better acceleration and performance in urban driving conditions.
Absent incentives, EESI estimates electric semi-trucks currently cost up to 2.8 times more to purchase than their diesel counterparts. Falling battery costs and growing manufacturing scale will reduce this upfront cost differential over time. But many companies are holding back due to the extra upfront cost of electric trucks, as well as challenges like the limited availability of chargers. The IRA (Inflation Reduction Act) and IIJA (Infrastructure Investment and Jobs Act) will help address these challenges and bring forward the cost parity of electric and diesel trucks.
Under the IRA, fleet operators can qualify for up to $40,000 in tax credits for each electric truck heavier than 14,000 pounds placed into service. The law also includes a $1 billion Clean Heavy Duty Vehicle Program to provide funding to states, municipalities, tribes, and nonprofit school transportation associations to electrify heavy-duty fleets. A Rocky Mountain Institute analysis found the IRA will bring forward cost-parity between electric and diesel semi-trucks for short- and long-haul applications. The IRA also extended the 30% tax credit for electric vehicle supply equipment and increased the commercial cap to $100,000 per charger.
Under the Infrastructure Investment and Jobs Act, the National Electric Vehicle Infrastructure Formula Program requires states to make plans to build public charging stations every 50 miles along alternative fuel corridors. The bill also funds research, demonstration, and deployment for low- and zero-emission transportation options, as well as expanded electric vehicle charging infrastructure (including for heavy-duty vehicles).
In addition, five states have adopted California's Advanced Clean Truck Act, requiring manufacturers to increase zero-emission semi-truck sales by 75%, and at least five others are considering it. The California project will work toward developing high-power chargers that can provide 100 miles of range in less than 10 minutes and cost less than $500 per kW. Two high-power charging demonstration sites—one near the Ports of Los Angeles and Long Beach, and one in the Inland Empire—will provide technology and operational data.
A plan for a statewide charging corridor network, including a workforce development strategy and templates for key freight corridors will be under development. The high-power charging support will extend the range of electric trucks and increase their market penetration. The first phase of the project runs through 2025.
As an electric truck is energy efficient, environment-friendly, and while costing more initially, is cheaper to maintain, they are gaining traction in the logistics, municipal, construction, and mining industries across the globe. The benefits of electric trucks, increased availability of more makes and models, investments in charging infrastructure, the rapid improvement of the upfront and long-term economics, and policy incentives all point to a near-term boom in their adoption.
The global electric truck market size reached $515.1 million in 2022. Looking forward, IMARC Group expects the market to reach $2,556.1 million by 2028, exhibiting a CAGR (compound annual growth rate) of 32.2% during 2023-2028. The expansion of online distribution channels, rising environmental concerns, and stringent government regulations about the emission of greenhouse gases represent some of the key factors driving the market.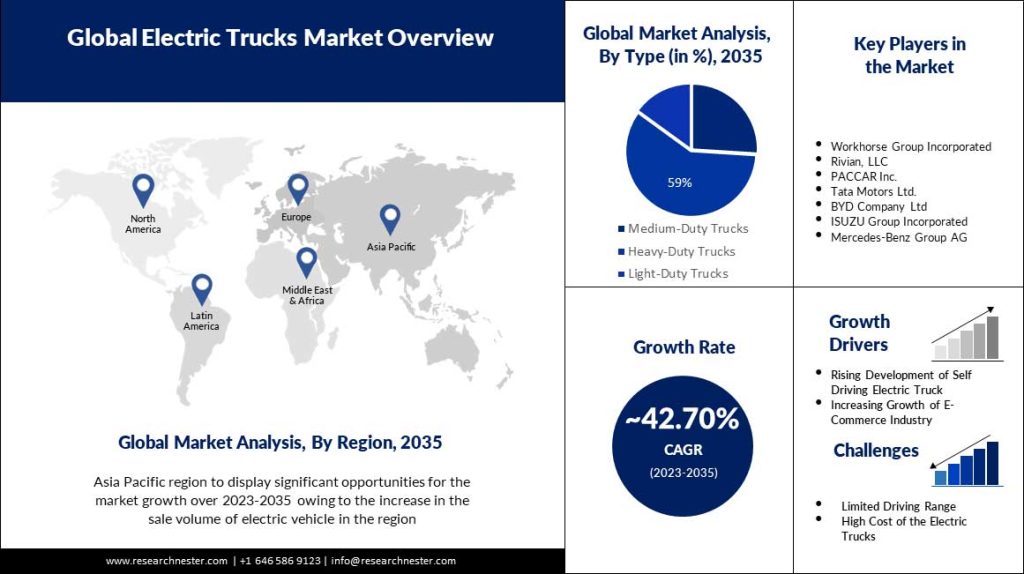 Governments of various countries are implementing stringent regulations to reduce CO2 (carbon dioxide) emissions from heavy-duty vehicles. This, with the expansion of charging infrastructure and development of testing facilities for analyzing electric motors, controllers, and battery chargers, is offering growth opportunities to key market players operating worldwide.
EU (European Union) regulations now require new trucks to reduce carbon emissions 30% by 2030. California's recent Advanced Clean Truck regulation requires manufacturers of commercial vehicles to start selling etrucks in 2024 and restricts all sales of new trucks to electric models by 2045.
Today, etrucks are becoming more economical for manufacturers to produce and for consumers to purchase and own. As a result of improvements in electric powertrain technology and declining battery costs, McKinsey predicts within the next few years, the total cost of ownership for many etrucks, depending on the specific use case, will be similar to or better than that of traditional ICE trucks.
Key market players are focusing on improving the motor efficiency of electric trucks. They are also collaborating with the public and private sectors to develop, demonstrate, and deploy technologies that enhance the performance of electric drive vehicles, which is fueling the market growth. The increasing prices of petroleum products and the easy availability of electric trucks are contributing to the market growth.
Electric vehicle charger research is ongoing in several areas. At this time, there are several classes of EVs under development, requiring different chargers, some directly involving heavy duty trucks:
BEVs (battery electric vehicles) are powered by rechargeable electric batteries. BEVs produce no tailpipe emissions and have no combustion engine.
PHEVs (plug-in hybrid electric vehicles) are powered by an electric motor as well as a small combustion engine. They have an all-electric range from 20 to 60 miles and can be charged at a charging station.
HEVs (hybrid electric vehicles) have an internal-combustion engine and an electric motor that assists only at low speeds. The battery is charged either by the combustion engine or through recuperation when braking.
FCEVs (fuel cell electric vehicles) use electric motors. The electricity is generated in fuel cells and can be stored in a small buffer battery. Fuel cell vehicles require hydrogen (compressed into tanks) as fuel.
McKinsey expects fuel cell electric trucks, powered by hydrogen, will also penetrate the commercial-vehicle industry, especially in heavy-duty applications and long-haul use cases, where pure battery electric powertrains might have limitations given battery size and weight.
At first glance, conventional trucks have a substantial advantage when it comes to range. They can travel up to 2,000 miles without refueling, compared to up to claimed 500 miles for Tesla's Semi electric truck. But because long-haul truck drivers are required to take breaks, these rest periods could be used to recharge electric truck batteries. Charging during mandatory breaks and during loading times allows electric semi-trucks to maintain efficient schedules.
And while the limitation of distance per charge, given the status of the EV charging network today, is a major concern for over-the-road fleet buyers, the Infrastructure Investment and Jobs Act has nearly $7.5 billion allocated to build a network of 500,000 electric vehicle chargers nationwide. The increasing investment in the electric vehicle charging station infrastructure is projected to improve the growth of the global electric trucks market.
Harbor Research explains there are three levels of EV charging solutions:
Level 1 uses adapters included with most EVs to directly plug vehicles into wall sockets or outlets. Level 1 is slow—a maximum of about 5 miles RPH (range-per-hour), and unless a separate meter is installed these chargers typically have no HMI (human-machine interface) and lack even the most basic features like energy consumption monitoring or automatic shutoff.
Level 2 enables faster charging using 240V outlets. It requires dedicated hardware, usually SAE J1772 EV plugs and adapters, and charges between 12-25 miles RPH. Possible features of Level 2 include load balancing, remote payment and pricing, app-based wayfinding, and remote maintenance and updates.
Level 3, also called DCFC chargers, are expensive to install, requiring a separate station usually in public venues, but they fuel a vehicle much faster than Level 2 (100+ miles RPH). Today, most Level 3 charging stations are unconnected wall-box solutions or standard 50kW products. However, new models are being developed that have higher energy outputs, 5G connectivity, infotainment displays using LCD/LED touchscreens, and AI-level applications like analytics-based load balancing, AC/DC power inversion, and DER (distributed energy resources) storage and integration.
As players align to capture the fast-growing EV market, EV charging station suppliers are taking two paths: Selling EV charging hardware and components, and an app-based subscription to public EV charging networks.
As more countries mandate the production and use of EVs, the rising fuel demand will necessitate the replacement of traditional vehicle fueling methods with EV charging stations. While Level 2 will dominate residential charging, Level 3 DCFC stations in public settings will exponentially increase.
Level 3 EV charging requires high infrastructure investments and a new fueling model for users. But only advanced DCFC stations will be able to defend marketshare against EV dealerships (e.g., Tesla) and offset lost retail revenues due to consumers charging their EVs at home versus the classic model of filling up at a station.
EV charging stations serve as the crucial bridge between utilities power distribution and electric vehicle power consumption. Applications such as power inversion, off-grid power storage, and grid interactivity can optimize this bridging process, helping to avoid overload by the massive demand for EV charging that will soon be upon us.
Public EV charging station networks are inherently a high-technology digital business. They displace the legacy fueling model with a distributed, subscription-based approach enabled by software, analytics, and energy management to prevent EV charging from crippling the grid. Industry groups should continue to promote EV charging interoperability through open standards, and collaborate with OEMs and utilities to deploy faster, cheaper charging stations with energy storage and load balancing, thereby accelerating the shift to EVs.
A study from Juniper Research found revenue from EV charging will exceed $300 billion globally by 2027, up from $66 billion in 2023. The report, EV Charging: Key Opportunities, Regional Analysis & Market Forecasts 2023-2027, found fragmentation in charging networks is restricting EV adoption.
Chargers are overwhelmingly located in urban areas; leading to widespread range anxiety among potential drivers. This is coupled with the difficulty of accessing charging points via different apps and cards, as well as the lack of standards for charging vehicles at the same rate. As such, EV charging networks must simplify access and work with local authorities to roll out chargers to a wider range of locations, or the EV market, cars, and trucks, will struggle to accelerate.
The U.S. Dept. of Energy recently announced $7 million in funding for seven projects focused on creating regional infrastructure plans to support electric charging and hydrogen fueling for medium- and heavy-duty trucks along the nation's most heavily trafficked corridors. The NREL (National Renewable Energy Laboratory) will collaborate with industry partners on four of the seven projects, which will ultimately inform plans for zero-emission charging infrastructure across more than half of the United States.
The electrification and hydrogen fueling corridor planning projects are a critical step toward ambitious federal clean energy goals, including decarbonizing the U.S. transportation sector by 2050 and deploying more than 500,000 EV chargers nationwide by 2030. The transportation sector is now the largest source of greenhouse gas emissions in the United States, and medium- and heavy-duty vehicles—which include everything from semitrucks and cement mixers to transit buses and delivery fleets—are some of the heaviest emitters on the road.
Creating the infrastructure to support battery-electric and hydrogen-fueled vehicles could have an outsize impact in reducing carbon emissions. In turn, improved air quality can benefit those who live and work near freight corridors: the highways that connect goods, services, and people. Research predicts by 2027, the total number of plug-in vehicles will surpass 137 million globally; up from 49 million in 2023. As this adoption grows, EV charging stations will become as common as the gas stations we now depend upon.
Want to tweet about this article? Use hashtags #construction #sustainability #infrastructure