No, not the Limbo Rock, the IT (information technology) Rock. And low-code platforms do rock, it seems, as more companies are offering their application development capabilities to both professional programmers and skilled subject specialist. With a drag-n-drop functionality and graphic user interface, the low-code platforms are being used across industries.
IBM, no stranger to computer programming, defines low code as a visual approach to software development that enables faster delivery of applications through minimal hand-coding. The features of a low-code platform automate aspects of the development process, eliminating the need for traditional computer programming approaches.
Low-code platforms literally democratize app development, particularly for the non-professional developers—business users with little formal coding experience such as business analysts or project managers. These tools enable less technical employees to make a larger business impact in numerous ways, such as relieving IT department backlogs, reducing shadow IT, and taking more ownership over BPM (business process management) workstreams.
However, low-code development platforms also aid more seasoned programmers since they require little to no coding experience, allowing for more flexibility in a developer's coding background. For example, some business applications require knowledge of a specific programming language, narrowing the selection of developers. By eliminating this requirement, low-code platforms shorten the application development lifecycle, enabling more to be accomplished in less time.
The COVID-19 pandemic, especially the lockdowns and remote work initiatives, increased the need to automate business processes and prioritize digital transformation projects. Low-code platforms help streamline workflows and accelerate automation projects.
According to Gartner, the worldwide market for low-code development technologies is projected to total $26.9 billion in 2023, an increase of 19.6% from 2022. A rise in business technologists and a growing number of enterprise-wide hyperautomation and composable business initiatives will be the key drivers accelerating the adoption of low-code technologies through 2026.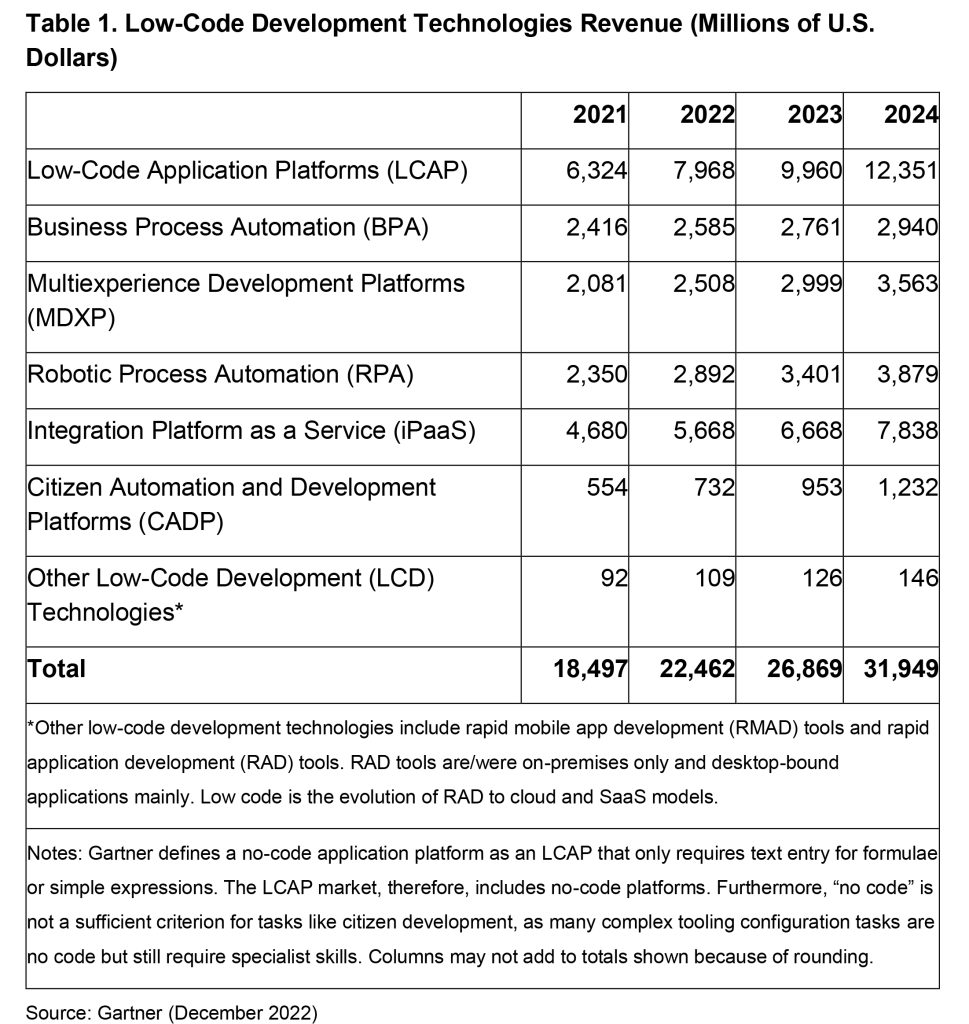 A low-code model promotes rapid application development by making the user experience more accessible. Developers benefit from core capabilities, such as a visual IDE (integrated development environment), built-in data connectors and/or APIs (application programming interfaces), and code templates. All this functionality improves the development process, allowing more time for innovation. The result is LCAPs (low-code application platforms) are projected to be the largest component of the low-code development technology market, growing 25% to reach nearly $10 billion in 2023.
No-Code Coding
While low-code application platforms primarily serve full-time and part-time developers, an option–no-code products-are specifically targeted for business users, allowing them to create custom apps without expert development skills and knowledge. A NCDP (no-code development platform) allows users to create enterprise applications through drag-n-drop interfaces instead of traditional hand-coding. Both low-code and no-code platforms are built to accelerate process automation as well as achieve scalability across those processes.
Examples of applications suitable for no-code development include self-service apps for business users, dashboards, mobile and web apps, content management platforms, and data pipeline builders. No-code is ideal for quick-to-build standalone apps, straightforward UIs (user interfaces), and simple automations. It is used in calendar planning tools, facility management tools, and BI (business information) reporting apps with configurable columns and filters.
The main drawback to no-code platforms is that if business users develop and edit software without any supervision from the IT department, this can require additional workstreams to ensure that performance, security, and compliance standards are met.
What is called a CADP, or citizen automation development platform, is projected to grow at the fastest pace, with a 30.2% growth forecast for 2023. Typical use cases of CADP include automating workflows, building web-based forms, bridging data and content across multiple software-as-a-service applications, and creating reports and data visualizations.
Gartner predicts by 2026, developers outside formal IT departments will account for at least 80% of the user base for low-code development tools, up from 60% in 2021. The high cost of tech talent and a growing hybrid or borderless workforce will contribute to low-code technology adoption. Empowered by the intuitive, flexible, and increasingly-powerful features of low-code development tools, business technologists and citizen technologists alike are developing lightweight solutions to meet business unit needs for enhanced productivity, efficiency, and agility—often as fusion teams.
Hyperautomation and Composability
Interest in hyperautomation continues to grow due to rising operational optimization demands, a widening skills gap, and increasing economic pressures. Gartner forecasts the spending on hyperautomation-enabling software technologies will reach $720 billion in 2023.
A portion of this spending will be directed at low-code development technologies to support process automation, integration, decision analytics, and intelligence use cases. Investments in low-code technologies that support innovation and composable integration will also grow as organizations embrace the composable enterprise. A composable enterprise requires better reuse of existing packaged business capabilities for agile application development and to create custom user experience for new workflows and processes.
Want to tweet about this article? Use hashtags #sustainability #cloud #edge #futureofwork