The news has been filled with exciting tales of AI (artificial intelligence) "chatbots." ChatGPT and other programs, while seemingly appearing spontaneously on the scene, were born of years of effort by teams of programmers and experts. The GPT (generative pretrained transformer) applications like ChatGPT have become a part of the search engine world with Google and Bing adopting competing forms. According to ABI Research, this has ignited massive interest in Gen AI (generative AI) since late last year. So far, the opportunities for Gen AI have been limited to the B2B (business-to-consumer) space, with the B2B (business-to-business) largely undefined.
In the long run, Gen AI will have a greater impact on the B2B space, with ABI Research forecasting it to contribute roughly $450 billion in value across various verticals by 2030. But several enterprise challenges are holding back adoption right now. The value of Gen AI is too great to pass up, from improved employee productivity, and operation efficiency to service augmentation and even widespread automation.
Many large tech firms, as well as startups, are developing generative AI models, applications, and services. However, as they explore this emerging opportunity, they must contend with a steep learning curve. Building, training, and running generative AI models have massive overheads.
While generative AI enterprise uses continue to emerge, delivering business value cannot rely on large, generalized models as they are slow, insecure, expensive, not adapted for the tasks they service, and subject to dangerous hallucinations. Instead, smaller, contextualized models fine-tuned on specific datasets will offer a much greater ROI (return on investment).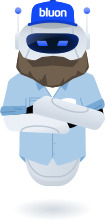 Highly focused AI can be both valuable and readily programmed. One company has recently released an AI tool proving that point. Bluon's MasterMechanic, the first generative AI tool for the trades is similar to ChatGPT but trained on a vast body of HVAC (heating, ventilation, and air conditioning) data for rapid diagnosis and solving of problems.
Bluon has amassed an extensive database collected over years. Bluon's HVAC data includes nearly 50,000 problem-solution scenarios from tech support calls administered by some of the top mechanics in the trade. In the past, Bluon, tech support calls were often measured in hours of wait time. With Bluon tech support, the average wait time dropped to minutes. Now with MasterMechanic, technicians can get step-by-step answers to complex problems almost instantly. Indeed, the company want you to think of MasterMechanic as the collective knowledge of Bluon's HVAC mechanics' nearly 1,000 years of combined field experience.
As a result, the system understands HVAC issues, in virtually every system type. It knows how technicians describe problems, and how to provide immediate, practical guidance. Bluon's data makes it uniquely suited to develop AI solutions, all of which require large amounts of formatted data.
Like ChatGPT but focused
MasterMechanic can be considered a breakthrough AI tool for HVAC technicians, allowing them to instantly diagnose problems in the field, using only natural language, and then providing solutions based on extensive human experience. The product is currently available and represents the next stage of tools for the service technician and the beginning of a fundamental shift in how service technicians will approach their jobs.
For the technical minded, MasterMechanic uses a combination of machine learning approaches including RLHF (reinforcement learning with human feedback), RAG (retrieval augmented generation) in high dimensional vector space, and LLMs (large language models). This enables the AI to go beyond simple keyword matching to find complex, hidden relationships between all aspects of HVAC system components and operating characteristics and surface the most likely set of solutions for the technician. 
Bluon's cellphone apps are working to set the standard for data in the HVAC industry. The launch of MasterMechanic demonstrates Bluon's emphasis on putting the technician and contractor first. Techs have a single source that is brand-agnostic for: community interaction, equipment documentation, live 24/7 tech support and for acquiring parts and materials from their local distributor — saving contractors many hours daily and increasing the profitability of their business.
Bluon is supporting distributors with a comprehensive parts and equipment database enabling next-generation cross reference capabilities while connecting them directly to Bluon's 165,000 member technicians. By streamlining how contractors and their technicians communicate and transact with their local distributors, Bluon is increasing the efficiency of those engaging with the tool.
Ultimately, MasterMechanic will allow distributors to serve more customers quickly while handling more orders with less effort while also creating a real solution to the skilled labor gap that weighs heavily on the HVAC industry.
Want to tweet about this article? Use hashtags #construction #sustainability #IoT #AI #cloud #edge