The Swedish furniture company IKEA made its fame by offering "assembly required" kits of parts so people could provide the labor of furniture building for themselves. The concept was that labor costs were a major part of any manufacturing operation and buyers could provide that, saving money.
Carrying that idea a bit further, Project Frog, with nearly two decades of institutional knowledge in designing, developing, and managing prefab Kits-of-Parts for the modular building industry, has launched KitConnect, a SaaS DMS (Design Management Solution) for the AEC industry that enables building productization workflows in BIM, effectively a digital kit-of-parts approach.
Design encompasses a wide range of requirements, usability, aesthetics, code compliance, performance, longevity, fabrication, assembly, installation, and maintenance. Creating a library of standard components or a repeatable building platform, known as a kit-of-parts, offers quick scalability and flexibility to work building after building.
The pre-designed kit-of-parts is available to designers at the start of a project to streamline the design process. The customizable nature of components permits the retention of the uniqueness desired for each project. From design to build, all stakeholders evaluate the efficacy of designs and components to ensure specifications, standards, code compliance, structural integrity, manufacturing, installation, and maintenance potential.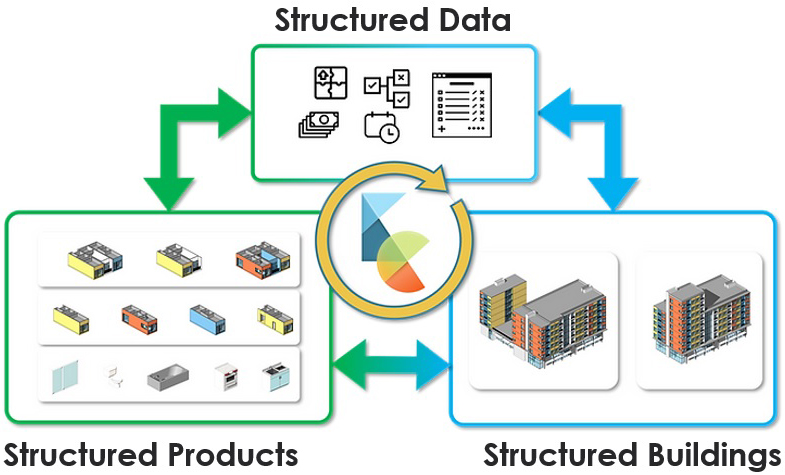 KitConnect simplifies BIM to fabrication by acting as an interface between design and manufacturing, maintaining assembly logic from Component model through Project model right in your BIM context. KitConnect offers a framework for repeatability, consistency, and scalability of building designs.
Built on a relational-component database, KitConnect is modeled after PDM (product data management) solutions in manufacturing but is purpose-built for the specific demands of AEC workflows. As changes occur throughout the lifecycle of a project, designers, manufacturers, and builders can push information back to the Kit-of-Parts, ensuring everyone is working with relevant and current data.
KitConnect reduces repetitive modeling, saves time, and eliminates errors that inevitably occur when recreating content. It's ideal for project types that employ productized or repeatable approaches to building design, such as data centers, multi-family housing, healthcare, retail, hospitality, industrial/plant design, office interiors, and single-family developments.
Want to tweet about this article? Use hashtags #construction #sustainability #infrastructure #cloud #futureofwork