Factory built homes are not a new idea. As far back as the end of World War II, families were buying and living in homes that were moved onto lots in pre-assembled fashion. Usually called "mobile homes," their mobility was questionable once they were placed on a site, in a development of similar homes euphemistically called a Park, or on a rural lot. The only mobile part is the transport to the setup location. As the concept grew, concrete foundations were laid, making the mobility factor moot.
Manufactured housing was, in the beginning, a Wild West environment with minimal rules and even fewer regulations. Then, in 1976, the Congress passed the National Manufactured Housing Construction and Safety Act, changing the industry. The Act declared that all manufactured homes would have to be build using tough national standards. Since then, improvements have been added to ensure safety as construction standard have been raised.
Today, modular housing has taken the place of mobile homes in the terminology of real estate brokers. A modular house is created in a factory, delivered in pieces to a site, and assembled by a contractor. Amenities, appliances, decorative changes to make each unit personalized are added onsite. In the best situation, the fact of how the home was built is invisible once the crew leaves, the building itself indistinguishable from hand built custom housing.
But architects, developers, and contractors have been slow to adopt modular buildings in some areas. Land prices, availability, and condition have been drawbacks. Estimating the cost of a modular development has been a problem. A British firm with U.S. offices in Seattle, Modulous, is working to change that by using technology and a supply chain of partners.
The Modulous software platform automates multifamily real-estate project design, costing, and programming – meaning developers, architects, and contractors can figure out pricing and decide whether a site is viable in hours, not weeks. In addition, Modulous has developed a configurable Kit of Parts, which is a set of proprietary sub-assembles that allows developers, architects, and contractors to build modular homes without a fixed factory. The company's end-to-end platform enables 50% faster project delivery, 60% reduction in embodied carbon, and 70% reduction in construction waste.
The results are impressive:
Architecture and design – Modulous' software generates optimized designs and massing for a site and bases these on its physical Kit of Parts. This not only guarantees the technical feasibility of the design, but also provides accurate costs and schedule, all completed in hours. Architects can avoid spending weeks on speculative work, designing schemes that may turn out to not be economically viable, and instead present clients with a variety of options inside a day, upping their chances of winning work while letting them focus on more productive tasks.
Construction – Modulous' Kit of Parts enables general contractors to deliver multi-story apartment blocks with no upfront investment. Instead of requiring complex and costly factories, Modulous' established supply chain partners deliver sub-assemblies to assembly facilities near site, increasing margin, employing local labor, and improving working capital efficiency.
Development – The Modulous platform produces 3D visualizations and detailed cost plans, and it will provide developers a real-time analysis of return-on-investment calculations, enabling them to quickly option sites and establish land values driven by accurate data.
Modulous' supply chain partners have focused their collaboration on continuously reducing the number of components required, similar to the approach previously taken by the automotive and aviation industries. By tracking each of these components, it will be possible to measure and calculate the accurate carbon content of a plan and ensure the use of healthy, non-toxic materials.
Modulous has created a high-performance Kit of Parts to standardize the unseen elements of construction. Each element of the kit has a digital equivalent in the software, ensuring price and procurement information is available upfront. The Kit of Parts is manufactured within a supply chain, removing the need for fixed factories, and allowing developers to use and upskill local labor to assemble the kit into volumetric modules close to the construction site.
While standardization is a key element of the process, it doesn't mean that everything has to look the same. Standard components, like the basic structure, have unique elements, such as interchangeable variations for different wall panels, flooring, and finishes. You can rearrange things as long as they don't break the manufacturing model, emphasizing configurability over customization.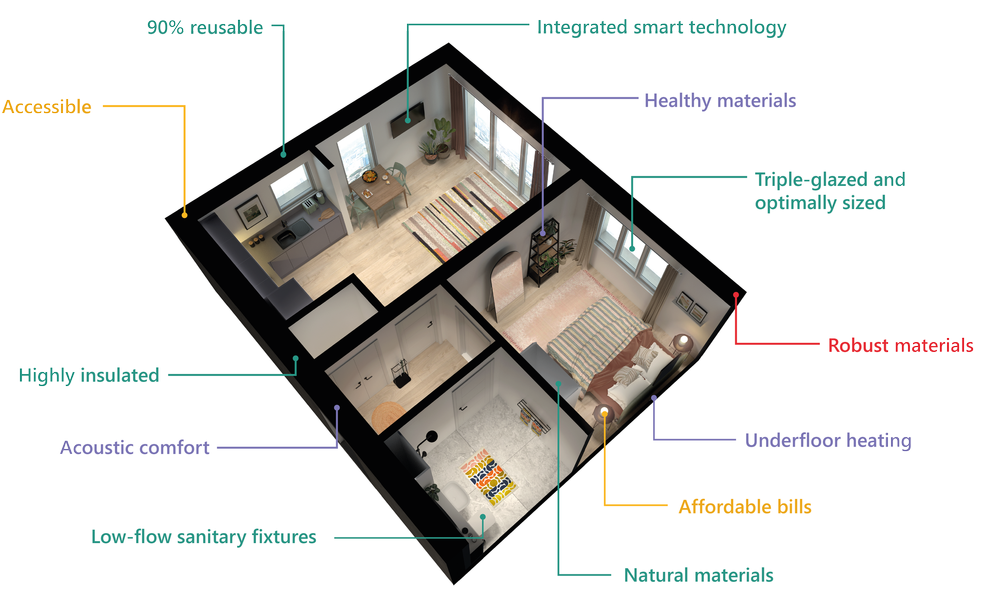 With the Kit of Parts, everything starts from a 3D digital representation before being manufactured physically. This allows a developer to consider all the things that could normally interfere with one another in the design from the beginning. This should drastically diminish the number of work change orders that often delay construction.
The concepts have been recognized by many in the venture capital market, both in the U.K. and U.S., with funding. Modulous has raised $11.5 million of Series A funding to further grow its physical and digital technologies. The funding is a rare example of a tech firm increasing its valuation as global markets slide – a testament to growing interest in companies that help decarbonize the real estate and construction industries.
Want to tweet about this article? Use hashtags #construction #sustainability #IoT #cloud #edge #futureofwork