Parks Associates' new consumer research finds that nearly three-fourths of EV (electric vehicle) owners own at least one smart-home device, compared to 38% of all U.S. internet households.
EV momentum is real, and so is the opportunity for utilities and connected home players.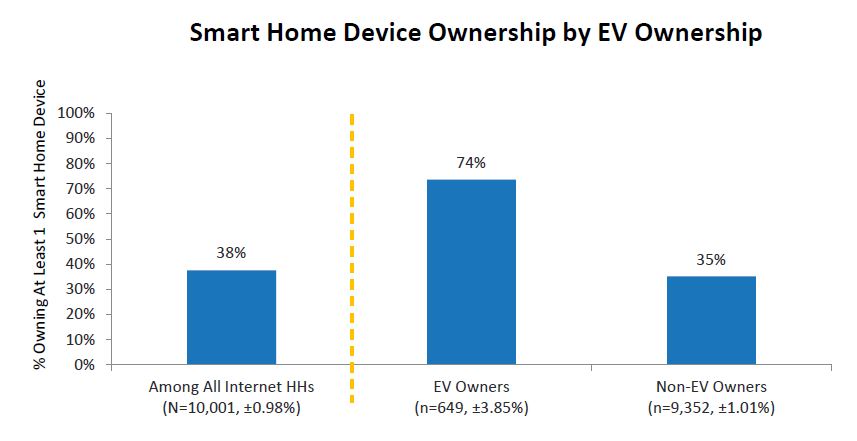 Major auto OEMs (original-equipment manufacturers) have committed to a conversion to fully electrified fleets across the next 10 years, so the EV revolution has already begun. When our survey fielded with new electric vehicle questions in December 2021, global market forces were forming up to push vehicle electrification forward:
The U.S. congress was working out an infrastructure bill that includes billions of dollars in funding for EV charging equipment and programs
The EU had set ambitious targets for reduction in emissions for 2030 and 2035 that will stimulate the EV market
China, who was already leading the world in EV usage, set a very aggressive mandate to shift 40% of its fleet to electric by 2030, which includes a huge push for EV production in China
Recent major events have changed the landscape further:
Russia invaded Ukraine in February resulting in a spike in energy prices around the world, raising questions about the wisdom of relying on fossil fuels that are often produced in turbulent regions.
In the US, gasoline reached $5/gal. in many states
COVID-19 continued to cause supply chain issues and prolong the chip shortage
Heat waves led to blackouts and further elevated the dialogue around energy
Global recession has become a strong possibility
Congress passed major energy legislation in the Bipartisan Infrastructure Law and the Inflation Reduction Act which create strong tailwinds and promise stability for energy sectors broadly but also plays favorites in how incentives are directed. States will further influence markets with how they choose to direct Federal funds within their purview
The next few years represent a challenging but critical time for players in energy and connected technology industries to determine how the rise of EVs will impact their industries and customer segments, and strategies to ensure their solutions will be part of the new reality.
Parks Associates research shows 6% of U.S. internet households owned an EV at the end of 2021, with 19% likely to purchase an EV in the next year. EV owners are much more likely to have smart home solutions at home, including two times more likely to have a smart thermostat and video doorbell compared to the general population. These ownership stats open more opportunities among device and car manufacturers for increased integration and new services but also set a high bar for the user experience (UX) expectations among all these systems.
"EV owners have a comfort with tech and new product categories, so they are a key segment for smart home players to target and serve," says Chris White, senior analyst, Parks Associates. "They are more likely to have video doorbells, smart thermostats, and security systems, but more notably they are willing and able to invest in big ticket devices like smart appliances and less-commonly owned smart devices like smart sprinkler systems."
Partnerships play a critical role in the growth of the smart home and EV markets. The intersection with the other core ecosystems in the home, like safety and security and even entertainment, continues to grow, as evidenced by partnerships like ADT and Ford, which have formed a new company, Canopy, that combines ADT's professional security monitoring and Ford's AI-driven camera technology to better secure vehicles.
Parks Associates will present consumer research impacting the alternative renewables market and address key trends and topics affecting the energy and smart home industries during its annual Smart Energy Summit: Engaging the Consumer. In its thirteenth year, the Smart Energy Summit conference series hosts in-person and virtual sessions throughout the year, with the next virtual session taking place in November.
By Chris White, senior analyst, Parks Associates