Nobel winning economist Paul Krugman recently posted, "There's substantial evidence that people don't feel that they personally are doing badly." The Federal Reserve conducts an annual survey of the economic well-being of households. At the end of 2022, 73% of households said they were 'at least doing OK financially,' down from the previous year (presumably because of the end of many pandemic aid programs) but not significantly below the number in 2019.
This behavior spills over to other issues besides economic status. Take housing for example, or more precisely, affordable housing. The U.S. had an estimated housing shortfall of 3.8 million units as of 2021. Luckily, 78% of respondents to a recent housing survey support policies that promote building more housing, according to a new report from Redfin, a real estate brokerage. But just one-third (32%) of the respondents who are pro-building would feel positive about an apartment complex built in their neighborhood, and 20% of them would feel negative about it.
---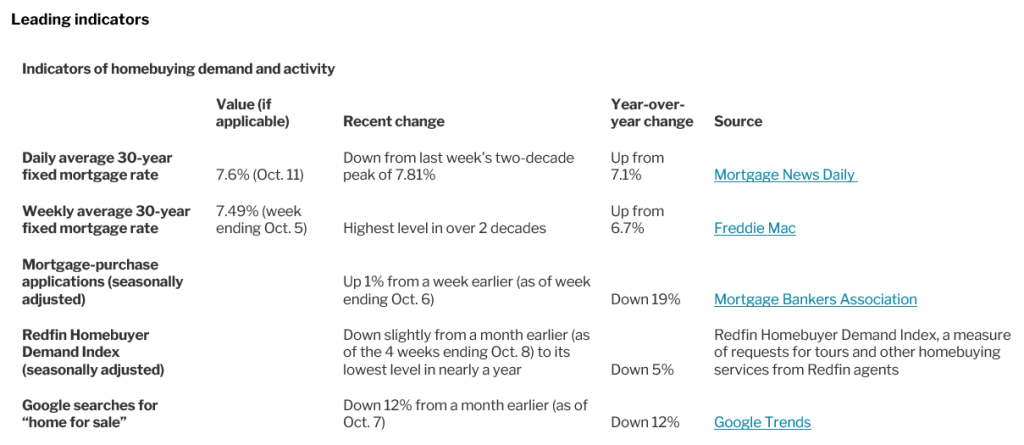 ---
As the saying goes, "There's a word for that." Well, an acronym actually: NIMBY. Not In My Back Yard indicates the speaker is all for the program so long as it doesn't impact the speaker directly. Even though so many Americans believe in building new dense housing in theory, that ideology isn't strong enough to outweigh their own desires—especially when they don't stand to directly benefit from the building. That's why it's so difficult to overcome community opposition to dense new housing, even during a time when so many Americans believe in the YIMBY (Yes in my Backyard) movement.
Broken down by homeowners versus renters, 74% of owners support policies that promote building more housing, compared with 80% of renters. One-quarter (25%) of owners would feel positive about a new apartment complex built in their neighborhood, about on par with 28% of renters. Two in five (40%) owners would feel negative about a new apartment complex built in their neighborhood, and 35% would feel neutral. That's compared with about one-quarter (24%) of renters feeling negative about the prospect of a new apartment complex nearby, and nearly half (49%) who would feel neutral.
Partisan Breakdown
Prices continue to rise even in the midst of elevated mortgage rates and low demand because there aren't enough homes for sale. Building more housing would narrow the gap between supply and demand and help make housing more affordable. Policies that promote building include loosening zoning restrictions, allowing ADUs (accessory dwelling units), and enacting tax incentives that would encourage developers to build.
Broken down by political affiliation, the majority of both Democrats and Republicans support policies that promote building more housing. But a minority of both Democrats and Republicans would feel positive about a new apartment complex built in their neighborhood. More than eight of every 10 (83%) of respondents who identify as Democrats are pro-building, compared with three-quarters (75%) of respondents who identify as Republicans.
Roughly one-third (34%) of Democrats would feel positive about a large new apartment complex to be built in their neighborhood, compared with 24% of Republicans. Just under one-quarter (23%) of Democrats would feel negative about a large complex built in their neighborhood, versus 37% of Republicans. About one-third (34%) of Democrats say they would feel more positive if the apartment complex being built in their neighborhood was for low-income residents, compared to 19% of Republicans.
YIGBY in CA
Every state, county, city, village, suburb, even unincorporated area, it seems, has developed restrictions on housing starts, especially multiunit buildings. As the focus on homelessness becomes intense, the limits of those restrictions become more of a problem. California, for example, has about 12% of the overall population of the country but about 33% of its homeless population. California's housing crisis continues to worsen, as jurisdictions across the state fall behind their goal of building 2.5 million homes in the next eight years. One reason is that California is known for its heavy-duty regulations, and various homeless housing projects keep running into zoning laws that slowed progress to a crawl.
Many churches want to help by building temporary housing on church property. This movement has acquired a name: YIGBY (Yes! in God's Back Yard). Gov. Gavin Newsom recently signed a bill that will allow church groups to bypass most of the red tape and to get to work on YIGBY projects quickly. It's estimated this will allow about 170,000 acres of potential land to be used for affordable housing and homeless shelters.
The law rezones land owned by nonprofit religious institutions, such as churches, mosques, and synagogues, to allow for affordable housing. Starting in 2024, they can bypass most local permitting and environmental review rules that can be costly and lengthy. Any organization building this type of affordable housing must maintain the affordability of these homes for a minimum of 55 years for rental properties and 45 years for properties that can be owned. Additionally, density and height requirements are tied to what is deemed appropriate for affordable housing by state law. The law is set to sunset in 2036.
Newsom also signed a bill to extend the life of a law streamlining rules about housing projects that has led to construction of thousands of homes aimed at easing the state's housing crisis. The original law, which took effect in 2018 and is set to expire in 2026, allows housing developers to bypass most local permitting processes for multifamily housing projects in cities falling short of the state-mandated housing goals.
The law has helped speed permitting of more than 19,000 homes, with roughly 60% of them being affordable housing, according to the bill's author. The new law would extend the existing rules by 10 years. The law would also remove the requirement to hire "skilled and trained workers" for many projects, a provision typically sought by the construction trade unions.
Instead, it requires workers to be paid prevailing wage, which is the average wage paid to workers, laborers, and mechanics in a particular area. Facing opposition from labor groups, the bill's author added amendments to bolster labor regulations on bigger projects.
As more states examine the range of possible restrictions that can be eliminated to increase housing starts, builders need to keep up with the laws, bills, and enactments in their state and work areas. Local politicians, state and Federal, can be your best friend for information.
Want to tweet about this article? Use hashtags #construction #sustainability