We sometimes lose sight of the fact that not all plans are reviewed and used in digital form on jobsites. Yes, blueprints still exist and are found on jobsites across the country. In fact, approximately 95% of contractors use drawings or blueprints for daily work. But plans aren't the only paper still found on the job, and forms, requests, prints, and change orders are critical whether paper or bytes.
Until now, there has been no mobile construction-grade tabletop available on the market that can ease the use of blueprints and other paper on the job and could provide a way to display information on paper or on white board for construction crews. That's changing as a new roll-around workstation offers construction professionals the flexibility they require to not only meet the daily demands of the jobsite but also increase their efficiency.
On the back of thousands of pickup trucks and on the ground at construction sites is a storage locker in a familiar brown with an equally familiar name: KNAACK. Now the company has introduced a dedicated and versatile mobile planning and workstation developed for the construction industry. Designed with worksite usage in mind, the PLANZBOARD is a multi-functional tabletop that transforms the standard plans reviewing location into an adjustable workstation that can be used as a plans table, whiteboard, bulletin board, collaborative meeting station and more!
The 42-inch PLANZBOARD's heavy-duty tabletop base provides a sturdy work surface that accommodates up to "E" size (36×38 inch) architectural drawings and plans. It can be positioned in three modes, including an angled plans review mode, a vertical magnetic whiteboard mode, and a horizontal tabletop workstation mode.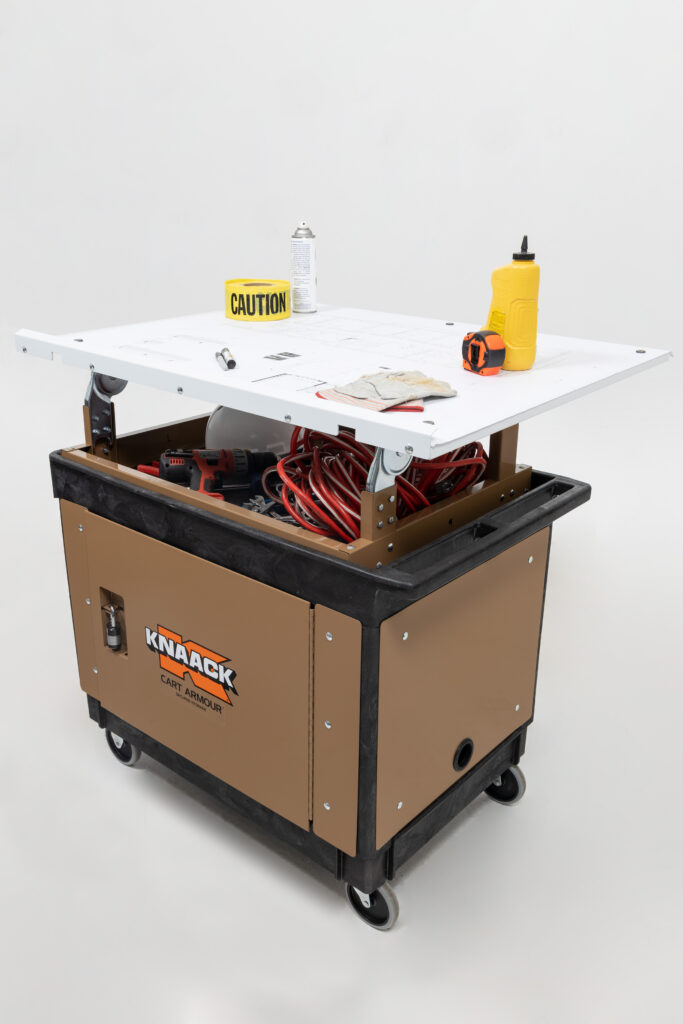 The KNAACK PLANZBOARD can be used as a standalone tabletop, or it can fit most large-sized utility carts, with or without KNAACK Cart Armour installed. For productivity on the go, the PLANZBOARD is designed to fit through finished 36-inch door frames. The tabletop's white powder coat finish doubles as the whiteboard surface, in addition to the workstation being magnetic and having a built-in lip to hold pens, markers, etc.
The PLANZBOARD features powder-coated 16-gauge steel and dual heavy-duty locking hinges to deliver the legendary toughness customers expect from KNAACK jobsite storage solutions. The product is flat packed and designed with assembly in mind, with a one-size nut and bolt design. Construction professionals can easily and quickly assemble the PLANZBOARD using hand tools.
Want to tweet about this article? Use hashtags #construction #futureofwork