How will the residential remodeling markets fair in 2024 and beyond? That is the question many in the residential construction community might be considering, and the recent LIRA (Leading Indicator of Remodeling Activity) points to what is to come specifically for the remodeling market in 2024.
Released by the Remodeling Futures Program at the Joint Center for Housing Studies of Harvard University, the LIRA provides an outlook of the national home improvement and repair spending to owner-occupied homes. It is designed to project the annual rate of change in spending for the current quarter and the subsequent four quarters. Additionally, it is intended to help identify future turning points in the business cycle of the home improvement and repair industry.
Unfortunately, the outlook is not a great one. Currently, the LIRA projects annual owner expenditures for home updates and maintenance to decline by 7.7% through the third quarter of 2024.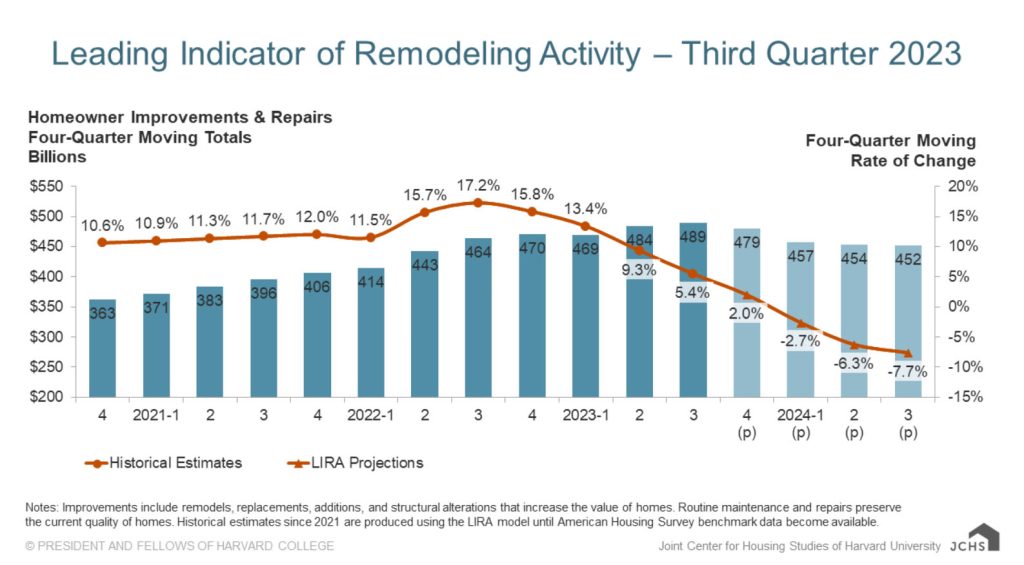 Carlos Martín, project director of the Remodeling Futures Program at the Center, suggests the weakness in the housing market is caused by high interest rates and low supply of existing homes—which is expected to continue to weigh on the market next year.
Looking at the numbers, the level of annual spending on improvements and repairs is projected to fall from $489 billion to $452 billion in the coming four quarters. In particular, the second part of next year will see a significant decline, according to Abbe Will, associate project director of the Remodeling Futures Program. The next LIRA release date is Jan. 18, 2024.
This points to something many of us have already suspected. The market is not a strong one. Construction professionals should expect dips in the market ahead. With all this in mind, let's look at three things you can do today to prepare for 2024.
Consider new markets and business ventures. Are there places where you can expand your business? What opportunities exist that you can tap into? Knowing what is projected for the year ahead, consider what new opportunities might exist and then go after them.
Consider where inefficiencies exist in your business. Perhaps this is a good time to shore up processes with existing technology. How can inefficiencies be improved with technology? Can it be improved with the technology you already have? Or perhaps there is a tool that is low cost that you can implement now to improve business for the long run. These are the things businesses need to consider when the market slows down.
Consider your business roadmap. The end of 2023 is a great time to begin preparing for the year ahead. What will that look like for your business or your career? Now is the time to sit down and prepare that roadmap, so you can be ready for whatever 2024 will bring.
Want to tweet about this article? Use hashtags #construction #IoT #sustainability #AI #5G #cloud #edge #futureofwork #infrastructure #residential #remodeling