The World War II walkie talkie was a backpack-sized radio transceiver that became familiar to many civilians through its use in films about the war. A later, smaller unit, known as a handie walkie talkie, was a handheld two-way radio with a range of about mile, if you were on a flat desert location. It operated on a radio frequency determined by a replaceable crystal, allowed one user at a time to talk (multiple people could listen in, including the enemy)—a function known as a half-duplex arrangement—and had a battery life of about 12 hours on a charge. And it weighed just over five pounds.
That was in 1942. In 2022, smartphones weigh ounces, communicated around the world, and operated on cellphone networks including 5G systems. One thing the two have in common, however, is that each can be PTT—Push-to-Talk. And in some cases, new smartphones are built to military specs for ruggedness.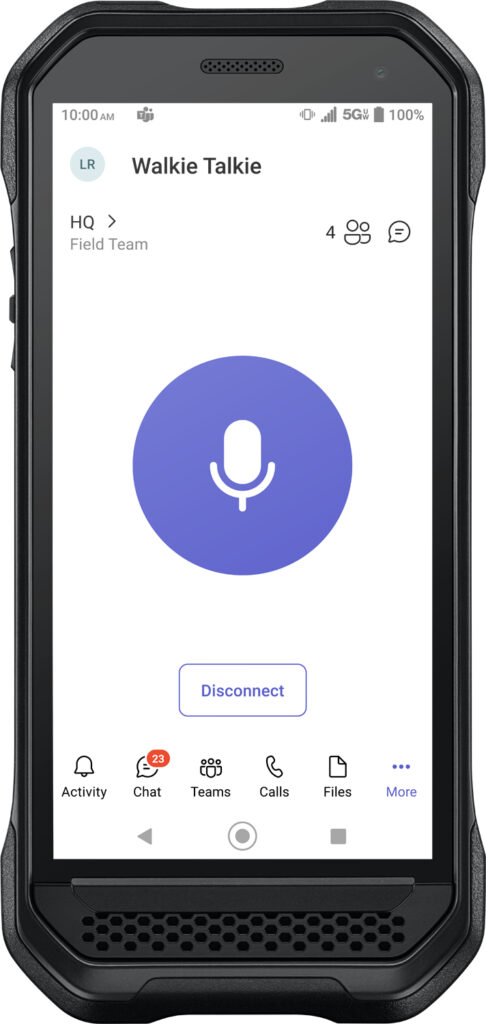 With the proper app, cellphones can also be called "walkie talkies." For example, Kyocera has entered into an agreement with Microsoft to integrate the Walkie Talkie application in Microsoft Teams on Kyocera's ultra-rugged 5G Android smartphones. Kyocera's DuraForce Ultra 5G and DuraSport 5G, both available on the Verizon 5G network, feature a dedicated Push-to-Talk button easily programmed for seamless, instant voice communication using Team's Walkie Talkie app.
Kyocera's rugged 5G smartphones are optimized for PTT communication with powerful batteries, loud audio, and a variety of PTT accessories. Both are certified MIL-STD-810H, engineered to withstand drops, dirt, water immersion, and the elements, and can be washed and sanitized, making them ideal for remote workers.
The Walkie Talkie app in Teams is built on the tier-D compliant Microsoft 365 cloud, ensuring that Walkie Talkie communications are secure, operate over cellular or Wi-Fi, and prevent crosstalk and eavesdropping, unlike traditional radios which are susceptible to eavesdropping and interference from outsiders on the same frequency. With Walkie Talkie in Teams, users don't have frequency static that can be found in analog devices, and they can easily switch between channels and groups.
With Kyocera's 5G smartphones, remote workers can hold secure meetings, video calls, document collaboration, and use built-in cloud storage, all powered by the most advanced 5G network as well as Wi-Fi. Users have secure, instant access to always-on voice chat and multimedia sharing for time-sensitive information through the cloud. Providing seamless collaboration, Walkie Talkie in Teams is always available, even when devices are locked or busy with other applications.
Want to tweet about this article? Use hashtags #construction #infrastructure #5G #cloud #futureofwork