With buildings, the concept of "recycling" usually means "tear it down and put something new on the lot." However, demolition creates more than 90% of the waste generated by new building construction, according to the U.S. Environmental Protection Agency. The debris might be recycled but there are other choices. For example, some see a future in turning dormant office buildings and similar structures into apartments through "adaptive reuse."
One such company is LA-based architecture firm Omgivning, which specializes in adaptive reuse. Omgivning has been working on adaptive reuse projects in LA and is currently involved in plans to turn the shuttered Boyle Heights Sears Building into a mixed-use development with more than 1,000 live-work apartments. Converting commercial spaces into housing may not be enough, however, to make a dent in the problem of housing in an area like LA.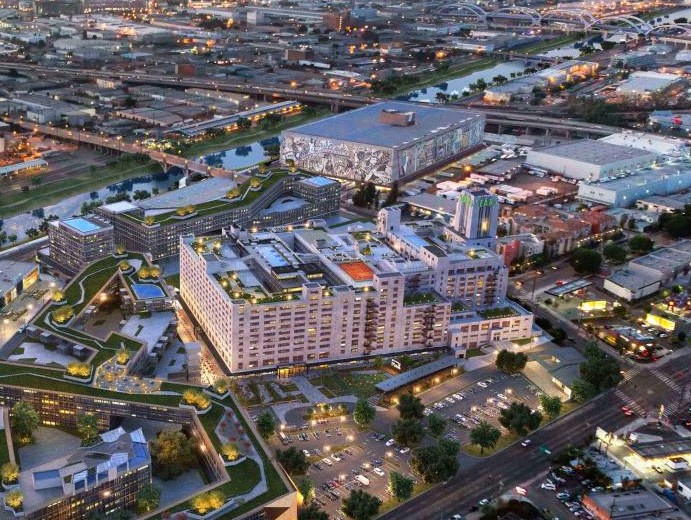 Still, the city has a leg up on other parts of California when it comes to transforming commercial properties into homes and has apparently a large selection of properties to choose from. The 2020-2021 COVID-19 pandemic with its remote working response has left many companies reconsidering the need for large office spaces when remote workers are productive. Therefore, with many office buildings facing an uncertain future, conversions could become even more common.
Commercial buildings of a certain age, built when materials were less an expensive part of the project, were solid and durable. For example, a building built in 1913 might contain all the expected luxuries, such as elevators and central heating, that were available then. Thick internal walls and even thicker envelope walls were a requirement for privacy and sound deadening. Located in the heart of the city, at that time, these structures were intended for use as medical offices, banks, professional offices, and shops.
But the very benefits of location in the early 20th century proved to be a drawback in later years as much of downtown entered a period of decline. Freeways allowed people to move away from the center city while still being able to commute to their jobs there. This led to the suburban sprawl LA county is famous for.
By 1999, the City Council saw a way to correct these trends. It passed an ordinance to streamline adaptive reuse projects in distressed downtown buildings. The resulting changes in the central city might be dismissed as "gentrification" but it had results. Once a suite of offices became apartments and lofts, they attracted a diverse economical influx of new and returning residents alike. Downtown's resurgence helped turn LA into a model of adaptive reuse.
A recent paper from UC Berkeley's Terner Center for Housing Innovation found that Los Angeles created about 28,000 housing units on commercially zoned land between 2014 and 2019, far more than any other large metro area in California. In 2020, with the pandemic changing how people work, many developers and investors became interested in ramping up these conversions.
However, even if the conversion rate were to triple in coming years, it wouldn't make a huge dent in the overall need for new housing. Under state law, Southern California must plan for 1.3 million new homes by 2029. Many of these homes could result if conversions expand to include underused retail spaces, industrial properties, hotels, and parking lots. In response, the city council voted in 2021 to investigate a plan that would expand the 1999 adaptive reuse ordinance citywide but adding a requirement that new housing units be affordable for moderate-income families.
Unfortunately, Los Angeles is in the news for having another severe housing crisis, the multitude of homeless, particularly veterans. Stress from their military service has caused many to seek refuge among others on the streets of cities all across the nation. The Veterans Administration (VA) has many outreach programs to try and find and integrate these nomads of the alley but the results are mixed at best.
As of the last homeless count in LA County, in 2020, there were 3,900 homeless veterans. VA officials have said they housed 1,283 veterans from Oct. 1, 2020, to Sept. 30, 2021 and, in October 2021, VA Secretary Denis McDonough made a promise to find a way to house an additional 500 homeless vets in the LA area. and by the end of the year VA says it housed 667 veterans in the LA area between Oct. 1 and the end of December. At least 542 of them are from Los Angeles County (the others are from Southern and Central California counties).
According to the LA Times, of the LA contingent, 221 made it into permanent supportive housing; 321 are in what the VA calls transitional or temporary housing, or the mental health residential rehabilitation facility on the grounds of the West LA VA campus.
Most of the people who lived in sidewalk encampments are now in tents on a sanctioned campsite on the VA grounds (where they have food, toilets, and services). Some are living in VA-subsidized motels temporarily while others were relocated to new tiny houses that have been installed on the VA campus. Village for Vets provided 65 tiny shelters for homeless veterans on the campus, each costing $10,000 which includes the shelter itself as well as maintenance and repairs.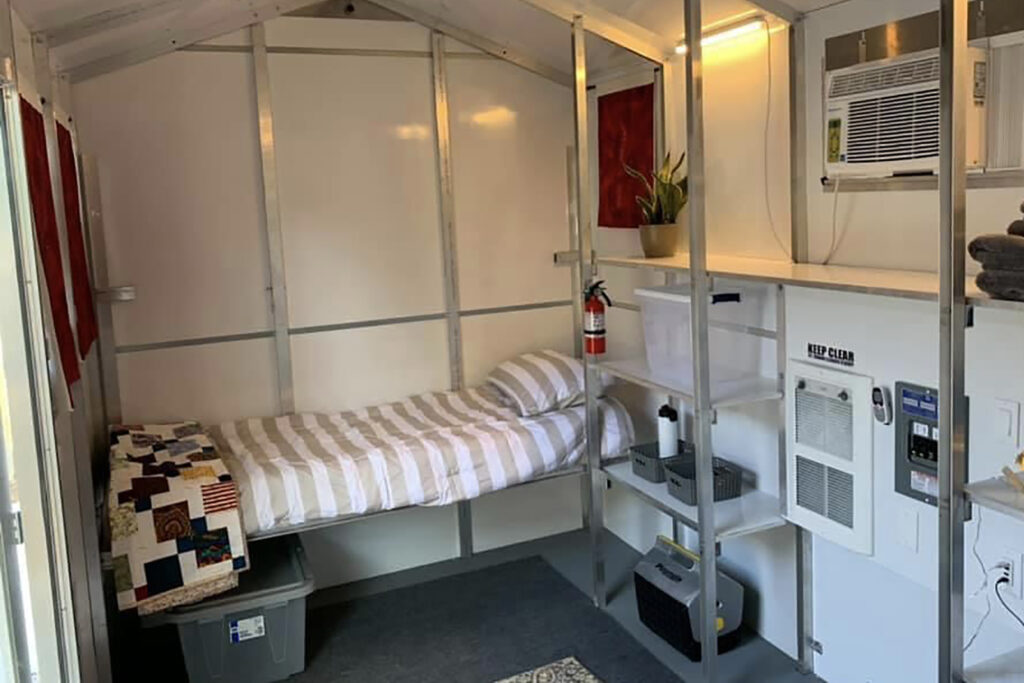 A big news in this regard was made by former California governor Arnold Schwarzenegger. He purchased 25 homes for homeless veterans living on the street in Los Angeles through his donation to Village for Vets' Tiny Shelter Program. After the homes were installed by Team Rubicon volunteers, Schwarzenegger personally toured the homes and talked with the veteran residents at their Holiday Party.
These shelters, while small, provide a roof, climate control, a comfortable bed, and a locking door which is a large step up from homelessness. Village for Vets cautioned, "Providing this elevated standard of living from tent encampments is not a permanent solution but an important step in providing our Nation's heroes with safety and dignity." Following Schwarzenegger's donation, Village for Vets has received over $100k in new donations, as well as gaining thousands of new followers.
Want to tweet about this article? Use hashtags #construction #sustainability #futureofwork #infrastructure