Ah, spring. When the ice melts and the mud flourishes in many parts of the country. Jobsites get even dirtier, and equipment gets unwanted mud baths. Whether on the job or once the equipment comes home, it can be cleaned faster and easier with the right tools. Pressure or power washers are popular gear for this activity and cordless washers are handy when power isn't close at hand.
WORX has you covered with a comprehensive lineup of efficient and user-friendly power cleaning options to get the jobs done. The WORX 40V Hydroshot MAX Portable Power Cleaner (450 rated psi) is a lightweight, cordless power cleaner that develops up to seven times the water pressure of a regular garden hose.
Hydroshot features two operating speeds, which can be switched at the touch of a top-mounted button. On Hi-speed, water pressure is 450 PSI; on Lo, it's 290 PSI. A four-pattern, spray nozzle rotates to adjust from 0º to 15º, 25º, and 40º settings.
When attached to a standard garden hose, the 40V Hydroshot conserves water by using less than one GPM (gallon-per-minute). However, it's also designed to draw water through a 20-ft., accessory hose (included) from fresh water sources such as lakes, rivers, pools, or buckets. An adjustable float on the accessory hose acts as a bobber to keep the intake from reaching sandy or muddy bottoms. This capability comes in handy for using Hydroshot in remote or separate property areas or when on the jobsite.
The 40V Hydroshot is powered by two 20V Power Share 2.0Ah MAX lithium batteries. As part of the WORX Power Share Program, Hydroshot's removable batteries are compatible with more than 75 other 20V, 40V or 80V WORX products. This battery-sharing capability results in significant cost savings and convenience.
Hydroshot includes a long, pressure-cleaning wand; two 20V MAX Power Share, 2.0Ah lithium-Ion batteries; 2AMP dual-port charger (charges both batteries in two hours), 20-ft. hose accessory and carrying bag. It's covered by a WORX five-year limited warranty.
For bigger, tougher, power washing challenges, the new WORX 2000 rated psi Electric Pressure Washer is a good choice. The WORX 2000 features a commercial-grade, brushless induction motor and heavy-duty axial cam pump for durability and long life. The 13-amp pressure washer delivers 1.2 gal.-per-minute of water with a maximum output of 2000 PSI (2200 PSI max).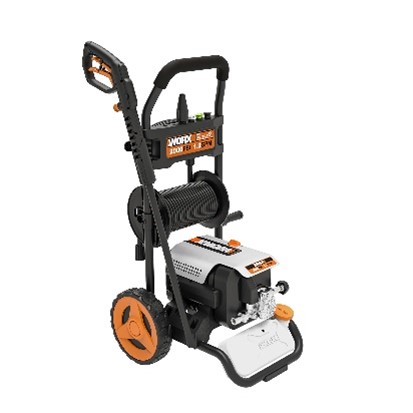 For even dirtier jobs, those that require cleaning solution, a 0.5-gal. soap tank is located at the base of the wheeled cart to add detergent or other aftermarket concentrates. A handy hose reel is built into the cart to store the 25-ft. high-pressure hose with standard threaded connections. An integrated cord-wrap also is provided on the side of the cart for a 35-ft. power cord (included).
The spray wand, which fits into a holster on the side of the cart, is equipped with a ¼-in. quick-connect to easily swap out nozzles. The wand's lightweight handle has a full-length trigger with a lock-off button for continuous spraying. Provided nozzles are stored in four, built-in slots, and are color-coded to easily identify the spray pattern of each. The wand also accepts aftermarket nozzles.
Each nozzle has a specific cleaning application. The turbo nozzle is for tough jobs, such as under-carriages of off-road vehicles, mold and mildew, oil and grease, and calcium and lime deposits. The soap nozzle provides a wider flow to lather up vehicles for a clean wash before rinsing. The WORX 13 Amp, 2000 rated psi Electric Pressure Washer is covered by the WORX three-year limited warranty.
Want to tweet about this article? Use hashtags #construction #infrastructure