For decades pundits have been talking about what the "future home" might look like—some looking to the shape and design of the home; others looking at the technologies present in the smart home; and others looking at the unique construction methods used to build the home.
Even media throws its predictions of what a futuristic home might be. In fact, look no further than the 1960s show the Jetson's Skypad Apartments in Orbit City, which envisioned a Space Needle version of a home that looked like a circle pod on a long stick. Others lean into the more high-tech mansion—think Tony Stark's cliffside home that is ripe with AI (artificial intelligence) and voice controls for lights, music, blinds, and more.
The bottomline is dreamers like to dream about what a "future home" might be. Perhaps no better time to do this is right after CES and the IBS (Intl. Builders Show), where innovation is ripe.
Innovative Technologies
At the end of January, the NAHB (National Assn. of Home Builders) announced The New American Home 2023, which attendees at IBS were able to tour. With a whopping 7,575-sq.ft., of living space, the two-story property includes four bedrooms, seven bathrooms, a two-car garage, flex/exercise space, a home office, rooftop deck, and myriad indoor-outdoor living features.
The home features a big focus on energy efficiency, with green building products, solar panels, automated LED lighting, and energy-efficient appliances. With all of this the home is rated -15 on the HERS (Home Energy Rating Score) Index, which basically means it is every more energy efficiency than a net-zero home.
Looking beyond energy efficiency, NAHB also recently identified the top features and design trends for 2023. The association suggests homebuyer preferences have changed following the pandemic, with the average home size dropping slightly in 2022. Some of the top features include laundry rooms, exterior lighting, ceiling fans, patios, walk-in pantries, and hardwood flooring on the main level. Housing affordability is still a challenge, which means buyers are willing to compromise with a smaller home, more basic interiors, and fewer exterior amenities.
Innovative Methods
Another way homes are becoming more advanced—and sustainable—is through the use of innovative construction methods. As one example from this year's IBS show, Boxabl showcased its two-story building display, which included both cutting-edge technology and construction methods.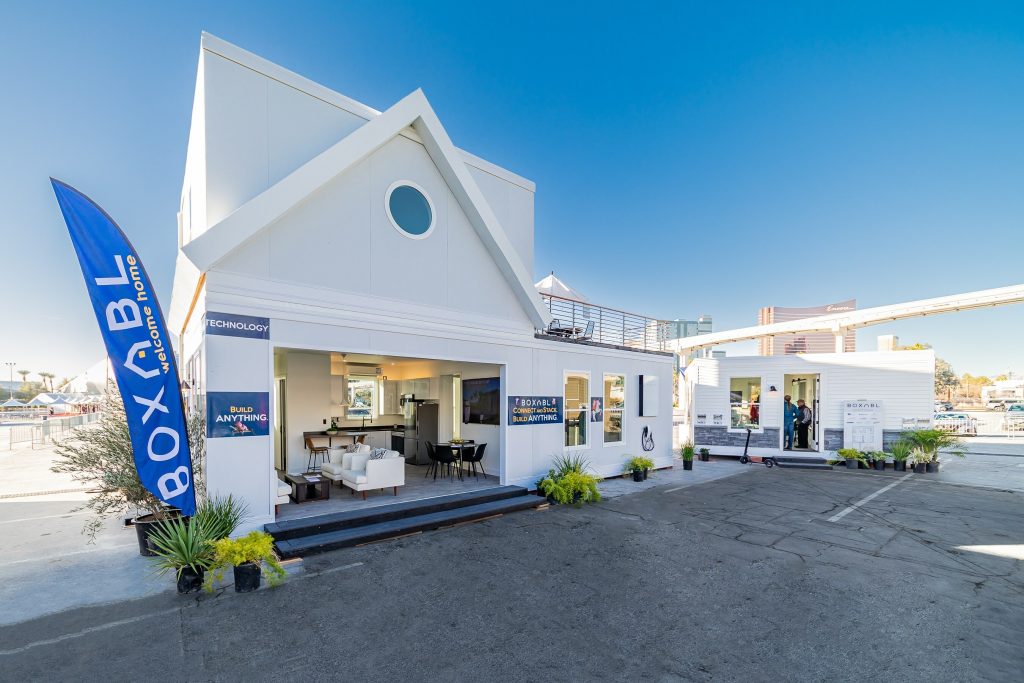 Let's take a closer look at this specific home. It features a two-story building with two bedrooms, a master suite, two and half baths, a spiral staircase, and an outdoor patio on the second floor. Here's what is really cool about this specific home. The home was built using Boxabl's modular design and energy-efficient materials. Ultimately this allows for faster, more affordable, and more sustainable building practices.
What are your thoughts? What will the home of the future look like? What technologies will it include? Perhaps, more importantly, how will it be built?
Want to tweet about this article? Use hashtags #construction #IoT #sustainability #AI #5G #cloud #edge #futureofwork #infrastructure