The path forward requires tech, policy, mindset shift, and common language for measuring progress.
Society is turning a corner in how it consumes energy and how it evaluates the need for global decarbonization. For the first time, trends like a readiness to cut energy consumption, combined with technology advances that allow average consumers and businesses to track energy consumption, plus a sharp decrease in the cost of renewables and energy storage have all converged. What's left is a huge opportunity—an opportunity to do nothing short of changing the course of the planet. There's momentum behind this global shift to clean energy, but there remains a need to forge a viable path forward, at times into the unknown, and past remaining hurdles—however formidable these hurdles may be.
Deloitte's data suggests 68% of residential consumers indicate concern about climate change and their own personal carbon footprints. About 60% of businesses feel the squeeze from stakeholders to not only disclose but also address their climate change risk. More than half of residential consumers (53%) and businesses (51%) are interested in making sure part of their electricity supply comes from renewable sources.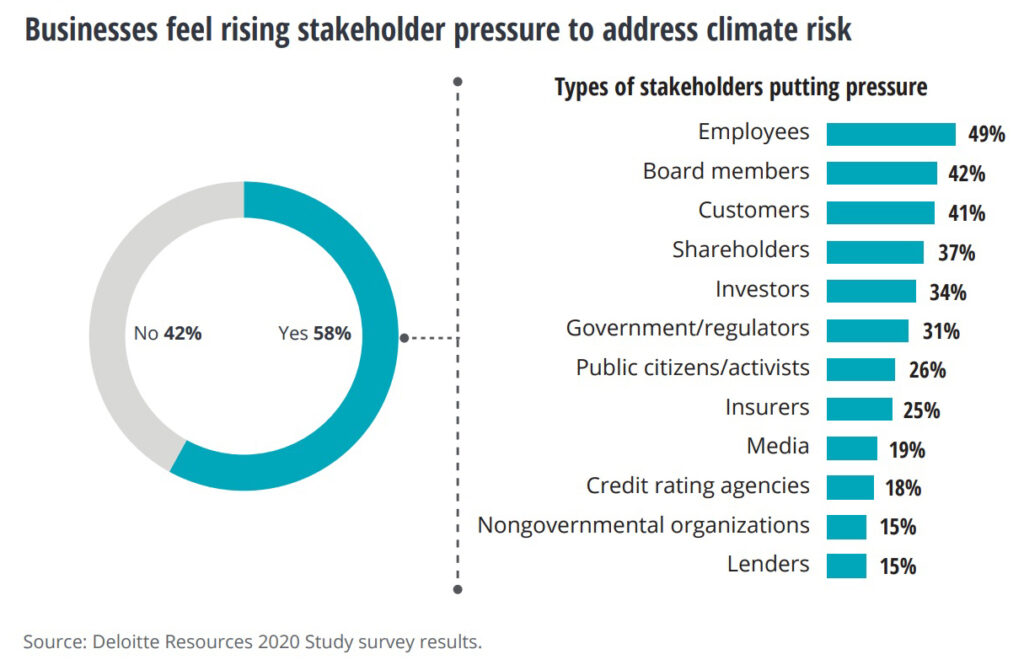 Chris White, senior analyst at Parks Associates, says alongside consumers' willingness to act to reduce energy consumption in their own homes, encouraging trends include an interest in consuming renewable energy from their electricity providers and a rising demand for EVs (electric vehicles). "Our research indicates that almost half of U.S. broadband households made home improvements that would save energy last year," White says. "More than half would select a provider that offers energy from a renewable source if prices were the same, and many would pay extra. (And) about one in six say they are likely to purchase an electric car in the next year. These are not just changes in feelings about energy, but rather they represent a willingness to invest time, money, and effort."
That willingness to invest time, money, and effort is one of the important steps forward in the march toward a decarbonized future. Decreasing costs is also playing a key role. As Emily Carter, professor in energy and the environment for Princeton University and senior strategic advisor for sustainability science at the Princeton Plasma Physics Laboratory, puts it: "Economics, for better or worse, tends to be the major driver of change." Also important are various improvements in technologies that support the shift toward clean energy.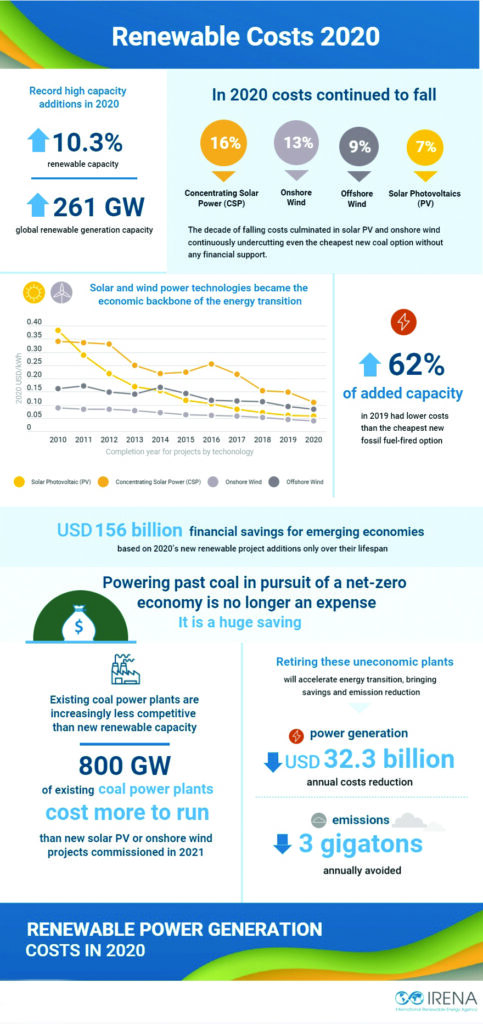 Tech Tools and Policies Enabling Clean Energy
Eric Rohlfing, energy executive in residence for the Duke University Energy Initiative, says the decreased cost of renewable energy generation using solar and wind in the last decade is by far the most encouraging trend in society's ability to generate carbon-free energy. "The rapidity and magnitude of the decreases is simply remarkable," he says. "And now, the cost of energy storage, particularly lithium-ion batteries, seems to be on the same rapidly decreasing cost trend. In many parts of the world, generation of electricity by solar or wind is consistently cheaper (as measured by power purchase agreements by utilities) than natural gas. And in many cases, those renewable generation technologies include lithium-ion systems for energy storage."
Sarah Jordaan, assistant professor in the School of Advanced Intl. Studies and the Dept. of Environmental Health and Engineering at Johns Hopkins University, similarly says the plummeting costs of renewables and battery technologies are the most encouraging trends. "Solar costs, for example, have fallen by at least 64% over the past decade," she explains. "Batteries are critical for electric vehicles (and) also balancing intermittent renewables like solar and wind."
Jordaan also stresses the potential of EVs. "(EVs) remain expensive, but prices are dropping fast, so I really suspect that they will be much more accessible to the general public in the upcoming decade," she says. "There is a lot of potential to enable a shift to cleaner energy if EVs become cost competitive and the grid is decarbonized." EV battery and charging technologies have improved and spread, allowing for faster charging in more locations. Parks Associates' White adds that his company's research suggests more than half of consumers now agree that EVs are better for the environment, and the industry is steadily making it easier and more practical to own them.
On the residential level, White mentions small-scale energy devices and solar panels are enabling the shift to clean energy. "In the home, energy devices like smart thermostats are getting smarter and cheaper, and newer products like smart electric panels are poised to grow as consumers and builders start to see the benefits of a connected home energy management system," he explains. "In terms of larger investments, new technology leads to more options for adopting generation products, such as solar shingles. Plus, consumers who have access to green energy from their electricity provider can use new home storage solutions to collect that green energy to use at times when their provider needs to fire up less environmentally friendly plants to meet spikes in demand."
Technology is an enabler, but the shift to clean energy encompasses much more. Duke University's Rohlfing believes the transformation will need to be bigger than tech. "What societal changes will be needed in order to transition to a net-zero carbon society?" he asks. "It will require behavioral changes of enterprises and individuals—from committing to and tracking carbon reductions for an enterprise to purchase choices of an individual—EVs, high-efficiency electric heat pumps, etc."
To this end, federal and local policies encouraging the societal changes necessary for this transition to renewable energy are also very important. Johns Hopkins' Jordaan says: "Importantly, the United States is back on board with the Paris Agreement. The leadership from this country is important. Related, investments in the energy transition are greater now than ever with recent political actions like the Build Back Better Act."
Princeton's Carter points to many years of government support and policies that have led to today's positive momentum. "Decades of research and innovation, government tax credits, and other supportive policies, along with mass production of wind turbines and solar panels, have brought renewable electricity to parity or even cheaper than coal or other fossil sources," she says.
Charting the Path Forward
C. Lindsay Anderson, associate professor of biological and environmental engineering, systems engineering at Cornell University and the interim director of the Cornell Energy Systems Institute, says the energy system underpins every other function of modern society, and it will even more so in the future, as society moves toward electrification of transportation and heating. "Most governments are investing resources in research, development of renewable energy projects, and incentive programs for consumers and developers," she says. "The recent trend we see in country, state, county, and community leaderships setting ambitious targets is helpful to move things forward. I think this puts more pressure on other leaders to also set targets, makes the general populace more aware of the need to reduce emissions, and requires follow-up on investments to help make it all happen."
However, a key hurdle is the ability to understand the magnitude of the challenge in meeting many of these targets. "Setting an objective of a specific level of capacity for renewable energy technologies—for example, we will add X GW of solar, Y GW of offshore wind, and Z GW of storage—is different from actually reliably operating a power system with these technologies," Anderson says. "Plans that balance renewable generation with demand on average are different from—and easier than—what is required to keep the lights on 24/7 in actual implementation. I suspect that overcoming these hurdles will require lots of path corrections; but, hopefully, the consequences of these corrections will be some economic inefficiencies as we adapt to operational challenges and not major issues with reliability. It is also possible that if there are reliability issues, it will create much greater awareness about personal and business energy use, the value of being flexible, and timing energy use. We may have to be creative to adapt our use—and incentivize adaptation—to match demand with the generation patterns in a way that we have not had to previously in North America."
3 Trends and 3 Hurdles for Clean Energy
Michael Kelly, senior research analyst for Guidehouse Insights, lists three trends and three hurdles in the global shift toward clean energy.
Trends
Decarbonization and clean-energy requirements
Increased demand for resiliency due to insufficient infrastructure
Declining technology costs (hardware and software)
Hurdles
Supply chain disruption in the short term
Managing the intermittency of DG (distributed generation), especially at high penetrations, often requires additional investment
Johanna Mathieu, associate professor of electrical engineering and computer science at the University of Michigan, explains the move to renewables may also require new models for grid dynamics. "Renewables like wind and solar produce intermittent power, which the grid has to balance with conventional power plants, storage, or demand flexibility," Mathieu says. "As the grid transitions to all renewables, to reduce the need for storage and demand flexibility, we can overbuild renewables and control them (curtail their power output when necessary) to make them more predictable/dispatchable."
Renewables are generally connected to the grid through inverters, which also changes the dynamics of the grid. "As the grid transitions from being dominated by conventional power plants—large rotating machines powered by coal and gas—to renewables, we need to develop new models of grid dynamics, new grid operational strategies, and new grid controls," adds Mathieu.
Cornell's Anderson points to the fact we still need to develop electricity storage that is cost effective and can store and provide power over long durations—i.e., weeks or months. Also, the development of automated demand-response technologies will be essential to providing flexibility and helping consumers engage. "I (also) think it is important to ask/consider the conditions or situations that are most likely to challenge the reliability of our electric system as we transition to a primarily renewable-based architecture," Anderson adds. "I doubt that the issues that we think about in short-term operations, (such as) hourly matching of generation and demand when clouds go over the solar farm or wind dies down, will be a huge problem with the storage technologies available today. But we may be particularly challenged by situations that persist over longer time periods—for example, as climate change impacts manifest in longer water drought conditions that coincide with 'wind droughts' over weeks or months. These conditions have been observed in the west in the last decade and could have been disastrous if the California system had been wholly relying on wind, solar, and hydro power."
Affordability and familiarity are other lingering challenges facing industry players and governmental bodies that are pushing for a future with cleaner, more efficient energy use. "Our research indicates that many consumers would like to use less energy but don't know how to do it," says Parks Associates' White. "Their familiarity with energy-saving and management devices is low relative to other connected-device categories. Even if familiarity grows over time, our research in more widely known connected product categories makes me confident that costs will be a significant barrier. Financing options, government rebates, and new innovations will be needed to reduce costs for bigger ticket items like home solar, energy storage, and electric vehicle adoption to grow."
The path forward will also require a lot from low-to-middle income countries, according to Johns Hopkins' Jordaan. "The key hurdles are ensuring that middle-to-low-income countries have the resources to shift towards cleaner energy. The balance between political priorities can be really challenging if countries are battling hunger, for example," Jordaan explains. "Climate finance options like the Green Climate Fund can play a positive role, but developed nations and other donors must deliver adequate funds."
Realistically, shifting to clean energy is a big ask for some nations. "We are asking humans who live in developed economies to jettison the fuel sources that developed those economies and replace them with carbon-free sources," Duke University's Rohlfing explains. "I have heard this referred to as 'changing the engines on a plane while it is in flight.' We are asking humans who live in developing countries to forgo development using fossil fuels and jump directly to a decarbonized energy system. Neither of these will be easy."
To continue to forge a path toward a clean-energy future in the U.S., enterprises must practice accountability—and accountability often comes with transparency. Enterprises should communicate their goals and progress to investors, employees, and the public. Jennifer Johnson, cofounder and principal of Canyon Snow Consulting, says what used to be optional is now often a requirement. "Probably the biggest trend I see in my work is the request—fast becoming a requirement—for companies to disclose their GHG (greenhouse gas) footprint to their investors and/or customers," she says. "Many have been using the CDP (Carbon Disclosure Project) as a framework to communicate about their emissions, their targets for reduction, and their overall perception of the risks and opportunities of climate change to their businesses. Once a company calculates its emissions, they can start to think about how to reduce their footprint. … They can look at their utility providers, request renewable-sourced energy, and also begin to evaluate whether on-site renewables would make sense for them."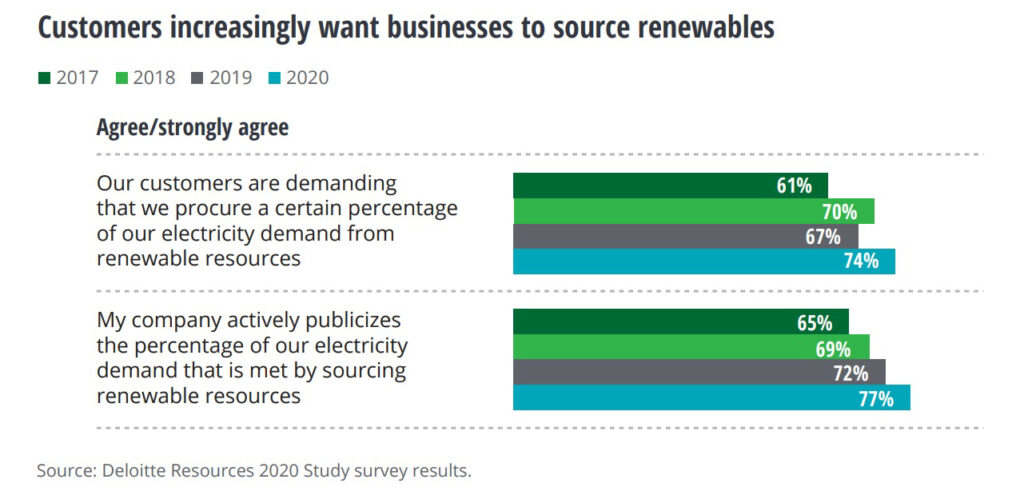 Even as consumer and business awareness of climate change increases, as readiness to take the steps necessary to shift to clean energy increases, as technologies advance, and as costs for renewables come down, communication around measuring and reporting progress—as well as the ability to understand that progress—still needs improvement. Parks Associates' White says: "We don't have good language around energy consumption and environmental impact that is widely understood. Unless the people holding an enterprise accountable can comprehend the metrics, they're not truly able to measure progress. Communicating environmental impact in terms that people can relate to in their own lives will be most effective, but I don't think we know the best way to do that yet."
---
Links for Further Learning:
Want to tweet about this article? Use hashtags #IoT #sustainability #AI #5G #cloud #edge #digitaltransformation #machinelearning #infrastructure #energy #energymanagement #cleanenergy #renewables #smartgrid #GHG #carbonneutral #netzero #EVs #electricvehicles #solarpower #decarbonization #greentech #CanyonSnowConsulting #GuidehouseInsights