The NAHB (National Assn. of Home Builders) IBS (Intl. Builders Show) and KBIS (Kitchen and Bath Industry Show) was a bevy of announcements—everything from 3D printing to software to appliances. Parks Associates found steady purchase intentions for smart appliances and continued growth for smart energy and lighting products at the show. But here is what stood out to me: Roughly 25% of U.S. broadband households plan to buy a smart appliance in the next six months. Wow.
I was able to see firsthand how new appliances are becoming greener and more ecofriendly. Here's what I love. They are better for the world and save energy, while also lengthening the life of our food. All builders should consider these new, connected appliances. Let's take a look.
Beko Bets on Healthy Kitchen
A project that has been years in the making, Beko has been working on the concept of a healthy kitchen since 2016, and officially launched it at the show this year. What has transpired is a mix of floorplan, interior design, appliances, surfaces, lighting, nutrition, technology, and sustainability practices.
There are four main elements of the Beko Healthy Kitchen: the Beko Healthy Kitchen Council; the Healthy Kitchen Strategic Alliance with Dole Food Co., Healthy Kitchen Buildouts, and the launch of the new Beko products.
An example of a next-generation cooking appliance launched at the show includes a double-wall oven. In April, the company will release a new family of dishwashes, while new refrigerators will come in June, and Wi-Fi-enabled washing machines and dryers will be available in September—just in time for back to school. Each comes packed with sustainability features.
Smarter Living with GE
As always, GE Appliances has brought new innovations to its line of products announced at IBS and KBIS. Think smarter cooking, smarter cleaning, and smarter living. The company is simplifying homeowners lives with the use of voice, AI (artificial intelligence), and smart upgrades.
For example, GE Profile offers a washer with a built-in voice assistant that activates functions from music streaming to checking the weather and setting clean cycles specific to clothing being washed. The Front Load 950 washing machine has an UltraFresh Vent that uses adaptive intelligence to learn consumer usage tendencies to maximize cleaning power and fabric care.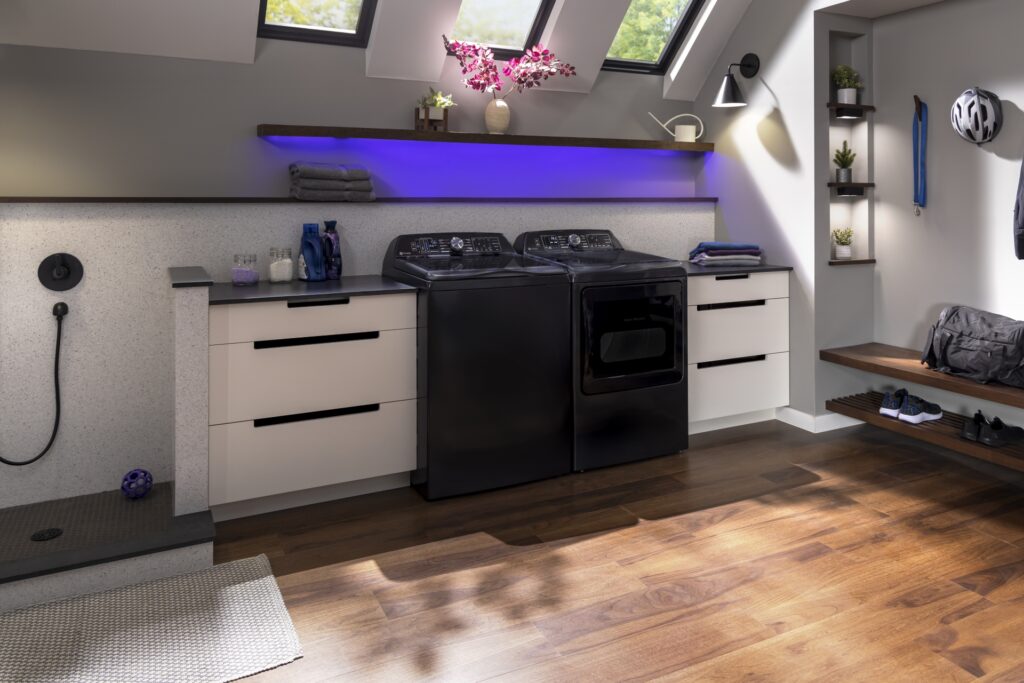 In the kitchen, the GE Profile Kitchen Assistant has an additional third camera inside the oven, which also uses AI computer vision cooking technology to help owners select a recipe based on available ingredients detected by a camera, assist in detection of doneness of food items, adjusts oven temperature, and notes any missing ingredients.
Frigidaire Reduces Waste
After the pandemic ends, 92% of families plan to continue eating together at home at least as often or more often than they do now. With a goal to help homeowners reduce waste and eat healthier, Frigidaire unveiled new wall ovens at the show, with features such as Air Fry, Steam Bake, and Slow Cook—all in the one appliance—saving space and money in the kitchen.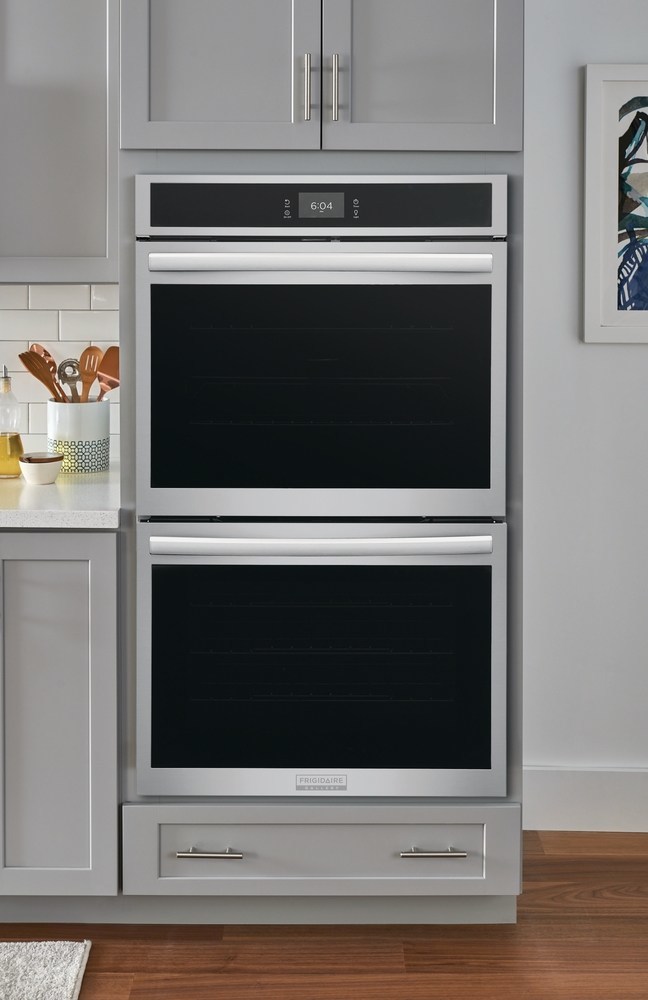 Also, in order to help reduce the amount of food that ends up in the trash—which is roughly one-third globally—this company has crisper drawers that keep produce fresh longer, with a built-in antioxidant filter that reduce ethylene gas, odors, and preserves produce color. The company promises to keep produce like lettuce and broccoli fresh and crisp longer than any other crisper.
LG Leans into Innovation
With a focus on smarter, healthier, and greener building, LG announced new kitchen packages, laundry innovations, and advanced HVAC (heating, ventilation, and air conditioning) and energy solutions at the show last week.
For example, the Signature Kitchen Suite enables "Technicurean" home chefs to prepare and preserve food. Also new for the brand is ThinQ care, which is a customer care service that alerts owners of potential problems to smart appliances before they occur and provides useful maintenance tips.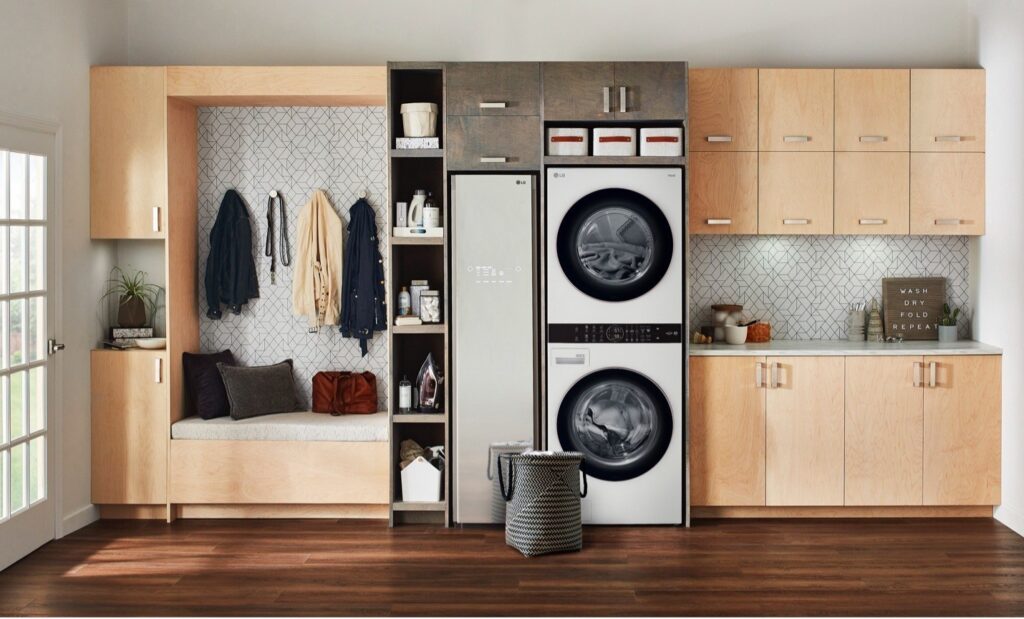 LG is bringing two new ENERGY STAR laundry solutions to the homebuilder market—a new washer and dryer with AI DD and SmartPairing technology, and a new LG WashTower that features Dual Inverter Heat Pump technology to reduce energy consumption.
Energy-efficient residential heating and cooling solutions include ducted and duct-free options. Key 2022 innovations for the high-performance builder market are led by the indoor multi-position vertical air handling unit featuring LGRED and the ENERGY STAR certified Multi F Max with LGRED heat pump.
All in all, LG enables builders and designers to create a smart home ecosystem for clients, with Wi-Fi-enabled devices that can be managed, monitored, and controlled remotely as a complete turnkey solution. Coming soon are LG home-energy management and distributed energy resource management systems.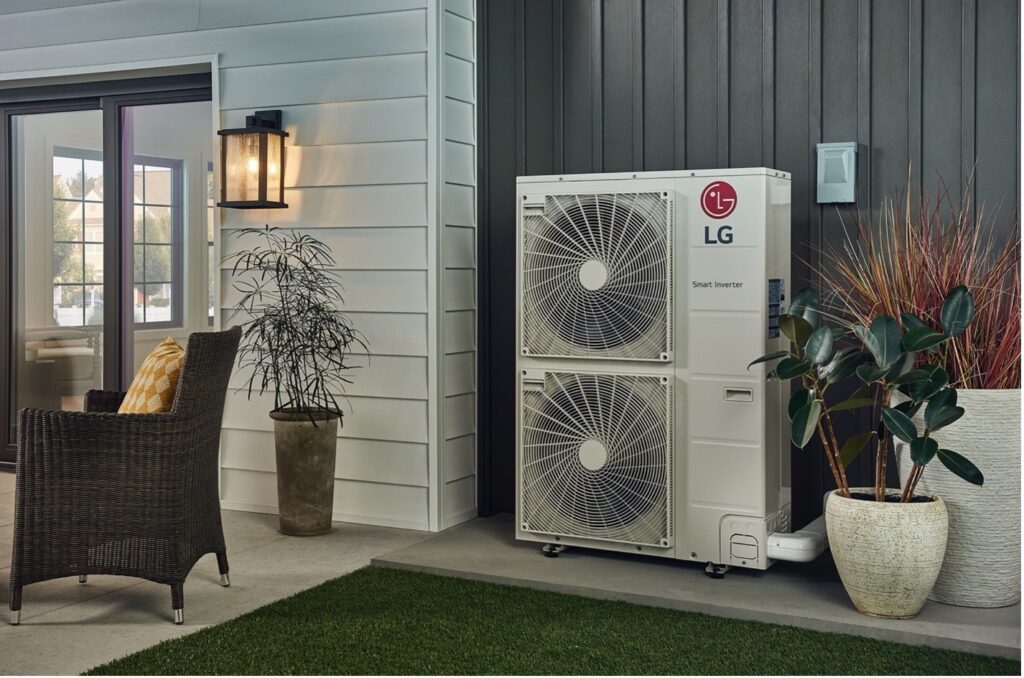 LG is really showing that consumers can lean into home-energy management in a way that is truly meaningful. LG also demonstrated that you can put all this connectivity together via its LG ThinQ app. LG wants owners to be able to manage, monitor, and control all their devices and appliances in their homes. With better data in hand, homeowners can reduce their carbon footprint and make better decisions about connected products. Simply, knowledge is power.
While these are just a handful of announcements to come out of the show, they paint a picture of our very connected and sustainable future in the home. What did you see at NAHB's Intl. Builders Show? What stood out to you?
Want to tweet about this article? Use hashtags #construction #IoT #sustainability #AI #5G #cloud #edge #futureofwork #infrastructure @LGUS, @GE_Appliances. @Beko, @Frigidaire, @ParksAssociates