Sparks and arcs can cause serious injury and, in drought conditions, major wildfires. In 2018, the Camp Fire destroyed most of the town of Paradise, California, resulted in 85 civilian fatalities and destroyed more than 18,800 structures. PG&E (Pacific Gas & Electric) confessed that the utility's crumbling electrical grid was responsible for the spark that ignited the blaze that also drove PG&E into bankruptcy.
We've all experienced sparks generated by AC electric wires crossing and touching. Arc flashes are similar, an electrical accident that creates a dangerous, high-temperature explosion. An arc flash results from an arc fault caused by electricity discharging between two or more conductors that are improperly connected, such as frayed wires. Dust or moisture can also cause arcing between conductors, which explains why high-voltage power lines will glow in foggy weather.
An arcing fault (or short-circuit) is one where circuit current flows through air rather than on a solid connection between phases or from phase to ground. Because of the high levels of fault current and relatively high voltages typically associated with electric power distribution systems, these arcing faults carry high levels of energy, releasing a great deal of heat and pressure into the environment as an electrical explosion.
Arc flash events can result from inadvertent contact with energized parts, contamination, equipment failure, or other causes. The resulting heat and pressure wave can cause significant injury to workers, including severe burn injuries. In the worst cases, the injuries are fatal. The heat and pressure can also cause significant damage to the equipment within which arcing faults occur.
In power systems with improper arc flash protection, when a person gets too close to a live conductor, the current can escape its conductor, travel across dusty or moist air, and reach the nearby person. Flipping an improperly configured switch can also cause an arc flash. These are just a couple possible reasons why an arc flash could occur.
An arc flash can vaporize surrounding metal, set fires, create deafeningly loud noises, and result in severe burns. The goal of arc flash protection is to reduce the amount of potential arc flash energy to levels that allow tasks to be performed on equipment in a smooth and unobtrusive manner.
An electrical arc flash can happen at any time during your power equipment's lifecycle. Abnormal conditions, such as improper installation, excessive impurities, or failing equipment will increase the risk. One of the critical steps for optimizing safety is to use proper PPE (personal protective equipment). Aside from the danger, an arc flash can also render equipment unusable, and force extended downtime with serious financial consequences. PPE helps avoid bodily harm, but it does not prevent equipment damage. This leads to the question of how to prevent an arc flash in the first place.
The most effective arc flash safety programs are those that do not rely on worker training, warning signs, and PPE but also look to incorporate "safety by design" or other mitigation techniques. Schneider Electric offers a number of arc flash mitigation solutions that make this possible, including switchgear, software, and circuit breakers for both passive and active arc flash protection.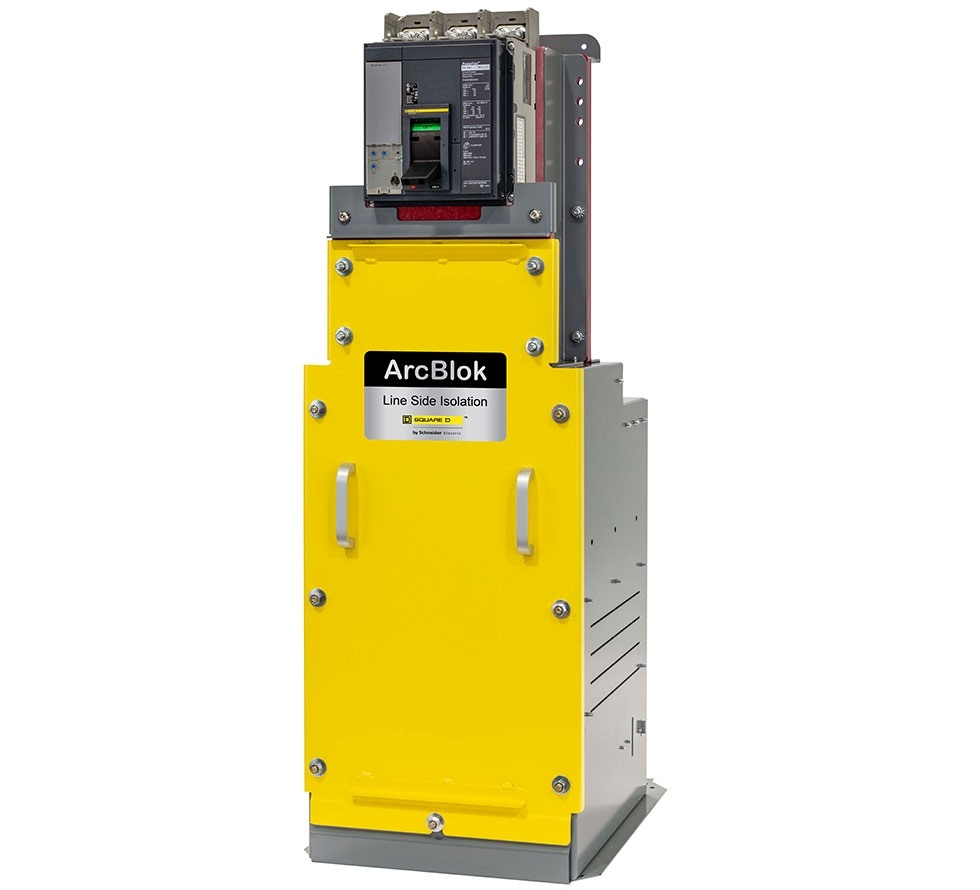 ArcBlok, for example, is designed specifically for the line side of equipment, which poses the highest risk of injury to electrical contractors from incident energy exposure during an arc flash. It is an easy-to-use, passive, and cost-effective solution that protects people and equipment by reducing the potential damage and effects of arc flash incidents.
Designed for low voltage monitor control centers and switchboards (currently up to 2500A), the solution is equipped with digital thermal monitoring to help end users, facilities mangers, and more identify potential hazards. Specifically, ArcBlok includes the following features that bring a renewal of performance to flash mitigation:
PowerPacT P Molded Circuit Breaker: Designed to protect electrical systems from damage caused by overloads and short circuits and listed to UL489 Standard and Certified to Canadian Standard C22.2 No. 5
Steel Barriers: Built to keep foreign objects, such as hands, a dropped nut or screwdriver from entering the energized line side
Redesigned MCC Interiors: Includes a robust enclosure with new lifting handles, outward facing bolts for easy alignment, and a separate phase for interior barriers to contain and extinguish arc flash events for the line side conductors
Wireless Thermal Sensors: Monitors thermal readings and transmits data to a mobile device while maintenance personnel stand outside the arc flash zone to review
Vents: Directs arc flash energy and minimizes potential impact of arc flash events
Equipped with digital insights for predictive analysis and maintenance, ArcBlok can prevent arc flash incidents by enabling systems to isolate line side electrical conductors, reducing the likelihood of accidental contact. In the event an arc flash occurs, the solution reduces incident energy exposure to less than 1.2 cal/cm2 on the line side and extinguishes it in less than one cycle (16ms) — reducing potential damage to equipment and personnel.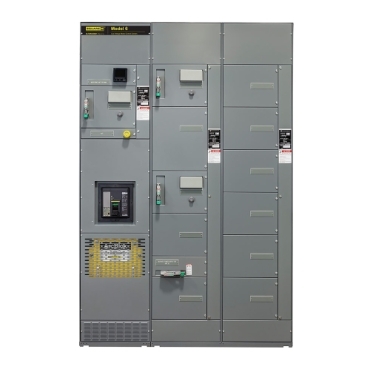 The system provides customers a way to install, commission, and service at less cost, while simultaneously minimizing equipment downtime and reducing personal protective equipment requirements without compromising safety.
In addition to ArcBlok, Schneider Electric is partnering with ETAP for the integration of Schneider's EcoStruxure Power Operation with ETAP eOTS (eOperator Training Simulator) and ETAP PSMS (Power System Monitoring & Simulation), enabling model-driven power system training and predictive analysis for operators and engineers.
This integration allows all EcoStruxure Power Operation systems to connect with ETAP Electrical Digital Twin on a continuous real-time basis. With this connection, operators can create and understand power system behavior during various real-world or plausible operating scenarios. New operating procedures may be designed and validated against contingencies utilizing their familiar EcoStruxure Power Operation human-machine interface without the risk of affecting actual operations
As many as 40% of unplanned shutdowns are due to operator missteps. Allowing power system engineers to anticipate potential failures and plan future systems expansions has real business impact as a lack of power system intelligence can cause huge financial losses. Using cutting-edge technology to improve system planning and design, recognize and correct potential hidden problems, and avoid unforeseen errors can prevent these costly system disruptions.
ETAP Electrical Digital Twin, with its real-time foundation, elevates EcoStruxure Power Operation enabling users to monitor, manage, control, and perform advanced power analysis within the same environment in a sustainable manner. The ability to use live system data from Schneider's EcoStruxure Power Operation to feed the Electrical Digital Twin significantly reduces system downtime and drives more accurate decision-making, along with:
Reduced safety risks: This technology helps reduce safety exposures by practicing emergencies and risky situations without the threat of any actual danger. Safety is also enhanced by strengthening operator skills and sharpening decision-making processes by solving and analyzing multiple "What if" scenarios.
Deeper learnings: ETAP eOTS supports operators in developing a valid sequence of operations, safe switching procedures and validating the response of their Power SCADA respond under a wide range of conditions. An operator training simulator provides a convenient, safe, and effective learning environment.
Quicker response time: ETAP PSMS with Predictive Analysis is a model-driven power system simulator that predicts system behavior in response to operator actions and events using real-time and archived data. ETAP PSMS enables power system engineers to anticipate potential failures and plan future systems expansions.
In the event of unexpected equipment failure, faster incident response times are critical and being able to simulate and analyze operations in advance, using digital twin technology, can make a big difference.
Want to tweet about this article? Use hashtags #construction #sustainability #infrastructure #IoT #edge #futureofwork