A classic move in business is to flesh out a company's portfolio of options with M&A (merger and acquisition) activity. This is especially true in the technology arena and almost demanded in the software subset. As an enterprise-level software company grows, it usually starts to see gaps in its offerings and smaller companies filling those gaps, often with both solid products and great success.
Bentley Systems is no stranger to the M&A world. Its product lineup represents a good cross-section of how that can benefit the company and its customers. For example, in 2022, Bentley acquired ADINA R&D, a leading developer of finite element analysis software applications used in a diverse range of engineering fields, and eagle.io to complement the IoT (Internet of Things) technologies that Bentley previously acquired, including sensemetrics and Vista Data Vision, and Power Line Systems, a developer of software for the design of overhead electric power transmission lines and their structures.
Most recently, Bentley took EasyPower under its corporate umbrella, filling in some gaps in its power system design and analysis offerings for infrastructure companies. Portland, Ore.-based EasyPower is a developer of design and analysis software tools, including arc flash solutions, for electrical engineering professionals. Since its founding in 1984, EasyPower has found way to combine graphics-based modeling and analysis to make solving complex electrical engineering problems more straightforward and accessible. EasyPower products are primarily used for designing, analyzing, and monitoring power distribution systems serving industrial and commercial facilities, to ensure safety, reliability, and regulatory compliance.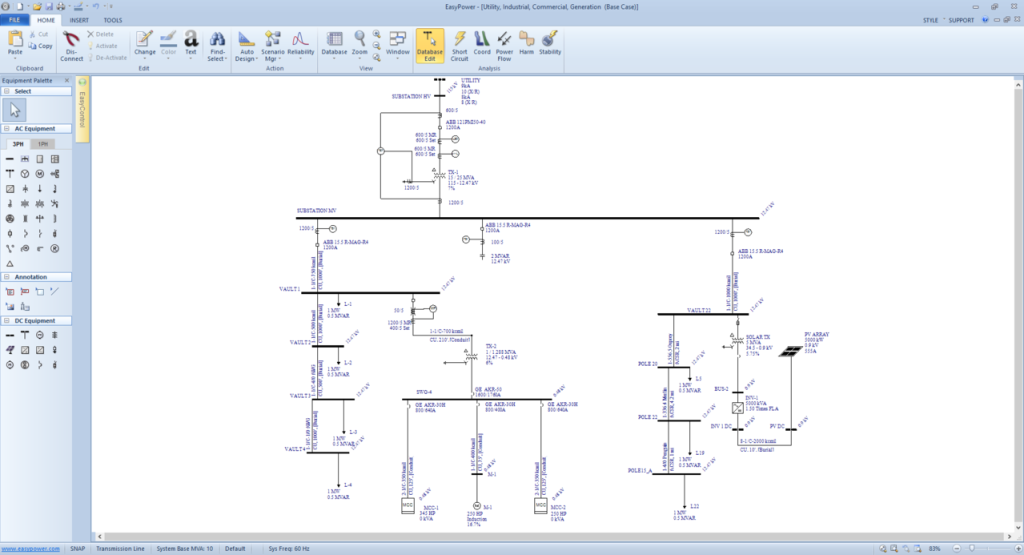 Bentley's acquisition of EasyPower broadens its comprehensiveness in infrastructure engineering by extending integrated and iterative power systems design and analysis for infrastructure digital twins of every type. With an increasingly electrified future and with disparate and widely distributed energy resources on both sides of "the meter," all infrastructure assets will benefit in performance, economics, safety, and resilience from continued simulation and assessment of power distribution conditions and designs during their project and operating lifecycles.
One of the most popular offerings in EasyPower's portfolio has been ArcFlash. Designed to quickly and easily create detailed one-line diagrams, perform arc flash hazard calculations, and maintain system and safety documentation, ArcFlash Pro includes protective device coordination capabilities, which is often used in an arc flash study.
Even the "entry-level" ArcFlash Essentials delivers robust tools to:
Improve plant safety
Comply with OSHA, NFPA, NEC, and ANSI regulations
Prevent costly fines and litigation
Print arc flash labels
Create energized work permits
Pinpoint danger areas and design effective solutions
Simplify documentation compliance
Priorities for Bentley Systems will include integrating EasyPower's schema and digital workflows with Bentley's OpenBuildings, OpenFlows, OpenPlant, OpenRail, and Bentley Raceway and Cable Management applications.
Why a company like EasyPower? All infrastructure projects and assets have power distribution systems, which are frequently analyzed using unnecessarily complicated software that is disconnected from 3D/4D BIM and digital twin workflows. By incorporating EasyPower within Bentley's design and modeling portfolio and, of course, its iTwin Platform, the distribution systems powering infrastructure will be more readily adapted to new requirements for sustainability and resilience, while making electrical safety assurance more ubiquitous and accessible.
For nearly 40 years, EasyPower has been focusing on simplifying complex electrical engineering problems and helping clients to confidently complete the job at hand. The purpose has been to make electricity more accessible, more reliable, and even safer to use. And in fact, the company hasn't been ignoring the M&A approach either. In September 2021, EasyPower reached a deal to acquire the Paladin DesignBase, Paladin Live, and other software products from Power Analytics Global. EasyPower, and now Bentley, will provide sales and support of these products.
Want to tweet about this article? Use hashtags #construction #sustainability #infrastructure #IoT