One of the thrilling acts under the circus big top was the big cats, lions, and tigers, being put through obstacle courses like they were trained dogs. Jump, run, climb, go through hoops, and stand on barrels. The audience loved it. But not enough to make them continue.
Five years ago, the Ringling Bros. and Barnum & Bailey Circus closed after falling ticket sales. In 2023, "The Greatest Show on Earth" is coming back, but there won't be any animal acts. The nostalgia of watching the big cats on YouTube isn't the same as seeing them live.
But there are Big Cats still doing tricks if you know where to look. In this case, Big Cats are big, but not feline cats, they're Caterpillar Cats. And they do their tricks without drivers.
Caterpillar first showed autonomous equipment in 1996 and the first autonomous electric drive mining trucks were displayed in 2021. Deployed in Chile, the first of 28 autonomous 794 AC trucks began arriving in May 2021 to be part of Teck Resources Limited's low-cost, long-life Quebrada Blanca Phase 2 (QB2) copper project. ­­It is the latest autonomous mining truck equipped with Cat MineStar Command for autonomous hauling. The 794 AC is the first electric drive model to join the expanding Command for autonomous haulage fleet.
The 794 AC, equipped with Command for hauling, enables total autonomous operations of the mining trucks, interaction with other equipment, and integration with customer mining processes and systems, all managed by MineStar. And, like a good circus ringmaster, Cat wanted to show off the nimbleness of its pride of big Cats, including the 794AC, so they staged what they called Cat Trial 12.
In the desert of Arizona, just south of Tucson, Cat created a replica soccer pitch. But instead of the 794AC "kicking" a ball down the field, Cat set up an obstacle course featuring a wide variety of Cat products including Cat Phones, an excavator, dozer, tool bags, flags, cars, backhoes, and even tables of dishes. The players were two autonomous machines—the Cat 794 AC Electric Drive Autonomous Mining Truck and a Cat 299D3 Compact Track Loader—teaming up with MLS (Major League Soccer) and FIFA World Cup soccer legend, DaMarcus Beasley.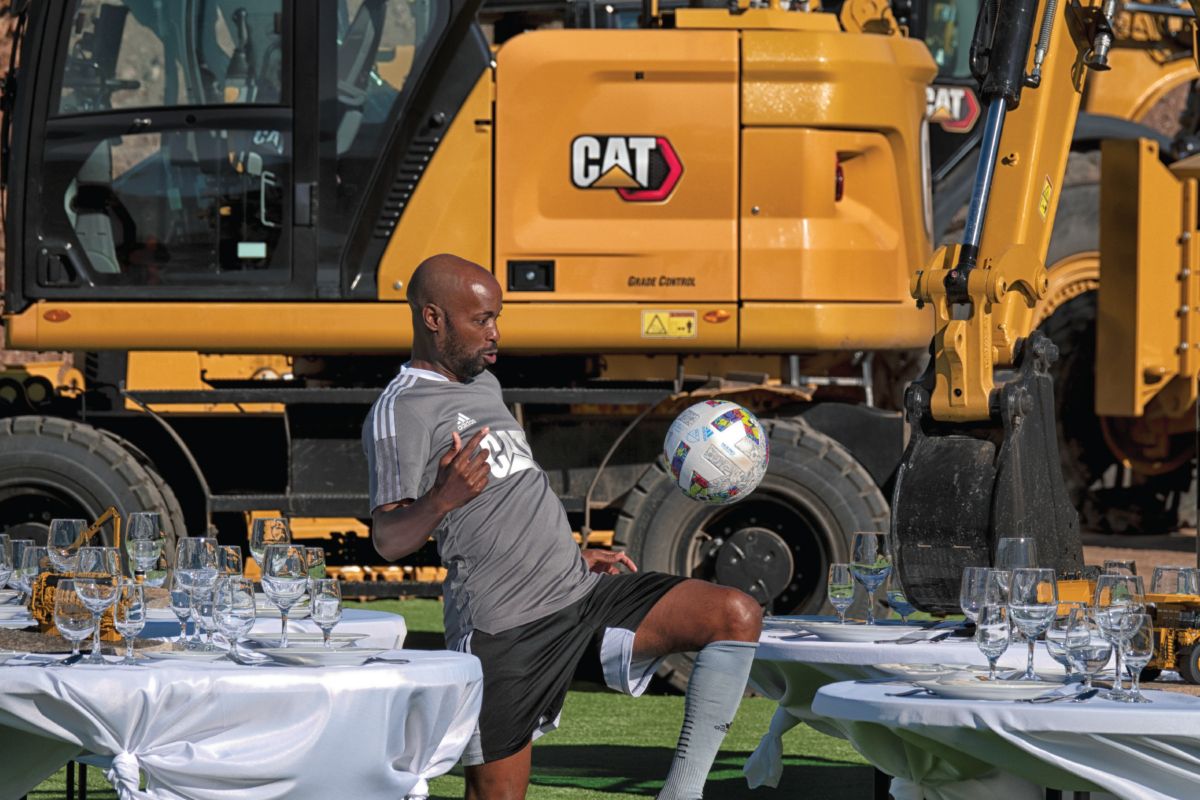 The 299D3 delivers extended reach and lift height with its vertical lift design, for quick and easy truck loading. Its standard, suspended undercarriage system provides superior traction, flotation, stability, and speed to work in a wide range of applications and underfoot conditions. While not commercially available at this time, the 299D3 shows what can—and probably will be—coming to construction jobsites.
Without an operator in the cab, the 794 AC deftly navigated the obstacle course. The facility is outfitted with the Cat MineStar system that the company's autonomous mining trucks run on, sending the commands that allowed the 794 AC mining truck to navigate its own obstacle course fully autonomously. The truck's run was matched by Beasley, on a scaled down version to make it equally challenging.
Caterpillar has more than 500 autonomous trucks in operation, and they have driven over 90 million miles autonomously without a single lost-time injury, which is a significant safety accomplishment. And those miles don't include dodging through an Arizona soccer-style obstacle course.
Want to tweet about this article? Use hashtags #construction #sustainability #infrastructure #IoT #edge #futureofwork