Since the days of levers and pulleys, machinery has been critical for construction. We've come a long way from A-frames to massive cranes and from spades and shovels to backhoes, but throughout, equipment has been the backbone—and back saving—element of the industry. How the market has been changing points to the expansion of two subsets: rental equipment and autonomous equipment. Both are showing substantial growth, according to various research agencies.
Take the overall global construction equipment market as projected by Grandview Research. Its prediction is the market size will reach almost $162 billion by 2030, showing a 3.9% CAGR (compound annual growth rate) from 2023 to 2030.The investments being made by the U.S. government, as well as many other nations, in the development of public infrastructure is one of the key factors anticipated to fuel the growth. And as population figures increase, there is predicted to be a corresponding demand for residential and commercial construction activity, as well.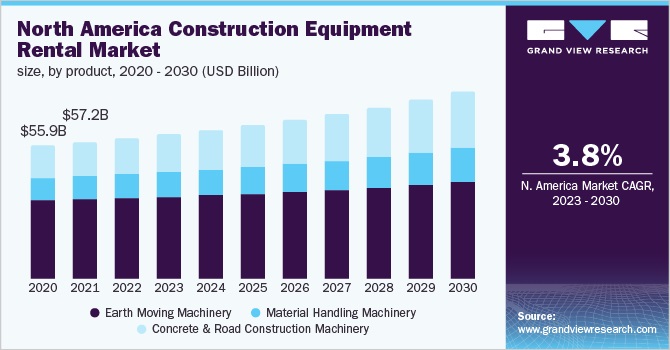 The COVID-19 pandemic hindered the market expansion due to supply chain interruptions and temporary closure of dealer locations. The resumption of ongoing and new construction projects, however, resulted in a significant rise in demand for construction equipment in 2021.
In 2022, the earthmoving machinery segment dominated the market. This is expected to see progressive demand due to the increasing investments for industrial and commercial construction projects especially in emerging economies of the Asia Pacific, Middle East, and Africa.
The material handling segment is expected to register a CAGR exceeding 4.9% during the forecast period because of an increase in demand for crawler cranes that offer greater convenience and ease of accessibility in small construction sites, especially in urban areas. Meanwhile, the concrete and road construction machinery section is projected to expand at a CAGR exceeding 5.8% as highway construction is anticipated to drive the growth.
Buy or Rent?
Meanwhile, Technavio forecasts the construction equipment rental market to increase by $31 billion from 2022 to 2027, at a CAGR of 5.17%. The growth of the rental market will also be driven by the increased investment in infrastructure but will also address the high initial investment and maintenance costs of equipment ownership. One of the core components of the market is customer price sensitivity, an analysis of which will help companies refine marketing strategies to gain a competitive advantage. 
For example, the crane rental market is estimated to grow at a CAGR of 4.93% between 2022 and 2027. The size of the market is forecast to increase by $13 billion. The growth in end-user industries due to urbanization is notably driving the market growth, although factors such as the shortage of skilled workers in the construction industry may impede the market growth.
Indeed, rapid urbanization is leading to the development of end-user industries such as manufacturing, transportation and logistics, and utilities, which in turn will increase the demand for crane rental. This growth in urbanization, especially in developing countries, will lead to an increase in the number of megacities. It is estimated that by 2030, the number of megacities will increase significantly, especially in developing countries such as China, India, and South Africa.
Operator Shortage
A shortage of skilled workers in the construction industry is the major challenge impeding market growth.The global crane rental market requires trained professionals to operate the machines. Lack of skilled labor and increasing competition in the industry are challenging the market. To ensure profitability, suppliers focus on more work with less staff leading to a shift from technically competent work to other versatile jobs in the material handling process, increasing knowledge.
The mobile cranes' segment of the global crane rental market includes all-terrain cranes, crawler cranes, and city cranes, among others. The increasing investments in the development of megacities are a major driver of this segment. Population growth and rapid urbanization have led to an uptick in demand for new cities with adequate transport and infrastructure facilities. As a result, the number of urban infrastructure projects is increasing globally, which is driving the demand for mobile cranes.
The mobile cranes' segment was valued at $17 billion in 2017 and continued to grow until 2021. The continuous increase in the demand for mobile cranes is intensifying the competition among mobile crane manufacturers. This has led to continuous improvements and the introduction of new technologies in the mobile cranes' segment. The development of autonomous cranes is the result.
Modern cranes use smart software for various functions such as changing position, speed, and acceleration. Today AI (artificial intelligence) enables machines to operate autonomously with sensor-based inputs so that autonomous cranes can perform repetitive tasks without human intervention.
Artificial intelligence can help control material lifting and moving processes by receiving and sending signals to crane sensors. Sensors analyze and transform measurement data to make decisions, such as stopping cranes to avoid collisions and improving safety on construction sites. With the focus on autonomous systems in the construction industry, the adoption of autonomous cranes is expected to increase, positively impacting the market during the forecast period.
Autonomous Everything
Throughout the world, most construction companies are facing heavy equipment operator shortages. Manufacturers are focused on technology, such as robotics and automation, primarily to combat labor shortages along with finishing tasks faster, reducing waste, and providing high yields with improved quality. Experts at The Business Research Co., believe one of the best solutions to combat labor shortages is to automate construction equipment, especially in remote areas, for repetitive tasks, and in locations with significant labor shortages.
Making existing equipment autonomous is a growing trend in the construction equipment market. Companies are interested in automation, but the implementation cost for deployment of technology is high, so construction companies are planning to rent autonomous machines to stay competitive by using new technology without the potential barriers of high investments. This is mainly avoiding costs associated with purchasing construction equipment.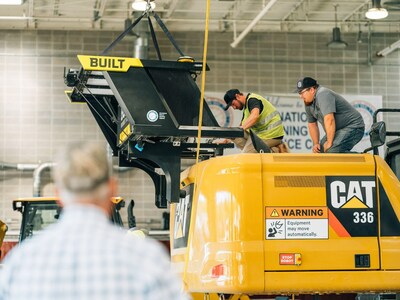 For instance, the cost of owning a commercial truck may add up to roughly $8,500 annually, according to the statistics. To reduce the overall expenses, they are working on solutions to make their existing equipment autonomous. Built Robotics is providing a manufacturer-agnostic solution to clients that want to make their machinery autonomous without sacrificing manual operating capabilities.
The top growth potential in the autonomous construction equipment market will be in the partial/semi-autonomous segment, which will gain $6 billion of global annual sales by 2026. The top growth potential in the autonomous construction equipment market by product type will arise in the earth moving equipment segment, which will gain $3 billion of global annual sales by 2026. The autonomous construction equipment market size will gain the most in the U.S. at $2 billion. The global autonomous construction equipment market size will grow to $14 billion in 2023 at a CAGR of 18.5% and then to grow to $20 billion in 2027 at a CAGR of 9.7%.
However, safety and cybersecurity issues have always been a major challenge in the autonomous construction equipment market. To automate construction equipment, regardless of the control system used, cybersecurity always remains a key concern as it is challenging to control the potential damage that could be caused by the hacking of heavy equipment. It presents remote access for hackers to exploit system vulnerabilities in communication systems between vehicles and infrastructure. Threats associated with the protection and safety of personal information are always being a major concern, limiting the growth of the autonomous construction equipment market.
Want to tweet about this article? Use hashtags #construction #sustainability #infrastructure #IoT #AI