If the saying is correct, "Follow the money." Money, in turn, follows the easiest path. Have a solution to a problem? Money will flow to you once the concept is proven. This is illustrated every day by following the funds from venture capital firms and investors.
In the construction industry, money all too often flows "out the door." Legacy tools and processes used for designing complex building systems like electrical, plumbing, and HVAC make it difficult and time consuming to ensure designs are feasible for construction. Combined with time and resource pressures, this leads to errors that require significant rework, slowing down both design and construction, and substantially increasing risk, uncertainty, and costs for contractors and engineers – and in turn real estate developers and owners. The ideal, then, would be to find a way to reuse proven designs and implement them quickly.
When the industry faces talent and material shortages and pressure mounts due to the inherent complexity of building design, an innovative new technology to solve these challenges is welcomed. Based on early customer trials, Augmenta is delivering the time and cost savings sought by contractors and owners.
A fully automated building design platform in the cloud, Augmenta should save costs, labor, and time, and create energy efficient designs that are fully code compliant, error-free, and constructible. It enables a fundamentally new design process that empowers the construction industry to design and build sustainable housing, cities, and infrastructure at scale.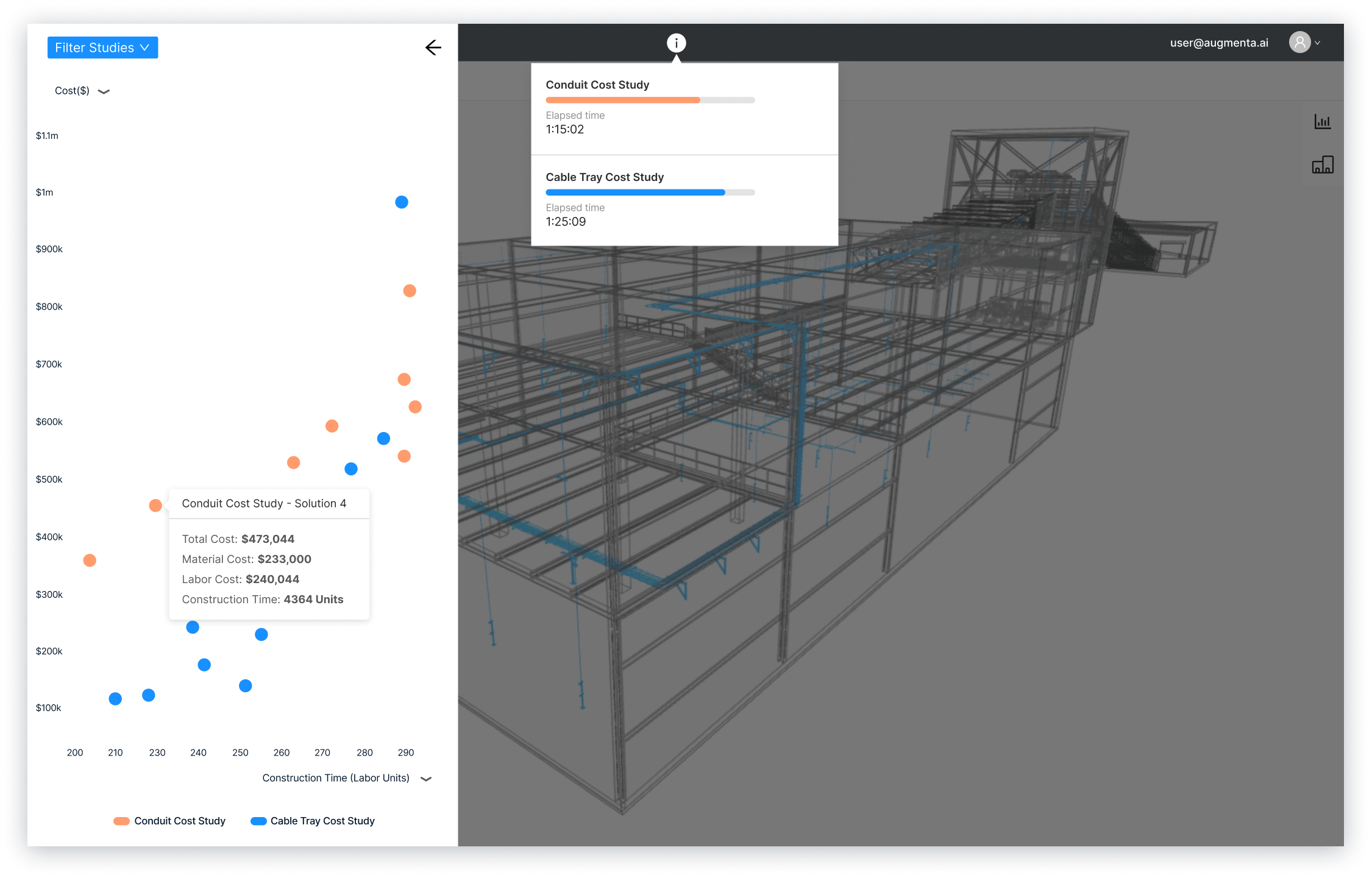 By bringing generative design to the construction industry through its ACP (Augmenta Construction Platform) technology, Augmenta is automating the entire design process for contractors and engineers, ensuring the designs they create are optimized according to client needs. This new cloud-based platform, which uses artificial intelligence, machine learning, and mathematical optimization, will enable contractors and engineers to create designs of buildings and systems in hours instead of weeks.
Building designs produced using ACP are also sustainable since they are fully detailed, coordinated, and optimized. Contractors can use less material in their designs, order only what they need, and significantly reduce wasteful errors and rework. Additionally, ACP optimizes building systems designs to ensure they use less energy and resources, thereby reducing environmental impact over the building's life cycle.
In what is to be the first of several design modules, Augmenta has developed an automated design tool for electrical engineers and contractors that generates fully constructible, code-compliant designs of electrical raceway routing. The platform will reduce turn-around times, costs and risks while ensuring materials are not wasted.
Augmenta's approach has drawn interest from investors, led by Hazelview Ventures, that have funded a seed round at $4.1 million. Hazelview Investments manages CAD$11.6 billion in real estate assets and has a $4 billion development pipeline.
Augmenta will use the funds to accelerate development of ACP and pilot their Electrical Systems Design module. Augmenta has partnered with Interstates, an electrical contractor based in the U.S. Interstates has helped co-design and test the electrical module over a period of several months in collaboration with Augmenta.
Hazelview Ventures, a wholly owned subsidiary and venture arm of Hazelview Investments Inc., focuses exclusively on partnering with innovative, early-stage PropTech, BuildTech, and CleanTech companies. Along with the seed investment, Hazelview Ventures is a strategic partner that will be incorporating the Augmenta platform in construction projects. This partnership will enable Augmenta to test, refine, and scale its platform at an enterprise level and bring efficiencies to Hazelview's design and construction processes.
Want to tweet about this article? Use hashtags #construction #sustainability #infrastructure #IoT #AI #cloud #futureofwork