Branding has become the go-to word for companies large and small. Get the name out, name recognition creates buyers, be associated with winners to be a winner. If people know your product or company name, they will seek you out. But does name recognition surpass quality? Do you buy the tools of your trade based on how many times you see the company name or on how good the tool is?
Television, radio, social media all play a role in getting company and product names in front of potential buyers. On those media, sports—professional, amateur, college, local—all have sponsors eagerly hoping you'll remember their name when you need a product in their portfolio. Tool companies are front and center, logos on jerseys and racecar paint schemes. The advertising adage from the 1950s still holds: Win on Sunday, Sell on Monday.
When a tool company sponsors a team, does the team's reputation rub off on the tools? Or is it the other way around? In racing, tools are a critical element: break a wrench in the pits and the race can be lost before the engine starts. Teams have multiple redundancies of critical tools "just in case." Winning teams that use the sponsor's tools make the case that the tools are dependable.
But how much are hand and power tools used by football teams? And here we mean U.S. football and world football, called soccer in the U.S. Obviously, maintenance and landscape workers at the stadiums use the full spectrum of tools that are found in any construction worker's kit so getting the company name on the stadium (naming rights) can be a good association.
For example, Hilti North America, with headquarters in Plano, Texas, is the "Official Tool Partner of the Dallas Cowboys." The agreement includes stadium signage and corporate events at both AT&T Stadium in Arlington and The Star in Frisco. Hilti North America is also the Official Tool Provider for American Airlines Center, home of the Dallas Mavericks NBA team, and the Texas Rangers stadium in Arlington.
Over the coming months, the Hilti team will be working with the Cowboy's operations to provide solutions for facilities, quick and safe stadium turns for large scale events, for future construction and to help with daily operations at the venues.
Dallas Cowboys Chief Operating Officer Stephen Jones: "With so many events that we host at both facilities, having a reliable partner with incredible tools at our disposal to assist with those turns for each event will be a huge win for us going forward."
On the international stage are several major brand names in construction tools. Very few football/soccer clubs anywhere in the world have won as many titles as FC Barcelona, including five UEFA Champions League trophies, three FIFA Club World Cup titles and four European Cup Championships. FC Barcelona is one of the most widely supported teams globally, with one of the greatest social media followings including more than 100M Facebook fans, 50M on Twitter and 64M on Instagram.
In a somewhat confusing branding exercise, Stanley Black & Decker has two of its brands involved with the Barcelona club. DeWalt is listed as the Official Tools Partner of Football Club Barcelona while Stanley is also listed as "Official Tools Partner of FC Barcelona Men's Team." The use of "Men's Team" has significance because Stanley is also the first ever jersey sponsor of FC Barcelona Femeni, a women's football club. Current champions in two leagues, this club has achieved an exceptional track record over recent years, including five Women's League trophies, ten Catalan cup victories, and seven Copa de la Reina titles.
The LAFC (Los Angeles Football Club) has a multi-year partnership with FLEX, a brand of power tool manufacturer Chervon. FLEX will serve as the Club's "Official Jersey Sponsor" and feature branding included on all Club, Community, and specialty jerseys. Additionally, FLEX is the "Official Power Tool Partner of LAFC" and the "Official Construction Tools" of the Club.
The new partnership includes exclusive content pieces, media, signage and a co-branded retail promotion. LAFC becomes the first sports organization to partner with Chervon N.A. FLEX, a line of cordless power tools, accessories, batteries, and chargers, will launch nationwide in May, 2022. Other Chervon brands are EGO and Skil, both familiar to construction crews world-wide.
While tool companies are the sponsors of various sports teams, energy companies are getting into the act as well. Premier League Champions Manchester City has a new global partnership with Masdar, a global company in renewable energy, clean technologies, and sustainable development Masdar is focused on the development of renewable energy projects in almost 40 countries worldwide.
As part of the new agreement, Manchester City and Masdar will collaborate on a range of partnership activations, including the launch of a new global campaign, aimed at raising awareness on the importance of climate action and mitigating climate change. Manchester City FC is an English Premier League club initially founded in 1880 as St Mark's West Gorton. It officially became Manchester City FC in 1894 and has since then gone onto win the European Cup Winners' Cup, seven League Championship titles, including five Premier League titles, and six FA Cups. Manchester City FC is one of 11 clubs comprising the City Football Group and counts New York City FC and Melbourne City FC among its sister clubs.
Football jersey logos are colorful and, up close, very visible. They show up nicely on TV screens—when the players slow down enough to be seen close up. But for quick recognition, few logos can match those found on NASCAR racecars and trucks. If a brand can get prominently displayed on a NASCAR vehicle, when that vehicle is then reproduced on t-shirts, replica cars, and other merchandise, it's a great promotion for the brand. And since tools are a significant part of vehicles and racing, tool companies are right there.
Joe Gibbs Racing has become one of NASCAR's most successful multi-team racing organizations. Despite its immense growth, the company remains defined by the same principles of its founder: integrity, a relentless work ethic, determination, perseverance, and team building. Stanley is in partnership with Joe Gibbs Racing and Christopher Bell – unlocking the potential of the team and supporting their success throughout the season.
Stanley also sponsors one of the truly inspiring racers running today, Nathalie McGloin. Ever since she suffered a serious spinal injury at the age of 16, McGloin has been committed to helping others who have endured similar life-changing experiences. Last year, she became the first President of the international FIA Disability and Accessibility Commission, where her goal is to shape the global future of motorsport for those with disabilities.
In 2016, Nathalie created "Spinal Track," a charity that provides disabled people with the chance to unlock their potential, open up new opportunities, and take part in unique track experiences in a specially adapted vehicle. These events give participants the freedom to try something they may never have believe they could accomplish, all within an inclusive and supportive environment.
NASCAR is a brand in itself, of course. Perhaps the most followed U.S. racing circuit, it has no close competition for television viewers interested in speed contests. But there are other racing groups where tool sponsors show up. Makita U.S.A., sponsors the Makita/Ski-Doo Racing team with with longtime partner, Warnert Racing. They finished last season on top of the Snocross racing season with 1st place in Pro-Lite class and 2nd place in Pro class.
Makita is also the Official Power Tool of Snocross, renewing its long-standing partnership with ISOC, parent-company of the AMSOIL Championship Snocross. Makita's extensive sponsorship includes race day activation and a prominent on-track presence that will be captured in season-long broadcast TV coverage by CBS Sports. The season begins in early January and continues through the Winter months at racetracks across the Mid-West.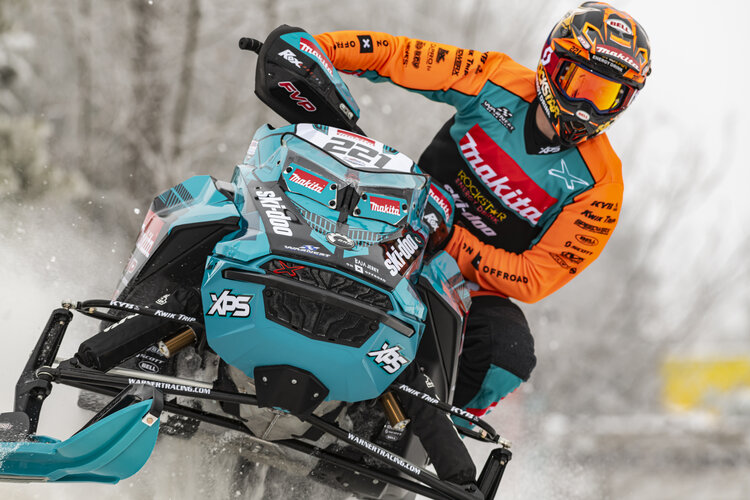 Makita provides Warnert Racing technicians with the necessary cordless power tools to keep the Factory Ski-Doo snowmobiles running, even in the coldest conditions. These tools are part of the LXT System, the world's largest compatible cordless tool system, with over 275 products, powered by 18V slide-style batteries.
Regardless of your sport interests, there are probably familiar brands of power and hand tools among the sponsors, either of teams or venues, or both. Signs on the wall, names on the stadiums, logos on the jerseys and fenders, its all branding. And how are your company's branding efforts going?
Want to tweet about this article? Use hashtags #construction #IoT #sustainability #AI #5G #cloud #edge #futureofwork #infrastructure