Many people think of "infrastructure" as the roads and bridges they drive on daily or the train, subway, or airplane they take. Other infrastructure elements—the power grid, water and other utilities, broadband—are just there, unassuming and consistent. When construction, repair, or maintenance disrupts the planned movement of those people, it tends to upset them more than a power outage might.
Unfortunately, some react in aggressive ways to those interruptions. According to the  AGC (Associated General Contractors of America) and HCSS, a heavy construction software company, 55% of highway contractors report motor vehicles had crashed into their construction work zones during the past year, putting motorists and workers at risk. The report noted 97% of contractors report highway work zones are either as dangerous, or more dangerous, than they were a year ago.
More than half of contractors want automatic ticketing for speeding in work zones, 79% want a greater police presence, and 65% want stricter enforcement. In response, Oklahoma just became the first state to require completing a work zone safety course as a precondition for getting a driver's license.
The survey shows motorists are in even greater danger from highway work zone crashes than construction workers. Of the contractors participating in the survey, 28% experienced crashes that resulted in injury to construction workers but 59% reported experiencing a crash in which drivers or passengers were injured. While work zone crashes are twice as likely to result in fatalities to drivers or passengers as construction workers, 88% of contractors in the survey report that construction workers were killed in work zone crashes, while 16% report drivers or passengers were killed in those crashes.
While the summer vacation driving "season" is over in many parts of the country, the work on highways never ends. According to a report by Procore Technologies, and AGC, 78% of civil and infrastructure construction firms expect their project backlog to increase or remain the same in the next year as new federal infrastructure funding ramps up. The report found many firms are worried labor shortages and productivity challenges could undermine their success with these projects.
Civil and infrastructure builders report an average increase of 25% in their backlogs—projects they are contracted to complete but have not yet started—since the COVID-19 pandemic. And 78% of firms anticipate that backlog to rise or remain level during the next 12 months. However, roughly one-third of civil and infrastructure projects fail to meet their specified budget, schedule, and quality goals, leaving important opportunities for improvement in project outcomes, according to the survey.
The survey pinpointed several key factors influencing these project outcomes. Notably, 60% of the most influential success factors identified by civil and infrastructure builders were linked to workforce considerations. Material and labor costs (41%), worker skills and training (40%), and project management (39%) emerged as the top three factors impacting project success, followed by supply-chain management (38%) and workflow efficiency (35%).
Many civil construction firms report they are investing in software and technology to help overcome some of their key challenges. Some 52% of firms report they are adopting technology solutions that improve financial visibility and cost control on projects. More than half of firms are using solutions to better schedule and track labor, equipment, and materials on projects. And an estimated 50% said they are using planning and estimating software to ensure greater accuracy in their project pricing.
Recognizing this, several companies are collaborating to offer infrastructure construction firms better technology. Bentley Systems, an infrastructure engineering software company, Infotech, an infrastructure construction software solutions, and the AASHTO (American Assn. of State Highway and Transportation Officials), a nonprofit, nonpartisan association representing transportation departments in 50 states, the District of Columbia, and Puerto Rico, created an initiative to support digital delivery for departments of transportation. Their work together will provide tools to modernize project delivery processes for better project outcomes, including streamlined design to construction processes, better quality of data, and improved communication of design intent.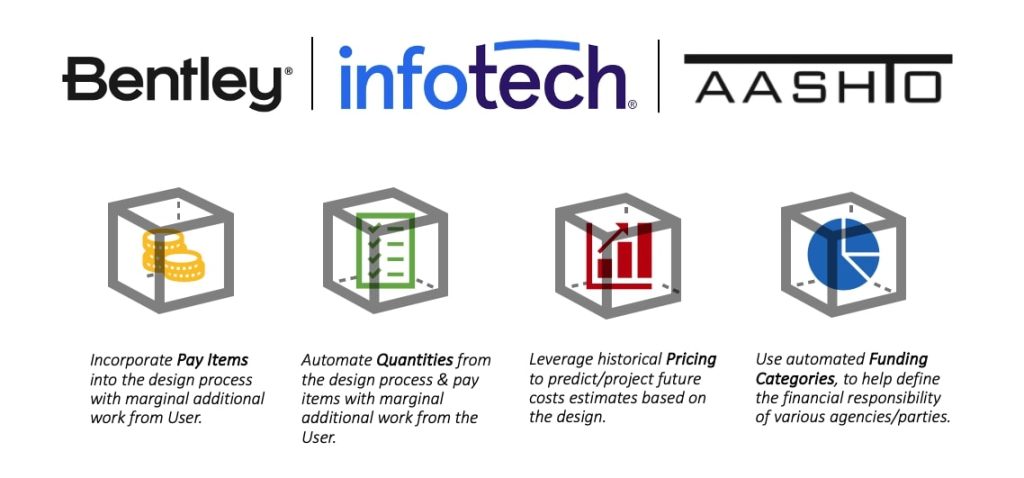 To validate the approach, parties are working together with the Minnesota DOT (MnDOT), the lead state DOT on this effort, on a digital delivery proof of concept that should improve the digital collaboration across design and construction. By integrating and extending design and construction contract systems of record, Bentley, Infotech, and AASHTO will advance industry best practices for data federation, with data captured once and then seamlessly accessible across project delivery workflows.
Bentley applications will be enabled to optimize for pay-item data during design and pre-construction processes, synchronizing digital twins for accurate and efficient construction deliverables. The integration of AASHTOWare Project and Infotech's cloud technology with Bentley Infrastructure Cloud's iTwin Platform to span OpenRoads, ProjectWise, and SYNCHRO will improve processes that have generally been manual, such as the entry of construction pay item summaries into plan sheets.
Bentley, Infotech, and AASHTO will streamline digital delivery market offerings that demonstrate value and best practices for:
on-demand pay item updates – to synchronize the official pay item list in AASHTOWare Project with design and construction artifacts, minimizing pay-item differences at plan turn-in for letting;
automated quantities – to maximize pay item amounts extracted automatically from the design process, versus manually entered;
predicted future costs – to minimize variations between official design-based estimates and actual construction costs; and
automated funding categories – to maximize automatic extraction, for transfer to AASHTOWare Project, of financial responsibility allocations across agencies and partnering parties.
Bentley is involved in other programs, as well. The company's iTwin Activate is a 20-week co-development program designed to accelerate early-stage startups in infrastructure engineering software. The program, which is organized in cohorts aligned to industry sectors, is managed by Bentley iTwin Ventures, a $100 million corporate venture capital fund that fosters innovation by co-investing in startups and emerging companies.
The iTwin Activate program supports startups in scoping and building industry relevant solutions by leveraging or interoperating with Bentley technology through program and co-development funding, solutions architecture support, and access to Bentley executives for commercial insights. The first cohort was a small, invitation-only group of four startups focused on the electric grid industry.
iTwin Activate Cohort #2 will focus on solutions for Infrastructure IoT use cases and is open for all interested parties to apply. Bentley is particularly interested in working with teams focused on creating predictive analytics or deriving insights from the sensor data federated in the iTwin Platform, as well as those creating novel sensors or sensing technologies that can be brought into its digital twin ecosystem as part of a software-led motion.
Want to tweet about this article? Use hashtags #construction #sustainability #infrastructure #IoT #cloud #edge