Most construction sites and industrial plants have a lot of dust around. Dust, while a nuisance and, in some case, a health concern, is among the things that are just there. Everywhere. All the time. Special clean rooms are built to avoid dust (among other things) and a lot of time, money, and effort goes into preventing and cleaning dust on every kind of jobsite.
But maybe there is a dust that is desirable, a smart dust that can be beneficial to workers and companies alike. This is one area being studied under the overall subject of nanotechnology. Smart Dust is a collection of several micro-electromechanical systems such as sensors and other devices that can sense light, temperature, magnetism, vibration, or chemicals, among other factors.
Typical Smart Dust consists of nano-structured silicon sensors, which can autonomously orient, sense, assemble, and report on the environment where it is present. Smart Dust is being developed for the healthcare sector as it can help improve medical treatments through monitoring health by analyzing processes that takes place within the human body.
However, sensors are an integral part of many industries where they are used to monitor workflow and increase sustainability of facilities. Smart Dust provides a new approach in the field of such monitoring. With the introduction of Industry 4.0, several industries are integrating technologies such as AI (artificial intelligence), data analytics, and the IoT (Internet of Things) into their existing industrial facilities.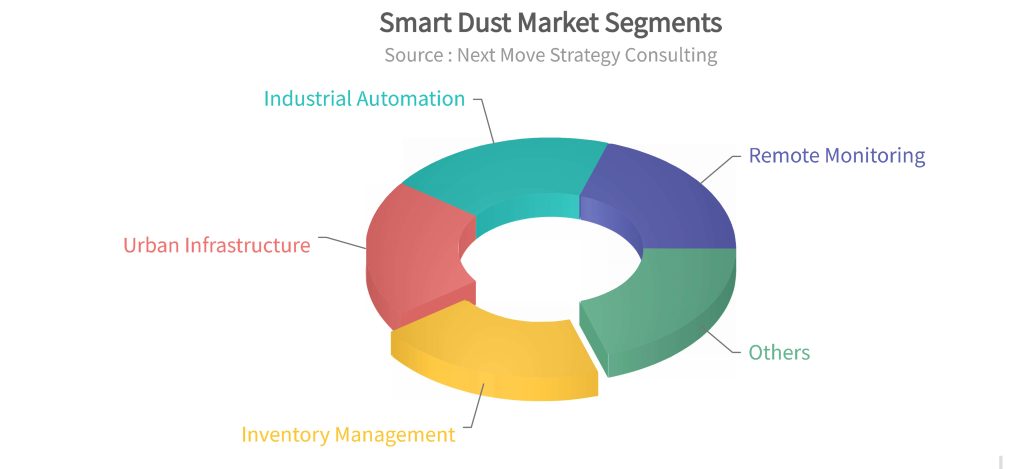 Smart Dust in an industrial setting, typically relies on the IoT-based network of several small MEMS (microelectromechanical systems) that is used to detect and relay information about aspects such as temperature, humidity, and magnetic fields of industrial equipment to monitor their proper functioning. Such factors are expected to drive the Smart Dust market in future.
But as with many technologies and their application, privacy concerns associated with Smart Dust will likely slow market growth. This is because Smart Dust can record anything that it is programmed to record in its vicinity. A "dusting" of Smart Dust represents a cloud of IoT that can be connected, via the Internet—and, unfortunately, hacked over the Internet—to relay environmental data to a collection center. Because of its small size, Smart Dust could easily go unrecognized, resulting in privacy concerns.

And while dust in a space capsule or permanent space station, can be annoying and dangerous, smart dust could be a benefit. Introduction of smart dust in space research is expected to play an important role in future space missions as Smart Dust can be deployed in space or on the surface of a planet where conventional detection systems would be impractical or difficult to place. This is expected to create ample opportunities for the Smart Dust market in future.
That market, as determined by Next Move Strategy Consulting, was valued at $570.4 million in 2021 and is predicted to reach $1.2 billion by 2030 with a CAGR (compound annual growth rate) 8.5% of from 2022-2030.
As companies plan their IoT strategies, the Smart Dust concept might make sense for deploying nano-sensors to monitor temperature changes, movement—people and objects—in the work area, and vibrations that can provide earthquake alerts in sensitive places like California. All from a remote location, even space.
Want to tweet about this article? Use hashtags #construction #sustainability #infrastructure #IoT #AI